Paradigm Shifters is a series of interviews with a select group of women and men from eclectic walks of life. It will highlight unspoken, real-life insights on how they have been able to turn weakness into strength. A naked soul point of view of how their breakdowns were really a preparation for breakthroughs. They are your quintessential paradigm shifters; internal shifts converted into genuine change.
Everything I have ever done has been focused on this underlying theme of shifting the paradigm because, "What we think determines what we feel and what we feel determines what we do." Hence, why Empowered by You takes lingerie, which has traditionally been seen merely as a tool of seduction and redirected that energy as a tool of empowerment.
I hope from these stories you will look at your own situations, struggles and accomplishments through a different lens. At the very least you will be more equipped with real life tools to change your own paradigm. At the end of the day, we are our own Alchemist turning the silver we were born with into the gold we are destined to become.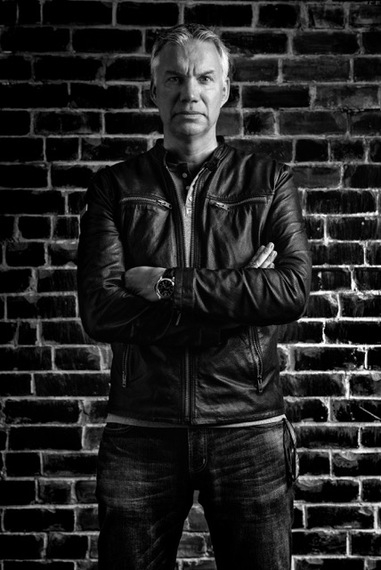 Euan Sutherland - Superdry, CEO
You started your career in marketing with Coca Cola, and also worked with Mars Confectionery, Matalan, and Currys. Tell us about how you got started.
I was very fortunate to work with some of the biggest brands in the world including Diet Coke in the UK. This experience gave me a really interesting perspective. I used my marketing background to come into retail. I worked in many different retail sectors including: health and beauty, consumer electronics, fashion, as well as groceries. A lot of people will just stay in one sector. Having experience in so many gave me the advantage to see how retailers work across sectors. Some things are the same but some things are very different. I met Julian and James, the original founders of Superdry, and began working for them. Julian is still very much involved with Superdry, and James is now a consultant working closely with us from The Design Lab on special projects like sport and Idris Elba. Julian's focus is all around product selection and buying whilst I run the company.
What are Superdry's biggest initiatives?
We've laid down a five year plan. We're an opportunity rich company as well as a young company. We've really organized where our priorities are. We've driven a lot of innovation in the business. We can't survive giving the same that we've always given. We have to offer customers something new, different, and innovative. For example, we've innovated men's and women's sport into skiwear. We use our natural DNA and heritage of the business but give it a different twist. We've been focused on the global expansion of Superdry. We not only accelerated our expansion in Europe but also bought back lots of franchises in Europe and the US. We have a big global footprint, we were highly UK centric but now 55% of our revenues are happening outside of the UK.
Tell us about your company's growth.
70% of our clothing was men's but now 56% of our clothing is men's. Women's is our fastest growing category. We really concentrate on producing amazing products with amazing quality. The benefits of this focus we're really apparent when we did our annual update: we were double digit in sales, double digit in profit prices which was really great. We are driven by four pillars: fantastic quality, design detail, new innovation, and prices everyone can afford. That is our formula, our DNA. We never want to get too expensive but still maintain amazing quality. We're creating the best product on the planet for the planet.
You are very much a family man. How do you balance this?
Well we go everywhere during the week and always get back for the weekend. Here at Superdry there's constant change, which is really exciting for everyone because it's constant progression. We just celebrated a great year and now we're looking ahead. We have some great people at the top of our business. We're a bit more rock n roll in terms of our product but very conservative in how we do business. We're very cash generative, we have no debt, and we're very conservative when we lay down new space. Every store has to make money. We don't have stores that are simply there for marketing.
What're you most excited about with the business?
Landing sports for product. Our collaboration with Idris Elba was huge. We literally bumped into him in our flagship store, he was buying some things for a DJ gig he had in Germany. We had dinner, had a few drinks and then broached the idea of a collaboration. It was a very collective, hands on collaboration and one of Superdry's most exciting ventures.
Breakdown to breakthrough?
Probably when I was working for this 11 billion pound business. It was a mutual organization, meaning it was owned by its members. I had the job of saving their bank, which was in deep trouble. I felt completely out of my depth and had this insurmountable amount of pressure on my back. There were 100,000 colleagues in the business, thereby there were 100,000 families relying on me to save this business. It was an 150 year old business. I really had to learn on the job and create this balance and constant reassurance that we were going to make it. My breakthrough was saving the company, it was the only bank in the world that had been saved without taxpayers money. It's still in existence today. We were successful because I pushed through radical reforms in the government. In order to be successful you must have an equal balance of arrogance and empathy. Arrogance, meaning I know I can do a good job, balanced with the empathy, which reminds me that I don't have all the answers and that I'm constantly learning.
We are going to create a global lifestyle brand. I still carry that same paranoia--I want to do something that has meaning. I don't have a huge ego need in being recognized or remembered. My legacy lies in the success of Superdry and having its core values and success being easily carried by the next generation.
REAL LIFE. REAL NEWS. REAL VOICES.
Help us tell more of the stories that matter from voices that too often remain unheard.