Eunhee Jung O'Neill, Ph.D., is interested in long-distance learning. Very long distance, and learning more than the Three "R's." Specifically, learning about other cultures. Eunhee is the founder and director of International Virtual Elementary/Secondary Classroom Activities (IVECA).
I met her in New York where she lives, although this week she is visiting her native Seoul, South Korea. Eunhee's interest in promoting intercultural competence of Kindergarten through twelfth grade students around the world was inspired by a combination of her own personal experiences and contemporary world events.
Following in the footsteps of her father -- who excelled as an educator over 40 years -- Eunhee became an elementary school teacher after graduating from Seoul National University of Education in Korea in the late 1990's.
While teaching her classes, Eunhee attended an English language institute to hone her language skills. Korea's English language curriculum had recently been modified to emphasize conversation skills. It was during this experience that Eunhee first came to realize the significant cultural gaps that existed between Koreans and non-Koreans and how a failure to appreciate and understand cultural differences could pose real obstacles for effective communication and learning.
Eunhee describes intercultural competence as an ability to understand, appreciate, and respect the cultural differences of others and interact appropriately with people from different cultures/countries.

Intercultural competence starts to develop as individuals realize their own perspectives and understand its reflection on others and different societies. They become sensitive and reconciling to each others' similarities and differences as they share and collaborate on ideas and activities of interest to them.

This increased awareness develops rapidly at an early age. Direct communications facilitate accomplishing intercultural competence most effectively. Today, in the globalized 21st century, direct communications can occur anywhere and anytime through information and communications technology.

It is the goal of the International Virtual Elementary/Secondary Classroom Activities (IVECA) to use current technologies to connect classrooms across the world for the purpose of increasing intercultural competence and promoting global citizenship.
While interacting with the institute's expatriate instructors during her training, Eunhee learned the challenges they faced in perceiving the significance and subtleties of the Korean culture emphasizing common blood and ancestry. She also realized that this lack of perception also deprived Koreans of the ability to look at themselves objectively and to be more accepting of another's point of view.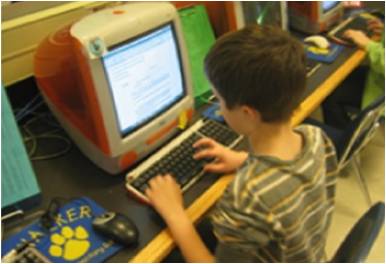 American kids learn about the world and understanding other cultures via the Web.
This experience helped her realize how her own education had been too reliant on textbooks and failed to provide any kind of meaningful learning of various cultures that only personal interaction can give. She began to see the real value of such an intercultural communications particularly in a world that was increasingly connected economically, socially, and politically.
Ongoing war and political upheaval in Africa, the Middle East, and other parts of the world not only reinforced her belief even more but also highlighted the urgency on how to connect and provide such an intercultural learning program at schools.
Eunhee was particularly alarmed by the extreme conflicts that were exposed by events connected to 9/11. Over-broad generalizations that were made about Islam soon after the events were driven more by misconceptions rather than any real understanding of the religion. At the time, she admits that was also one of those who had a prejudice towards Muslims.
Later, while getting to know and conversing with a wonderful Muslim friend, she again realized the importance of direct interactions and individual efforts to understand the granularity of context-specific details.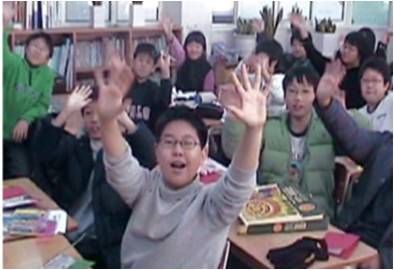 Kids in Korea wave to children in the U.S. as part of the cross-cultural exchange.
How could guided and meaningful interaction and learning between young people in different cultures or countries be achieved? The solution to this problem occurred to Eunhee almost accidentally while observing a Korean man in the subway learning English through his mobile phone.
It was then that she realized how much Information and Communication Technology (ICT) had recently evolved and now could be used to help answer this question. Eunhee began to extensively research how such a program might work, and these activities eventually brought her to the doorstep of the University of Virginia's Curry School of Education.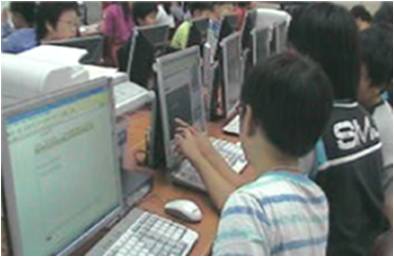 My guess is that Korean children may have better computer skills than ours.
Based on her studies and research there, she designed an intercultural classroom exchange program which enabled students in different countries to communicate and study cooperatively through virtual classroom settings. The idea of International Virtual Elementary/Secondary Classroom Activities (IVECA) began to take shape.
Eunhee's research revealed that IVECA helped students improve intercultural competence while enhancing reading and writing skills for both first and foreign language speakers. The globally expanded interactions promoted students' learning motivation. Further, using ICT as part of the IVECA program, students also became proficient using the Internet for acquiring and cooperatively sharing information in a project based framework.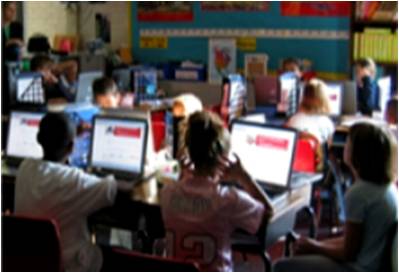 An American teacher is engaging students in cross-cultural learning in language art class.
Students were learning new skills required for 21st century living and working. Specific descriptions, findings, and outcomes can be found in her dissertation titled "Intercultural Competence Development: Implementing International Virtual Elementary Classroom Activities for Public School Students in the U.S. and Korea."
In 2008, Eunhee graduated with a Ph.D. in Instructional Technology. Her experiences at the Curry School gave her a deep understanding in both the theoretical and practical aspects of teaching intercultural competencies in diverse school environments.
While she successfully implemented the IVECA program between five elementary schools in the U.S. and Korea, she obtained hands-on principles of implementing ICT-based intercultural programs into schools. This enabled her to start the Center for International Virtual Schooling (C4IVS) soon after the graduation.
The Center for International Virtual School (C4IVS) was founded to administer and support the IVECA program. Its main objective is to facilitate intercultural interactions between elementary and secondary school students in different countries. Students share their ideas and learning processes through online discussion, audio, and video messages that may also include synchronous video streaming and conferencing.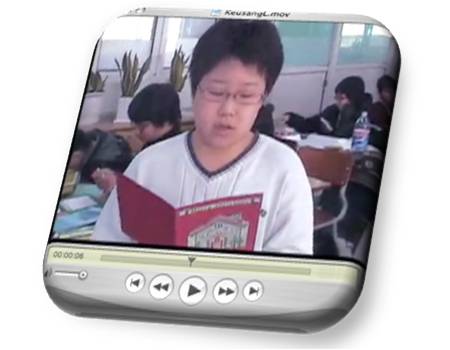 A Korean child sends his holiday greeting to his friends overseas.

Its purpose is to promote mutual understanding in a global society by developing intercultural competence of young people while in school. C4IVS coordinates and supports classroom exchanges of elementary and secondary school students.
The Center also trains teachers and provides curricula that can be customized and integrated to complement school goals. In response to these efforts, Eunhee won the 21st Century Award for Excellence in Distance Learning from the United States Distant Learning Association in 2009.
Eunhee believes that education systems will continue to move toward a virtualized learning environment. In this setting, every student around the world would be able to communicate and share their school lives as part of the day-to-day school curricula. To ensure the sustainability of such in-depth integration, she suggests that systematic transformation of teacher education and professional development programs is needed as well.
Pre- and in-service teachers must be trained to guide their students in virtual and trans-national learning environments. They will also need to be connected globally and experience intercultural virtual exchange activities through their programs. Moreover, professors and researchers in teacher education and other fields of education need to continue intercultural dialogues and studies on the development of such programs.
These goals are in alignment with international organizations such as the United Nations and UNESCO, Eunhee stresses. Indeed, the following U.N. General Assembly Resolution has served as one of the Center's guiding principles.
The education of the young and exchanges of young people and of ideas in a spirit of peace, mutual respect and understanding between peoples can help to improve international relations and to strengthen peace and security.

- United Nations General Assembly Resolution 2037, December 7, 1965
Currently, C4IVS continues to connect and provide training for schools in the U.S. and Korea. Participating universities and schools include Gwangju National University of Education in Korea, Seoul National University of Education, Curry School of Education at the University of Virginia, and Cottage Lane Elementary School in New York and Gwangju Elementary School in Korea.
Eunhee is preparing to expand intercultural virtual exchange programs in elementary and secondary schools and universities in Middle East, South East Asia, Latin America, and Europe this fall, 2010. She is particularly interested in connecting students in Muslim countries.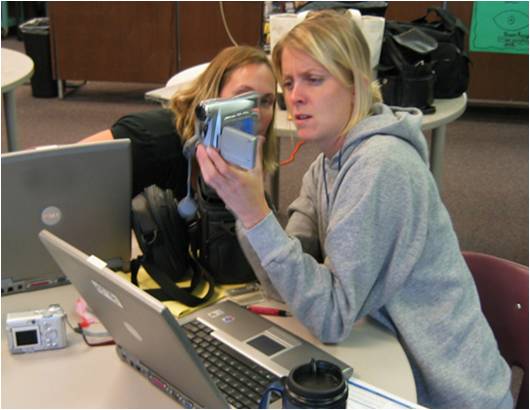 Video is an effective medium of cross-cultural learning, allowing kids to know the world.
To include and engage underdeveloped countries, Eunhee seeks to collaborate with other global non-profit organizations including technology companies and training institutes who can distribute computers, install networks, or provide technology training programs for schools.
Eunhee has been supporting her Center through the support of the organization's founding directors, charitable and philanthropic organizations, and through contributions by private individuals. Other associates volunteer their time to support her endeavor to make more peaceful world through education. The initial IVECA participant teachers in schools in Charlottesville Virginia and Seoul Korea contribute to continuous development of the IVECA program.
Eunhee has been working very hard to expand IVECA across economically, politically, and culturally diverse school settings. Her greatest inspiration and motivation to help the organization succeed continues to come from the appreciative voices and excitement of IVECA participants as they work with other children and teachers across the world.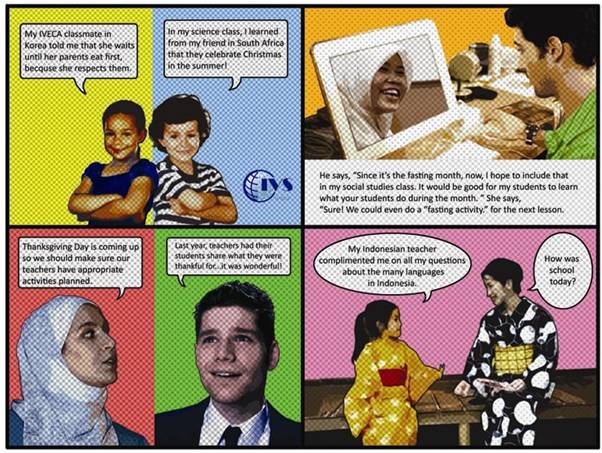 High-tech cartoon: School life with International Virtual Schooling.
Having just returned from post-earthquake Haiti, where my organization Orphans International Worldwide (OIWW) is building an NGO-partnership to revitalize the local school in Leogane, and where the South Korean organization Good Neighbors are already helping us with running the entire elementary school, I realize the tremendous value IVECA could bring to our children's education experience.
I hope I can talk Eunhee into joining us there. I believe I can because in additions to her sharp mind she has a heart of gold. She is a thought leader who cares deeply about the world's children being able to understand each other. Through her global leadership, I believe the children if Haiti will benefit tremendously.
Calling all HuffPost superfans!
Sign up for membership to become a founding member and help shape HuffPost's next chapter