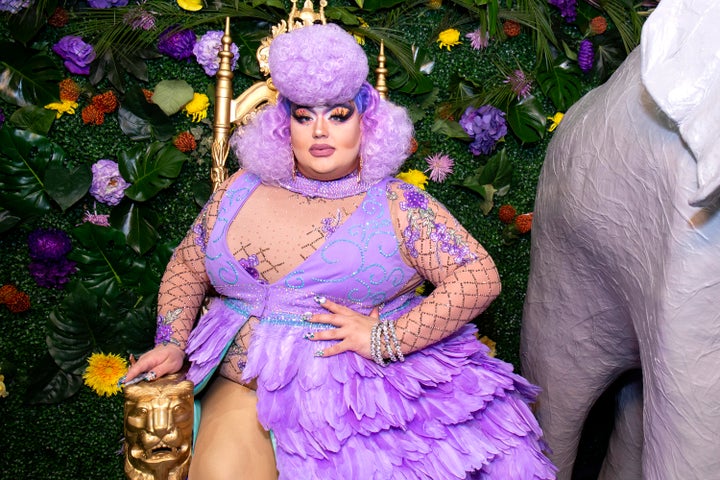 Bodied is a series in which we ask people to get real about their relationships with their bodies. As the body-positivity movement challenges unrealistic beauty standards while insisting we love what we got, we want to push the notion that self-acceptance is a process. Here, we'll examine how people have grown to love and accept their bodies ― or not ― and the steps they took to get there.
When beloved drag queen Eureka O'Hara returned to "RuPaul's Drag Race" for the 10th season of the drag competition show, few had guessed she'd become a front-runner. A torn ACL forced her to leave the show the previous season, and both O'Hara and viewers wondered if that injury would return to threaten her chance at the crown.
Any doubts of her staying power quickly dissipated. She turned it out each week, her scarily convincing Honey Boo Boo impersonation in the show's "Snatch Game" challenge and countless bold and beautiful runway looks getting her all the way to the show's coveted top four. Whatever viewers' doubts, neither her self-confidence nor her celebration of beauty at every size were ever in question.
The self-proclaimed "elephant queen" doesn't shy away from talking about her body and being proud of it, whether she does so through her drag routines or on social media. So who better to kick off a series examining body image than her?
Eureka! You found it! I am so inspired by the way you talk about and embrace your body. How has your relationship with it evolved over the years?
It took me a long time to be OK with own body, because of several relationships I've been in. I was made to feel by people that they loved me, I was so fun to be around, but they couldn't find themselves to be sexually attracted to me. Those are things that can really mess with your mind about your body.
How did you get past that?
I had to finally get to a place where I realized it didn't have to do with physical and sexual attraction. There are plenty of people who are attracted to people like me regardless of size or anything else. We grow up with this idea that we're only as good as the people who want us since we're a sexually driven community. But once you get past that you can learn that you're beautiful, sexy and gorgeous.
Eureka is certainly all of those things. Did drag play a role in your evolution toward self-acceptance?
Drag really helped me. Eureka made me feel sexy, and people were attracted to her in a different way. I was like, "Wow, there are so many ways to be sexy, beautiful and body-positive." I was raised with three women, so I always kind of had to teach them to be strong, and it's so funny how in my own life it took me so long to love my own body.
What did you feel you could do as Eureka that you couldn't do outside of drag?
People see Eureka and think she's this huge extroverted personality, but that's Eureka. As a boy, I am and used to be very introverted and very afraid. Eureka helped me put on a mask and be a different character than I was. Then, the pretend became who I really was. I learned that the person I was in drag was actually who I wanted to be, personalitywise. I wanted to be happy and to love myself. That slowly changed my perception outside of drag ― I gained more confidence as a queen and as a person.
You're so body-positive, but even the most body-positive people are not immune to negative thoughts about themselves sometimes. What do you do you combat those thoughts?
The biggest thing I do ― and I still practice it ― is to get out of bed and get myself together. If I want to put a little boy makeup on, I do. I fix my hair, I'll go buy a new outfit. It automatically makes me feel better. I remind myself in the mirror: "Look how beautiful you are, look at that sexy double chin you've got there." Giving humor to it to make me laugh helps too. I also just surround myself with people who like me regardless of my size, and I think that is the biggest thing.
Did you always surround yourself with those kinds of people?
I used to be a lot more worried about wanting to be best friends with everyone and would neglect those people who would worship me regardless.
We're all a little fucked up in that way.
We're fucked up because we're taught to be fucked up. Society teaches us that a particular image is so important. If you have the least bit of weight on you or don't look the way you're taught to look, you're unhealthy. That's what people hold on to, this idea of being unhealthy.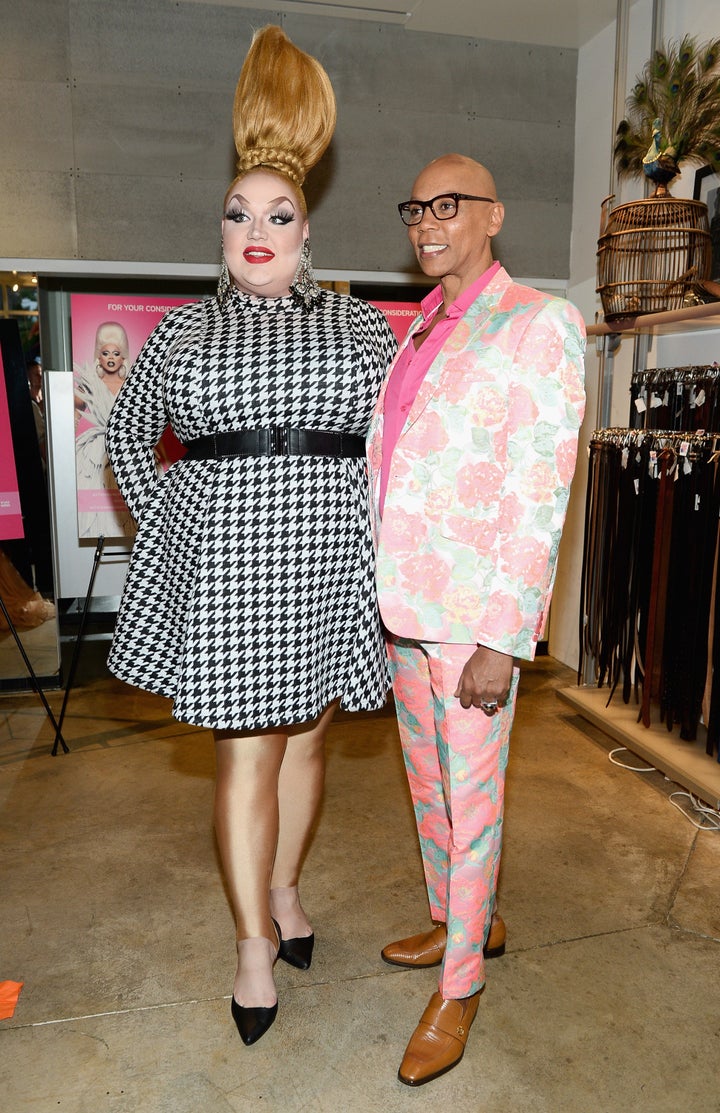 It blows my mind that people continue to equate health with size and feel empowered to share their opinions.
Lord, I don't want to jinx myself, but I don't have any medical conditions. I don't suffer anything, I'm a lot healthier than most of my thinner friends who suffer from conditions like asthma and diabetes that are stereotypically a big person's medical risk ― and they're skinny and look healthy, but they're not.
Right. You know nothing about a person's health by looking at them. What are some other things you've had to unlearn about body image and acceptance?
I've had to learn not to be mean to myself and not to feel bad for myself, which is the hardest part. You get depressed over it, or I used to a lot more. Sometimes I still deal with it, here and there.
Everyone in this world has moments where they can tell people treat them differently for whatever reason. Of course, bigger people can feel that too. But you have to remind yourself that you're the one doing it to yourself. We tell ourselves things are happening, but how do we really know? We're paranoid about it. Like, "Oh, this person isn't as nice to me as they are this other person because I'm big or not as cute or sexy." We tell ourselves crazy things. Instead, we should focus on the people who talk to us because they love us for who we are. It's about telling yourself that you're good enough, and believing in your worth. Then, other people will start to believe it too.
I think for a lot of people, what helps is seeing people who look like them reflected in media. What in pop culture do you think does a disservice to people with body image issues?
I think putting this idea that obese people are only funny really hurts us. Get bigger people in serious and sexy roles. I think that's the problem and is doing a huge disservice. I also think some of these shows like reality series about love and all the competition shows where it's all actor-model wannabe type people who are trying to work in this industry are all the body image that we're taught is OK. You're showing that people of actual size or shape or even aesthetic in general can't find love or connection.
And who or what in pop culture did you or do you look up to?
Chris Farley was one of mine. He was always a bigger guy, but he was much more than that. Queen Latifah was a huge role model because she represented a sexiness for bigger women with her style and the way she carried herself.
What's the best body image advice you've ever received?
It was from an ex-boyfriend. We had issues, and a lot of them were my own issues because I was too insecure to be comfortable sexually. I had been put through it with several people and it blocked us in that connection to be intimate. He was like, "Why are you so paranoid that I don't find you sexy?" It was weirdly a good piece of advice for me not to be so paranoid. If someone is showing interest in you, just taking your shirt off isn't going to change that. They're not going to be like, "Oh no! I didn't know you had cellulite! This is so alarming!" [Laughs].
It's true! We all get into our heads especially when it comes to sex. What words of advice do you put forth to fans?
During the finale for "Drag Race," I did a costume reveal that said "The big girl always wins." Everyone assumed it was meant to say that I wanted to win the crown, which of course I did, but the real symbolism behind it is the big girl wins because she was on every episode of this reality television series on a main network channel as a fierce competitor against the rest of the world. That's what we as bigger people and people who deal with body dysphoria ― remember you are still a competitor in this world and you are just as fierce. As long as you remember that, that's when the big girl always wins.
This interview has been edited and condensed for clarity.
Popular in the Community