I used to think that Arkansas was just a part of the Bible Belt, full of conservative country folk. Yes, that's all there -- there is some of that everywhere really -- but Arkansas defies the redneck stereotype.
I've spent quite a bit of time during the past 1½ years in Hot Springs, Arkansas, falling more and more in love with the beauty of the state during each trip. It's called The Natural State for a reason.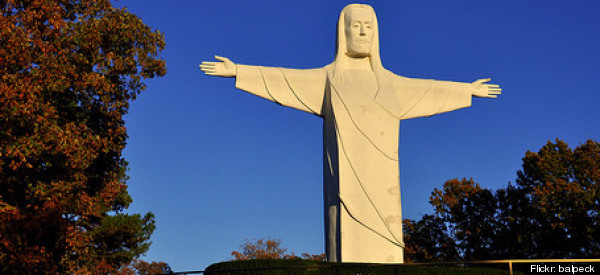 During my most recent visit last month, I decided to drive north on the breathtakingly beautiful Scenic Byway 7 to explore yet another town I've heard so much about: Eureka Springs. Several times during my drive I stopped at the many lookout points along the highway to walk my dog Yoda and to breathe in the majestic views. Five hours after we started driving, Yoda and I arrived in Eureka Springs, greeted on the south side of town by the World's Largest Tuned Wind Chime.
Eureka Springs is a Victorian village that claims to be the only city in the U.S. whose entire historic downtown is listed on the National Register of Historic Places. It is a funky little artsy oasis filled with unique shops, art galleries, artist studios, restaurants and Victorian homes built into the picturesque Ozark mountainside. A robust trolley schedule with plenty of stops offers an easy, historic way to tour the village. I immediately set off to visit each of the town's 11 cold springs, some in caves, located in the downtown area. They are all protected and beautifully landscaped pocket parks, but due to the drought most were disappointingly flowing at a very weak trickle. By far the most impressive thing I experienced in Eureka Springs was a visit to Thorncrown Chapel. This architecturally significant small glass chapel, nestled in a woodsy paradise, was voted fourth on the AIA list of top buildings of the 20th Century. As I sat in a pew breathing it all in, I half expected to see Puck and Oberon flitting about outside the windows.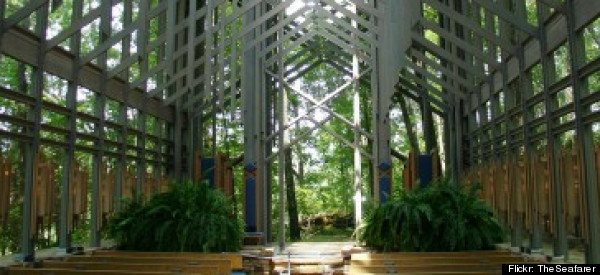 Eureka Springs is also home to America's largest outdoor drama, The Great Passion Play, which features a cast of over 200 actors along with live animals in a depiction of the last days and The Crucifixion of Jesus Christ. Although I didn't attend the play, I did tour the grounds and stood at the base of Christ of the Ozarks, the largest statue of Christ in the northern hemisphere. Although I was awestruck by its height of seven stories, the artistic expression of this bland statue leaves a lot to be desired.
A visit wouldn't be complete without an outing to Turpentine Creek, the world's largest big cat refuge. Visit during feeding time for an absolutely exhilarating experience. Or, if you are an outdoorsy person like me, you'll find that nearby Beaver Lake offers outdoor activities and adventures for everyone. Here you will discover spectacular hiking, camping, spelunking, fishing, swimming, and boating in crystal clear waters. In fact, under part of Beaver Lake lies the remains of the failed resort town of Monte Ne, which was flooded when the man-made lake was created in the 1960s. The flooded town has become a site of interest for scuba divers. The biggest disappointment of Eureka Springs was Quigley's Castle. The billboards, brochures and advertisements drew me to what is marketed as "The Ozark's Strangest Dwelling." Touring this small house covered with little stones and a layer of dust was a complete waste of the overpriced $7 admission fee. Do yourself a favor, ignore the hoopla and skip Quigley's Castle.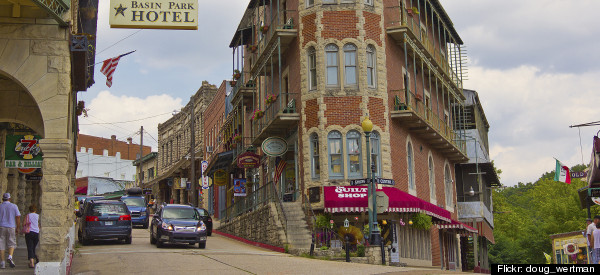 For lodging, the Historic downtown area offers an abundance of charming inns and bed and breakfasts. However, a more rustic treat can be found by venturing a few miles outside of town and renting one of the many cabins and cottages tucked into the peaceful Ozark mountainside. Each evening Yoda and I enjoyed snuggling in with a movie in our cozy cottage at Pond Mountain Lodge & Resort, which you'll find nestled in 151 acres of woods at the highest point in the county. Pond Mountain offers horseback riding at the stables on the property and private hiking trails. Best of all, you can treat yourself to fishing in or watching the sunset over the two spring-fed, landscaped ponds on the property.
You will find that Eureka Springs offers something for everyone, whether it be music, art, motorcycles excursions, a romantic getaway, outdoor activities or shopping.