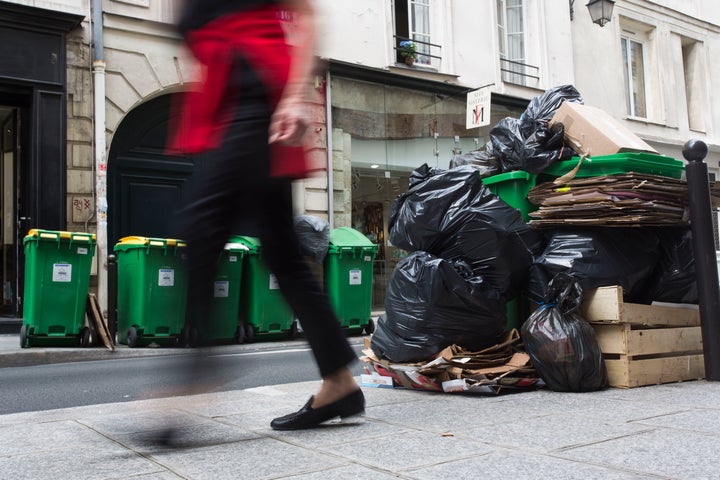 The 2016 UEFA European Championship started Friday in Paris, a city whose streets are currently overflowing with trash because garbage collectors are on strike. 
The situation is expected to get worse: CGT union, which is representing the garbage collectors, has said it plans to continue the strike at least until June 14. 
French authorities dispatched private companies in the early-morning hours of Friday to help clear the estimated 3,000 metric tons of accumulated trash.
Strikes within the transportation sector could also affect the approximately 1.5 million soccer fans expected to visit France for Euro 2016, which is scheduled to take place in 10 cities around the country. 
Workers at state-owned railway company SNCF have been on strike for 10 days. Pilots striking this week led Air France, the country's national airline, to cancel between 20 percent and 30 percent of the flights it had scheduled for Saturday. 
Cities across the country have seen fuel shortages, as well as demonstrations and strikes in the nuclear, oil and transport sectors over the past few weeks. They're all part of a wide-ranging protest movement against a labor bill that would loosen workplace protection.
Activists, most notably from the youth-led Nuit Debout (Up All Night) movement, have also staged large-scale protests across France to denounce labor reforms and express disappointment with President Francois Hollande.  
The demonstrations have been marked with strong clashes and violence between protesters and police. Hollande said in May that hundreds of police officers had been injured. Police in about 60 cities took to the streets on May 18 to protest the violence they say they had experienced during labor reform protests.
Labor Minister Myriam El Khomri and CGT leader Philippe Martinez are scheduled to meet on June 17. Despite their mutual eagerness to sit down together, El Khomri told AFP Friday that the "government has not intention of withdrawing" its labor bill. 
More photos showing the trash situation in and around Paris: 
REAL LIFE. REAL NEWS. REAL VOICES.
Help us tell more of the stories that matter from voices that too often remain unheard.