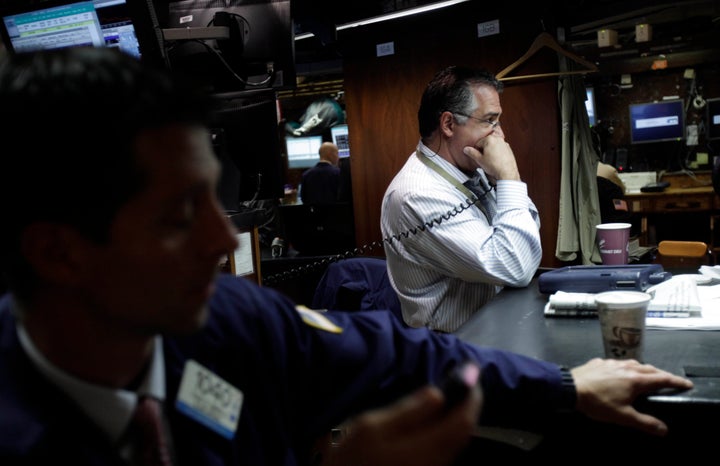 The European debt crisis is escalating.
Investors' fears that financial strain in Greece might spread to other nations garnered potent confirmation Monday and Tuesday, as interest rates on Italian government debt skyrocketed and bank stocks in Italy plunged. The loci of concern span the continent, from Greece, Spain and Portugal to Ireland, whose debt was downgraded to junk status Tuesday by Moody's Investors Service, calling into question that nation's ability to financially survive on its own.
A crisis that began in the Mediterranean has become Europe's problem, and it risks becoming the world's. Markets the world over are riveted by developments among the countries that share the euro, which appear only to be weakening. Policymakers are scrambling to craft a fix, but financial players and economists fear governments will not be able to do enough to stem the contagion.
While it remains a remote prospect in the estimation of economists, the probability of an Italian default is nonetheless growing as mounting anxiety in markets translates into steep borrowing costs for Italy's government. The euro zone's third largest economy, Italy is potentially too large to be rescued with the European Union's current arsenal of tools, Reuters reports. In the absence of a definite policy response, concerns are intensifying that the euro zone crisis could send punishing shockwaves throughout the world's financial system.
"We've moved to a much more systemic situation where Italy is now the big elephant in the room," said Silvio Peruzzo, euro-area economist at Royal Bank of Scotland Group in London. "Given the size of the market, the policy response that is in place is not sufficient at all to address concern that may arise about the solvency of the country."
Italy's fresh woes are driven by market forces, said International Monetary Fund head Christine Lagarde during a press briefing this week. Interest rates on 10-year Italian government debt shot above 5.5 percent Monday, and the difference between those rates and the yields on German government bonds widened to 3 percentage points, according to Bloomberg data. That spread, which indicates that Italian debt is seen as especially risky, was the largest in the history of the euro.
Stock markets around the world fell Monday, and lost more ground Tuesday. The Standard & Poor's 500 index dropped 1 percent at Monday's open and kept falling, closing Monday at 1.8 percent below Friday's close. The index fell further Tuesday, to close 2.2 percent below Friday's closing value.
Before news of Ireland's downgrade came across the wires, it looked as if stocks might enjoy a small recovery. The MSCI All-Country World Index climbed slightly on Tuesday, after earlier falling as much as 1.4 percent, Bloomberg News reports.
Mounting anxiety about the euro nations poses further challenges for European leaders, who are still in the process of crafting a rescue plan for Greece. That nation has staved off default thanks to continuing life support from its stronger peers, and European officials are planning further steps to help the country manage its crippling burden of debt. But the longer action is delayed, experts say, the worse the crisis could become.
Ireland's downgrade comes on the heels of last week's announcement that Moody's docked Portugal to junk status. Greece last month received the lowest credit rating in the world from Standard & Poor's.
If the IMF and the nations that share the euro do not craft a rescue plan for Greece in the coming days, financial markets risk "spinning out of control," the bank lobbyist group Institute of International Finance said in a paper, according to Reuters. A firm plan for Greece could shield Italy and avert a broad disaster, experts say.
But a Greek default in some form may be inevitable -- and might be the only way to relieve Greece's debt burden, European finance ministers said Tuesday, according to Reuters. Any plan involving default could spark unforeseen consequences, as the rating of Greek debt, which many European banks hold on their balance sheets, would likely be downgraded even further.
Italy, with Europe's largest bond market, is a potentially much larger domino than Greece. Its outstanding debt reached 1.8 trillion euros at the end of December, Bloomberg News notes. Greece, for its part, has about 340 euros of debt outstanding, according to Reuters. The debts of both nations run well above the levels of their economies' respective outputs.
The fallout from a sovereign default could touch the world's strongest economies. The United Kingdom's central bank released a report last month quantifying the indirect vulnerability of British banks to various European economies, arguing that the risks stemmed not merely from direct exposure to a defaulting nation's debt, but also from exposure to other banks and financial institutions that hold that debt.
Mervyn King, governor of the Bank of England, said the scale of this risk cannot be measured, calling it an "infinite regress." A crisis could be worsened, moreover, by a panic that would affect a range of assets, economists said.
The IMF's Lagarde called for Italy to ramp up its program of fiscal austerity as borrowing costs rose, but some experts say a domestic Italian policy response won't be enough to stem the crisis.
"The way the debate is being conducted domestically is clearly not up to the challenges that the market situation is currently imposing," said Peruzzo, the RBS economist, who himself is Italian.
A sustainable solution, he added, might require some euro zone countries to give up some of their fiscal sovereignty.
"When the market action binds and pushes policy makers to the wall, they will take actions," he said. "The only way out is probably converging towards more fiscal integration."
Popular in the Community