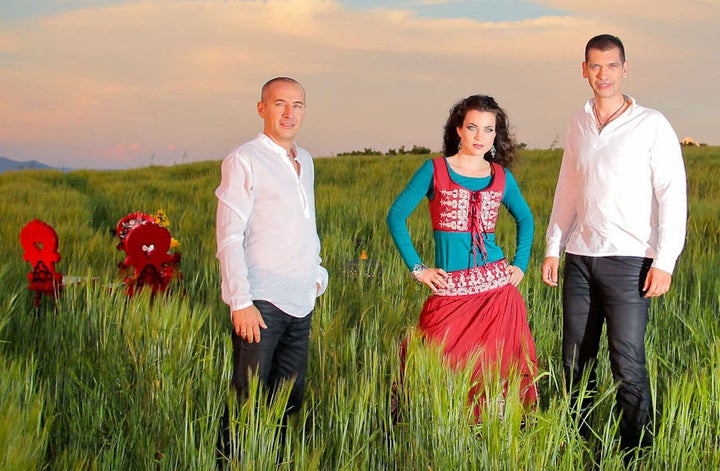 Hungarian band Holdviola has released its third studio CD, Túl a Vízen [Across the Water]. As I detailed a couple of years ago, the band specializes in electric versions of Hungarian traditional songs, applying folk instruments, pop sounds, and especially elements of electronica to traditional words and melodies, achieving a smooth and satisfying whole. While bandleader/drummer Farkas Péter and guitarist Gál Lajos are still involved, the band's original vocalist Barta Zsófi has moved on, and is succeeded on this release by Török Tilla, who has an equally beautiful voice but is also a top-notch folk fiddler. There's also been a shift of musical emphasis; there is less of the ambient electronics of their earlier work, and more different shades of folk and rock music. The opener, with its jangly guitars and bent notes, calls to mind 1960s folk-rock; the bells, keyboards, and sitar sounds of "Kősziklán Felfutó" have a trippy prog or art-rock vibe, while "Ha Folyóvíz Volnék" has a hard-rock edge. "Folydogál Egy Patak," on the other hand, shows them "uplugged": sweet acoustic guitar, cello, and violin supporting Török's longing vocal. Many tracks feature the fiddle, Jew's harp, and various folk flutes prominently. These instruments, as well as the singing of Bognár Lili, another terrific vocalist who sings in a more traditional style, ensure that traditional music is still a big part of the sound. As with their previous albums, the musical arrangements sound perfectly organic, the songs are gems selected with care from the traditional repertoire, and the musicianship and production are impeccable. For these qualities, they deserve recognition as one of Europe's foremost groups making electric folk. Their singing in Hungarian might make connecting to audiences elsewhere a challenge, but their music has both exquisite beauty and broad appeal, and I hope they'll be heard beyond Hungary's borders. Check out the opening track below!
Qntal, whom I've also written about before, achieve a similar fusion working with slightly different materials: traditional and anonymous songs, medieval songs, and poems by 17 and 18 century writers set to music by the band's Michael Popp. Qntal VII, the band's latest, features French, German, English, and Latin lyrics from the 13 century to modern times, including pieces by Byron and Blake, as well as their usual complement of Minnesingers and anonymous troubadours. It's a complex and rewarding album worth the years-long wait for the band's fans, and also a fine place for new listeners to jump in. The main voice as usual is the dramatic and powerful Sigrid "Syrah" Hausen, also the singer for the medieval band Estampie. She is joined by Popp and Sarah "Mariko" Newman on vocals. Music is provided by Newman (viola), Leon Rodt (keyboards and production), and Popp, who is the main composer and multi-instrumentalist. As on their previous works, the band blends early music sounds with pop, electronica, industrial, and gothic music. Qntal VII puts the influence firmly on the electronica, and works up a serious trance with three different mixes of "Schnee." But there are many touches of early music and world music, including oud, saz, hammered dulcimer, and what sounds like erhu on their arrangement of Blake's "Tyger." The folk and medieval influences come out in such pieces as the medieval "Frühlingslied" and the French folksong "Rossignolet," which has a pretty recorder solo representing the nightingale's song in an otherwise electronic landscape:
One of Qntal's songs will be particularly interesting to fans of British folk-rock: the album's opener, "Flaming Drake," is an adaptation of a 17 century English mendicant's song, whose sequel was adapted by The Halliard and Steeleye Span into "Boys of Bedlam." Qntal's is the original song that established the character of Tom O' Bedlam and his enemies the hag and the hungry goblin (although these characters are sadly omitted from Qntal's text). It's possible this poem was an influence on Shakespeare's King Lear. Harold Bloom called it the greatest anonymous poem in English, although many people mistakenly transfer Bloom's praise to its much more famous sequel. It's not a song that's performed often, so this is a good chance to hear a classic in a spiffy new arrangement—even if its more startling and lurid verses have been cut. Hear it below!
If I want to write about a Welsh band in a column about Europe I'd better hurry before Brexit takes effect! So I'll mention Plu, a trio playing mostly original folk from Wales, whose third album is Tir a Golau [Land and Light]. Their trademarks are bright but ethereal three-part harmonies and a light, airy touch in their instrumental accompaniment. They're influenced by modern alt-folk and Americana, but equally by sounds of the early 1960s, and you're likely to be reminded of everything from early Byrds and Fairport Convention to Simon and Garfunkel to Mary Hopkin (in her Welsh-language days). It may be cheating to put them in an electric folk article, since their music is mostly acoustic, including guitar, banjo, fiddle, and glockenspiel. But they also use electric bass, sometimes a full rhythm section, keyboards, and some spare electric touches like pedal steel. My Welsh is very shaky, so I'm not really understanding the lyrics; instead, I'm carried away by the sweet groovy 60s folk sound. I do know that the one traditional song, "Ambell I Gân" is a song about singing and the inspiration it offers, a message that's appropriate for this uplifting and transporting album. Hear one of the songs below.
One of the more interesting uses of electronics in folk music is live looping of acoustic instruments. The technique, in which musicians begin by playing parts, then sampling them and setting them to repeat as loops while playing new parts over them, allows for denser textures and complex evocations of feeling without losing the essential character of the instrument or of solo performance. In fact, while live looping can work in any act, it's particularly interesting in the work of a solo player, allowing one person to play with complex layers of sound. A great explorer of this realm, the Estonian singer and fiddler Maarja Nuut, has just released Une Meeles [In the Hold of a Dream], a full album of her looped performances. (For those who object that these might not be truly live looped performances, I saw her play a good chunk of the album live at Folk Alliance International in February, so I can confirm that they are.) Her basic ingredients are voice, fiddle (bowed and plucked), foot percussion, and occasional ambient sounds. The music ranges from almost traditional in sound on the fiddle tune "Eeva & Maarja labajalg" to experimental, as on the primarily plucked and strummed "Kellatoas," and from mysterious on the vocal piece "Õdangule" to trancelike on the ballad "Siidisulis linnukene." "Kiik tahab kindaid" begins with about two minutes of ambient sound (apparently the sound of a mobile phone tower in the wind) before the song begins, while on "Sammud," Nuut loops her fiddle and her walking, shuffling, and dancing feet, for a minimalist piece evoking both everyday and heightened forms of movement. With its confident use of traditional folk music, modern production, and the skills of both musician and storyteller, Une Meeles does very well at its main goal: evoking the feeling of a dream. Check out one of the tracks below.
Related
Popular in the Community