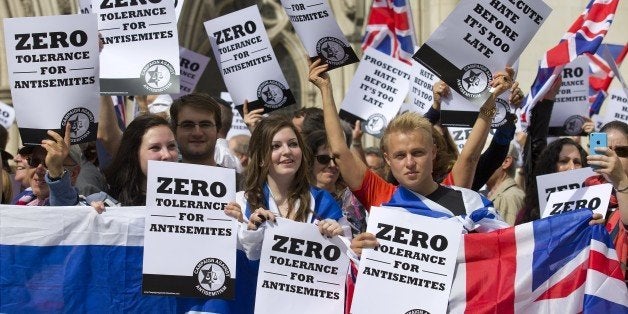 Accounts of anti-Semitism have risen throughout Europe in the wake of the ongoing Gaza conflict, illustrating a disturbing trend that some say is the worst since the Nazi era.
In the face of synagogue attacks, incendiary graffiti and hateful slogans, thousands have risen up in cities around Europe to protest anti-Semitism and demand swift legal action against perpetrators -- calling for governments to "prosecute hate before it's too late.".
On August 31 three rallies protesting anti-Semitism took place in three major European cities.
The Frankfurt rally will be followed by a national demonstration in Berlin on September 14 with scheduled speakers German Federal President Joachim Gauck, Chancellor Angela Merkel and World Jewish Congress President Ronald S. Lauder.
"We want to show on 14 September: We are here! We will stay! And we will fight all attacks vigorously, together with our friends in German society," Dieter Graumann, president of the Central Council of Jews in Germany, said in a press release.
In London some 4,500 protestors convened Royal Courts of Justice with the same message: "We demand zero tolerance of anti-Semitism."
British chief rabbi Ephraim Mirvis lead the crowd in calling for and end to all forms of prejudice, saying "little did we realize" that such a rally would be necessary at this point in history.
Jonathan Sacerdoti, spokesperson for the Campaign Against Anti-Semitism, drew a parallel between anti-Semitism and other forms of prejudice against minorities. In an interview with The Times of Israel Sacerdoti argued:
"As a minority group in the United Kingdom we deserve protection under the law. As proud British citizens, we recognize this not only as a Jewish problem but a British problem when a minority group isn't being protected under the law to the extent they feel safe within their own country."
In Stockholm roughly 1,000 people turned out to protest anti-Semitism with a Kippah Walk, reportedly attended by leaders from all of Sweden's major political parties. This event also highlighted the frightening precedent anti-Semitism sets for prejudice against other minority groups.
"This Kippah Walk sends an important message: There is no way that Sweden will tolerate expressions of hatred and intolerance: not against the Jews and not against any other minority," Lena Posner-Körösi, head of the Official Council of Swedish Jewish Communities, said.
REAL LIFE. REAL NEWS. REAL VOICES.
Help us tell more of the stories that matter from voices that too often remain unheard.
BEFORE YOU GO
PHOTO GALLERY
Notable American Jews