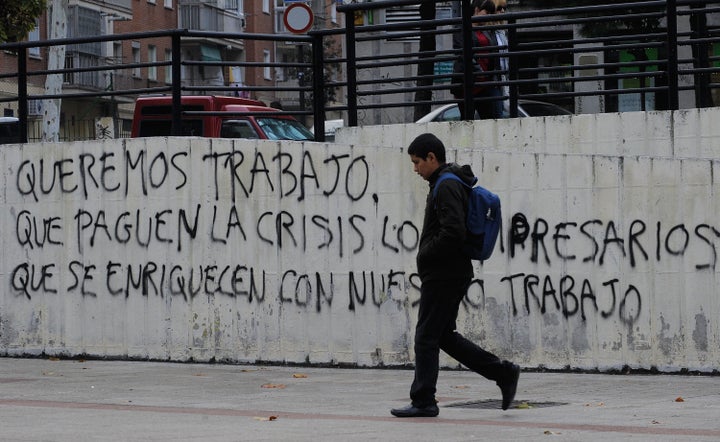 Tomorrow evening, the European Union's heads of state or government will come together for an informal working dinner at the invitation of Council President Herman Von Rompuy. The meeting has been called to prepare the next formal European Council meeting scheduled for June 28 and 29. Growth and jobs will be at the center of the dinner's discussions, just as they were last weekend, at the G8 discussions President Obama hosted at Camp David.
Prior to the G8 summit, President Obama urged European leaders to ensure efforts at fiscal consolidation were matched with an agenda for growth. Yet even with the eyes of the world upon them, and despite the inclusion of European Commission President Manuel Barroso and European Council President Herman Von Rompuy, the leaders left with a declaration that was heavy on platitudes and low on substance. While many had hoped the election of Francois Hollande as President of France would be a game changer in the debate, the majority of European nations are still governed by the center-right. Among them, there is either insufficient political will or no desire to change the agenda. As the Wall Street Journal has noted, it thus seems unlikely that Wednesday's dinner in Brussels will change much, whatever the leaders declare.
Today, Europe urgently needs an action plan, not platitudes.
Millions of Europeans continue to suffer at the hands of an economic doctrine that calls for harsh cuts in public spending across the board. Economic activity across the continent continues to stagnate. And, as growth slows or stagnates, and as a number of major economies re-enter recession, unemployment continues to rise across Europe. With youth unemployment at almost fifty percent in some nations, a generation of young people looks set to be denied the most basic of rights, namely the opportunity to make one's own way in the world. As Ezra Klein has noted, these policies are unpopular not just because Austerity Isn't Working, it's actually making things worse.
So where might a change come from?
While Europe's heads of state and government are meeting in Brussels, across the continent a coalition of progressive institutions are simultaneously preparing to launch a pan-European movement in favor of a pro-European, pro-growth agenda. The "Austerity Isn't Working" movement takes inspiration from the viral and civic campaigns in the United States that have shifted the political debate away from debt and deficit and toward growth. The movement's organizing hub -- AusterityIsntWorking.EU -- states that the goals of this fledgling coalition is to illustrate the human cost of austerity, compile the growing economic evidence that austerity isn't working, and promote fresh ideas designed to shape a fiscally responsible, pro-European, pro-growth response to the crisis.
For now, the campaign is still in its pre-launch stage. The hope, however, is that in the coming months it will provide a hub of ideas for those wishing to shape a more progressive European policy, as well as a means to channel the political force of those Europeans who want to see a more balanced European agenda. Pan-European initiatives of this kind are unusual to say the least, and as I have noted elsewhere, the Europeanization of political debate is still in its infancy. It's also unclear whether European's will embrace social media movements as American's have. Yet, as frustrations across the continent grow, Austerity Isn't Working might just be the right initiative at the right time. Those in favor of an alternative to austerity should hope that it is.
REAL LIFE. REAL NEWS. REAL VOICES.
Help us tell more of the stories that matter from voices that too often remain unheard.