 * Police, protesters clash in Madrid; 81 arrests in Spain
* Flights, trains cancelled, factories at standstill
* Demonstrations in Greece, Italy, Belgium, France
* Recession deepens in southern Europe, record joblessness
By Borja Gonzalez and Andrei Khalip
MADRID/LISBON, Nov 14 (Reuters) - Police and protesters clashed in Spain and Italy on Wednesday as millions of workers went on strike across Europe to protest against spending cuts they say have made the economic crisis worse.
Hundreds of flights were cancelled, car factories and ports were at a standstill and trains barely ran in Spain and Portugal where unions held their first coordinated general strike.
In Spain, 81 people were arrested after scuffles at picket lines and damage to storefronts. Riot police in Madrid fired rubber bullets at protesters.
In central Rome, students stoned police in a protest over money-saving plans for the school system. A few dozen protesters, hurling bottles and large firecrackers, clashed with riot police, who fired tear gas and dragged away at least one bleeding protester into a police van, a Reuters witness said.
International rail services were disrupted by strikes in Belgium and workers in Greece, Italy and France demonstrated as part of a "European Day of Action and Solidarity".
It was the biggest Europe-wide challenge by organised labour to austerity policies that have aggravated recessions and mass unemployment in nearly three years since the start of the euro zone's debt crisis. But it seemed unlikely to force hard-pressed governments to change their cost-cutting strategies.
In Portugal and Greece - both rescued with European funds and under strict austerity programmes - the economic downturn sharpened in the third quarter, data showed in Wednesday.
Portuguese unemployment jumped to a record 15.8 percent while next door, in Spain, one in four of the workforce is jobless. Greece's economic output shrank by 7.2 percent on an annual basis in the third quarter as the debt-laden country staggers towards its sixth year of depression.
Close to 26 million people are unemployed in the European Union while governments take aim at spending on treasured universal health care and public schools.
"Everybody has to do something to call attention to what's happening," said Esteban Quesada, 58, a hardware store owner in Barcelona who closed his shop to join the protests in Spain's second city.
"Things have to change... Money has ended up with all the power and people none. How could this happen?"
Spain, Portugal and Greece have all slashed spending on pensions, public sector wages, hospitals and schools. But frustration has mounted as the cuts aggravate the economic downturn. In Spain, most of the savings have been gobbled up to meet higher interest payments on the national debt, swollen by the cost of rescuing banks after a real estate bubble burst.
The tax rises and spending cuts are aimed at putting public finances back on a healthy track after years of overspending. In Spain, a decade-long building boom collapsed, leaving airports, highways and high-rise buildings disused around the country.
Germany's central bank, the Bundesbank, said in a report on Wednesday that the euro zone debt crisis is still the number one risk to German banks and insurers, and the situation had not improved from last year.
Pledges from the European Central Bank to support sovereign bond prices for countries that seek aid have brought some relief to Spain and Italy in the capital markets.
On Wednesday Italy sold 3-year bonds at the lowest borrowing cost in two years.

While several southern European countries have seen bursts of violence, a coordinated and effective regional protest to the austerity has yet to gain enough traction to significantly shift policy.
Spanish Economy Minister Luis de Guindos told reporters on Wednesday the government would stay the course with spending cuts to meet ambitious deficit cutting targets, despite the strike. ID:nL5E8MCATZ]
"We're on strike to stop these suicidal policies," said Candido Mendez, head of Spain's second-biggest labour federation, the General Workers' Union, or UGT.
Mendez said turnout for the strike - the second one this year - was massive, with turnout in the public sector well above 50 percent. The government minimised the impact, saying many services were functioning normally.
Passions were inflamed when a Spanish woman jumped to her death last week as bailiffs tried to evict her from her home. Spaniards are furious at banks being rescued with public cash while ordinary people suffer.
In Portugal, which took an EU bailout last year, the streets have been quieter than in Greece or Spain but public and political opposition to austerity is mounting, threatening to derail measures sought by Prime Minister Pedro Passos Coelho.
His centre-right government was forced by protests to abandon a planned increase in employee payroll charges, but replaced it by higher taxes.
Passos Coelho's policies were held up this week as a model by German Chancellor Angela Merkel, who is despised in much of southern Europe for insisting on austerity as a condition of her support for EU aid.
"I'm on strike because those who work are basically being blackmailed into sacrificing more and more in the name of debt reduction, which is a big lie," said Daniel Santos de Jesus, 43, who teaches architecture at the Lisbon Technical University.
Some 5 million people, or 22 percent of the workforce, are union members in Spain. In Portugal about a quarter of the 5.5 million strong workforce is unionised.
Major demonstrations were planned for the evening in Madrid, Lisbon, Barcelona and other cities.

ARRESTS, FLIGHTS CANCELLED
Protesters jammed cash machines with glue and coins and plastered anti-government stickers on shop windows around Spain. Power consumption dropped 16 percent with factories idled.
More than 600 flights were cancelled in Spain alone, mainly by Iberia and budget carrier Vueling. Portugal's flag carrier TAP cancelled roughly 45 percent of flights. Trains, subways and busses in both countries were severely curtailed, but many retail shops were open as normal.
Italy's biggest union, CGIL, called for a work stoppage of several hours across the country. The transport ministry expected trains and ferries to stop for four hours. Students and teachers were set to march.
In Greece, which saw a big two-day strike last week as parliament voted to approve new cuts, hundreds of strikers rallied peacfully in central Athens, holding aloft giant Italian, Portuguese and Spanish flags and banners proclaiming "Enough is enough."
In France, five trade unions organised marches in more than 100 cities but did not call for a strike.
Left-wing critics of Socialist President Francois Hollande said he has failed to address the concerns of French workers who have the same fears as their counterparts in southern Europe.
"It's an unconditional surrender," hard left leader Jean-Luc Melenchon said on France 2 television.
Every week brings news of fresh job cuts. Spain's flagship airline Iberia, owned by UK-based International Airlines Group , said last week it will cut 4,500 jobs. The prestigious El Pais newspaper just laid off almost a quarter of its staff.
"We have to leave something better for our children," said Rocio Blanco, 47, a railway worker on the picket line at Madrid's main rail station, Atocha.

Before You Go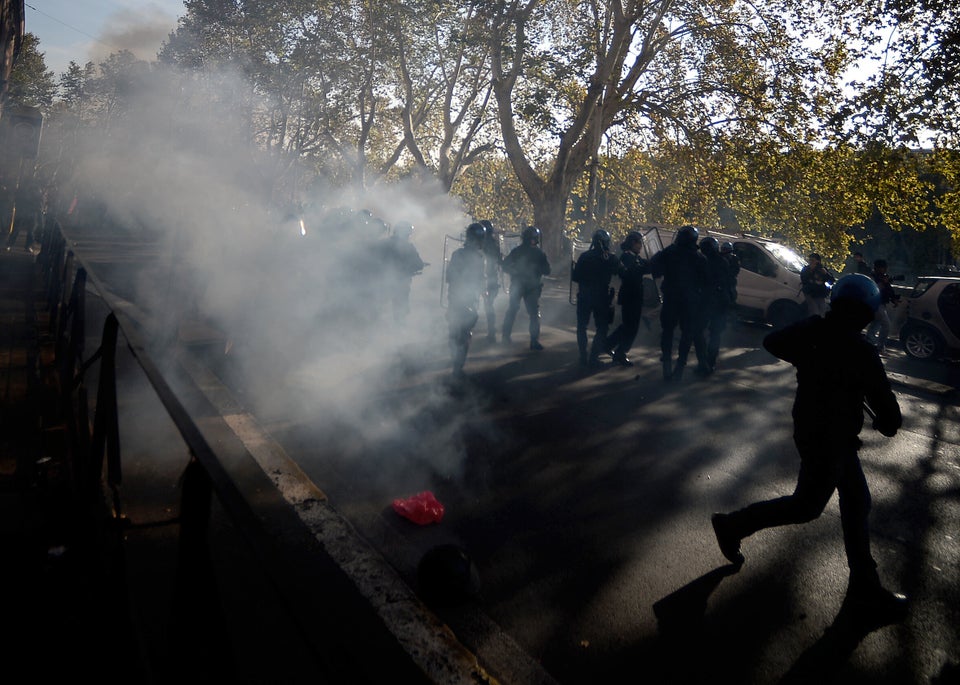 Anti Austerity Protests
Popular in the Community