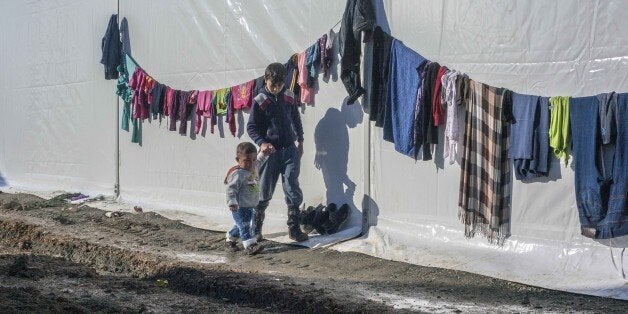 Seemingly reasonable, the intent of the EU to disburse during this year, mainly to Greece, 300 million euros for refugee emergency relief, is difficult to applaud. Particularly within the broader framework currently envisaged for centralized control by Brussels of all asylum claims, the short-term palliative measure proposed is almost a meaningless gesture.
Already socially, financially and politically destabilized, the country is now seriously inundated by well over 100,000 migrants. Critically undermining a fragile economy not likely to be able to survive an additional shock from the massive cancellations of tourist arrivals the humanitarian crisis increasingly causes. These refugees are trapped here because they continue to be agonizingly prevented by troops, dogs and tear-gas from crossing the barricaded border of the Former Yugloslav Republic of Macedonia -- on their way obviously elsewhere in Europe. The miniature state encouraged to persist here by the EU's complicit silence despite this truly harrowing spectacle.
Sacrificing Greece will not save Europe from having to come face-to-face with awkward, complex and hazardous realities. Nor is the fundamental question here one of simply centralizing the processing of asylum claims -- generated by a basically flawed system. Less amateurish and deeper thinking is needed. It is also no use accusing others, mainly Russia at this point, of weaponizing the spreading Muslim exodus. Brussels could do better to review its own original commitment to an "open-house" Europe which lies at the heart of the European Union's present predicament.
Recently epitomized by a bizarre pledge of an extra 3 billion euro in aid to Turkey -- still in draft form -- following recent covert talks between the German Chancellor and the Turkish President. Which, if approved by the rest of European leaders and including the European Parliament, will risk opening a new "highway" for Muslim migrants to come to Europe. Having also promised to Turkey, apparently after waiving performance-related conditions, visa-free travel to Europe for its nearly 80 million citizens. In return for "trying" to stop the Syrian migrants passing through its lands to reach the European continent.
There has never been a popular mandate for the EU leadership to imagine, unwisely, that the European continent can also serve as a natural habitat for well-over one million (and rising) refugees fleeing Syria. Or that receiving such mass uninvited arrivals is consistent with Europe's best interests, especially in today's troubled times. When (radical) Islam, pretty freely active in its midst, is poised to capitalize on an opportunity to spread further its alien influence. Especially in the light of the recently seized treasure trove of data containing names and personal details of some 22,000 ISIS fanatics committed to battling at any cost the West in general and Europe in particular.
The sensible thing, therefore, is to consider as a priority at this juncture inviting individually all member-states of the Union to conduct each a referendum: to determine democratically whether or not the flow of migrants escaping the Syrian war -- disrupting social, economic and political stability in Europe -- will henceforth be allowed to freely enter, or indeed remain in, their respective sovereign territories. Such a key initiative would first contain, and eventually eliminate, a crisis that so far recklessly feeds on itself.
No member-state of the Union would be inclined to produce a popular vote favouring these massive intrusions. And, to the extent some exceptions might exist, draconian terms and conditions would no doubt apply. Either way the European Union would emerge empowered legitimately to confront what perhaps may yet prove the greatest Trojan Horse ploy in history. The European Commission could then humanely begin coordinating repatriations of stranded refugees as required. The best hope for the war's civilian victims is that peace should return to their homeland. Otherwise they will continue perilously seeking an uncertain future as unwelcome refugees in Europe.
The EU can indeed secure its borders. Emphatically relying -- to the advantage of all concerned -- on the total engagement of NATO's state-of-the-art technology and strategic supremacy, instantly capable of intercepting any suspicious movement at its inception in the Mediterranean and elsewhere: using, for example, unmanned aerial surveillance systematically. This would appear in striking contrast to the Alliance's currently restricted mobilization and incoherent tactics that at present merely serve to compound the problem.
___________Nicos E. Devletoglou, Emeritus Professor of Economics, University of Athens, is author of the books Academia in Anarchy: An Economic Diagnosis (Basic Books) written jointly with Nobel Prize Laureate in Economics James Buchanan; and Consumer Behaviour: An Experiment in Analytical Economics (Harper and Row).
Related
Popular in the Community