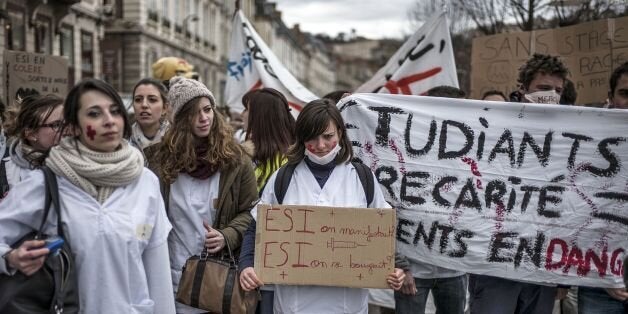 Prime Minister Rajoy's remarks are excerpted from his talk to the Berggruen Institute on Governance's "Project Europe" Town Hall in Madrid on Friday, Feb. 28.
MADRID -- In the shadow of the recent economic crisis, there are those who are fostering disaffection for the European project in a manner that is not only unjustified, but also reckless.
We are presently facing a crisis of confidence of EU citizens that is resulting in very worrying demonstrations. We might think that this is still a minority of people, and it's indeed the case, but this minority is growing day by day.
As with the existence of the euro, anti-European sentiment and demagogy intend to bring into question the basic principles of the European Union. We can see this today with the free movement of people, another of the basic pillars of our integration.
If we put all our efforts into saving the euro, we must be prepared to safeguard free movement with the same conviction, as it is the very lifeblood of the single market and, hence, of our prosperity. Let me state this with total clarity: the free movement of people is as important as the free movement of services, capital and goods, and constitutes one of the basic pillars of the EU.
And faced with key issues such as this, which form part of the very essence of the European project, we must all act in consequence and defend them with strength and conviction. In this regard, the European elections will be a challenge to pro-Europeanism.
The upcoming elections will indeed be decisive for the future of Europe and much is at stake. It is my desire that the result of the elections should guarantee the governability of Europe. To that end, it is important that the incoming European parliament has a solid majority of forces that believe in European integration; political forces that are committed to the unity of all Europeans as the foundation of our prosperity and whose political actions aspire to greater solidarity between Europeans - not to segregation, division or erecting borders.
In order to guarantee growth and job creation, we must continue to takes steps down the path of European integration and I trust that we will know how to convince our citizens to distinguish between the reality we are all building, albeit with difficulties, but with tangible results, and the illusions some would have us believe in.
The Eurosceptics, proponents of division and anti-Europeans, are looking to undermine our common project and destroy it from within because they are incapable of building, only basing their ideas on promoting mistrust. To combat this, we must put all our efforts into explaining this reality to our citizens and getting them more involved. From where I stand, I am obviously committed to doing this.
The election of candidates to the presidency of the European Commission by the European political parties is good news, and is a step in the right direction, so that our citizens are increasingly involved in the European debate, because, beyond the need to continue with the process of integration we are involved in, as from 25 May, Europe must take transcendental decisions for its future. In my opinion, these decisions are the following:
- Firstly, we need an internal market that is fully effective and integrated which allows our SMEs to grow at both a European level and on the international stage. To that end, it is essential that we have an integrated energy policy which fully ensures interconnections on the continent and which makes a firm commitment to new forms of energy, as well as to developing a simple but effective regulatory environment for our companies.
- Secondly, we need a European Union without internal borders, and which controls the external EU borders in a comprehensive and supportive manner. In other words, a true European immigration policy, that is more effective and more supportive towards those countries along its external borders, with additional European resources and with an external dimension that combines dialogue with countries of origin and transit, and development cooperation to contribute towards the construction of a space of shared prosperity with our neighbors. It is not a question of making a fortress out of Europe. At this time, we need to attack the problem at its source: immigration must be an option and not an obligation for survival. And illegal immigration that takes place in a certain geographic point of the EU, whether in the north or in the south, is not a localized problem or challenge for one specific geographic point, but rather a global problem for the European Union. For that reason, a comprehensive and supportive immigration policy is imperative for the European Union in the 21st Century. I consider this matter to be of prime importance. Economic matters are very important, but I believe that this matter, in addition to being transcendental from an economic point of view, is more so in a substantive terms.
- Thirdly, we need to develop the full potential that a common trade policy can offer us and which must serve to strengthen the trade leadership of the European Union around the world. The Transatlantic Trade and Investment Partnership with the United States of America is an opportunity that we cannot let pass us by and which represents an extraordinary guarantee for economic growth for both sides. The same is true for relations between the European Union and Latin America. An ambitious association agreement with MERCOSUR -- or with the members of this organization that are so disposed -- would undoubtedly drive growth on both sides of the Atlantic. Spain is prepared to support this, have no doubts on that score.
- Fourthly, we need the European Union to continue heading up the fight against climate change and for this to fully involve our companies, so that they can exploit all the possibilities that the realistic transition to a low carbon-emission economy represents, both to strengthening the internal market and to strengthening our industry throughout the world.
- Fifth, we need to accompany greater integration with mechanisms for democratic control that provide the exercise of the significant powers we are transferring to the European institutions with essential legitimacy. In other words, the path towards banking union, fiscal union and economic union must go hand-in-hand with progress on political union and with reforms that make our institutions faster and more efficient.
- Finally, we need a European Union that is committed to the highly important role it must play as a key player on the international stage. Recent events such as in Ukraine are a clear demonstration of this.
Europe cannot, under any circumstance, conform to playing a secondary role on the international stage in the 21st century. It must deploy an ambitious foreign affairs service in line with its fundamental objectives and principles; a foreign affairs service that promotes our presence around the world, that defends our interests and also projects our values, because Europe, and this shouldn't be forgotten, is a community of values.
Europe must necessarily assume a role of strong international leadership; it must become a key player, with a decisive role in the effective resolution of the multiple conflicts that mark current international society.
Related
Popular in the Community