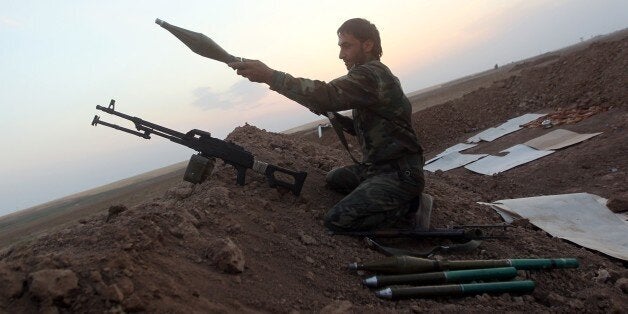 Residents in a number of European countries strongly support the American air strikes that have been launched in Iraq, but are much less supportive of their own nations taking the same action, a new YouGov poll finds.
Seventy-one percent of respondents from Denmark, 65 percent of respondents from Sweden and France, 61 percent of respondents from Norway, 59 percent of respondents from Britain, and 55 percent of respondents from Finland expressed support for President Obama's decision to launch air strikes against ISIS targets in Iraq. Opposition to the air strikes did not rise above 18 percent in any of the six countries.
German respondents were slightly more divided about the American air strikes in Iraq, with 48 percent of Germans saying they support the strikes, compared to 34 percent who expressed opposition.
In the most recent HuffPost/YouGov poll on this topic, 64 percent of Americans said they support the air strikes in Iraq, while 20 percent opposed them.
When asked about the possibility of their own nation launching air strikes against ISIS targets in Iraq, however, Europeans were much less supportive. The strongest support for this hypothetical action was in Denmark and Great Britain. Forty-two percent of respondents from Denmark said they would support Danish air strikes in Iraq, compared to 36 percent who were opposed. An identical 42 percent of British respondents said they would support Britain launching air strikes in Iraq, while 37 percent expressed opposition.
German and Finnish respondents expressed the weakest support for their country's military hypothetically commencing air strikes in Iraq. Only 26 percent of respondents in both nations said they would support the move. In contrast, 63 percent of German respondents and 50 percent of Finnish respondents expressed opposition to the hypothetical air strikes.
The YouGov poll surveyed 2,021 British adults, 1,037 German adults, 988 French adults, 1,012 Danish adults, 1,014 Swedish adults, 1,009 Finnish adults and 705 Norwegian adults online from Aug. 21 to Aug. 29.
Calling all HuffPost superfans!
Sign up for membership to become a founding member and help shape HuffPost's next chapter