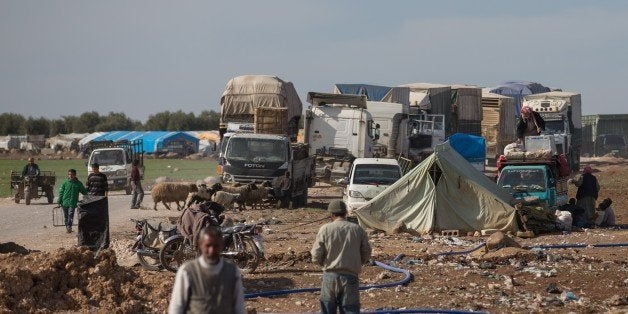 This piece was co-authored by Sarah Aziza, a writer and human rights activist working in New York City and the Middle East. @SarahAziza1.
Responsible commentary on the smuggling of migrants into Europe must begin with an answer to the question of a five-year-old Syrian refugee: "Daddy, why don't we just take the airplane?"

The painful truth is that European Union policy intentionally prevents refugees from accessing safe and legal means of transportation, leaving them no choice but to risk their lives on dangerous and illegal smuggling voyages. Despite frigid winter weather, thousands continue to make the trip, which has resulted in nearly 400 deaths so far this year. While the E.U. has dutifully decried the "crisis," its most recent actions will only make things worse for refugees.
Just last week, the E.U. struck a hasty agreement with NATO to deploy warships to intimidate migrants seeking refuge on European soil. With this unprecedented level of militarization, Europe (and the rest of NATO) is treating these refugees like foreign invaders.
Perversely, the E.U. has disguised this effort to exclude refugees as an attempt to protect these desperate migrants from exploitative smugglers and human traffickers. But the reality is that the E.U.'s exclusionary migration policy is precisely why these refugees are turning to smugglers in the first place.

If the European governments were primarily concerned about the refugees' well-being, they wouldn't punish legitimate airlines or shipping companies for trying to transport them, or succumb to political pressures to block land routes to Europe. And they would not prosecute heroic sailors who have transported refugees without compensation.

The E.U.'s intentions are clear: NATO warships are not there to help refugees -- they are there to stop them. And to do that, laws that should be protecting vulnerable populations from the exploitation of traffickers are now being manipulated to advance the E.U.'s anti-immigrant agenda.

Last summer, the jarring images of Alan al-Kurdi and those like him sparked a flurry of highly-publicized humanitarian concern in Europe, but these benevolent impulses have long been forgotten. Last fall, the E.U. all but bribed Turkey into promising to restrict the flow of refugees over land routes into Europe -- and both sides have shown that they view the lives of refugees as an unwanted burden to be used as political bargaining chips.
Now, Angela Merkel, who for months advocated for liberal resettlement policies, has gone the way of many of her E.U. colleagues in succumbing to xenophobic political will. As Josef Janning reported to the Washington Post, "Merkel doesn't have time anymore. She is under pressure, she needs to deliver lower numbers of arrivals, no matter how she does it."
And Merkel and her partners in the NATO deal are certainly on dubious legal grounds. Under E.U. and international law, asylum seekers may only be deposited in what are deemed "safe third countries." Human Rights Watch suggests that Turkey does not qualify for this distinction (because Turkey lacks adequate legal protections for non-European migrants), despite efforts by Merkel and others to side-step this issue.

Legality aside, the move demonstrates a disturbing lack of concern for the obvious desperation that motivates migrants to take such treacherous journeys. Migrants are painfully aware that they face mortal danger crossing the Aegean. The fact that these refugees are willing to make the trip in spite of this fact reveals just how much they are suffering abroad. NATO is not doing refugees any favors by further discouraging them from escaping their desperate circumstances. The whole point is that "no one puts their children in a boat unless the water is safer than the land."

It is clear that "legitimate" means of migration are inadequate, and NATO's interference will do nothing to alleviate the deprivation that is driving thousands to risk life and limb at sea. Stories like this one are obscured by dehumanizing policy talk while political sparring takes the place of life-saving action.
We must reject the misleading official narrative that NATO warships are protecting refugees, and that human traffickers are to blame when the bodies of drowned migrants wash up on the Mediterranean shores. Their blood is on the hands of the governments that leave these families with no other options.
How many drowned children have asked, "why don't we just take the airplane?" The E.U. owes them an answer.
Calling all HuffPost superfans!
Sign up for membership to become a founding member and help shape HuffPost's next chapter