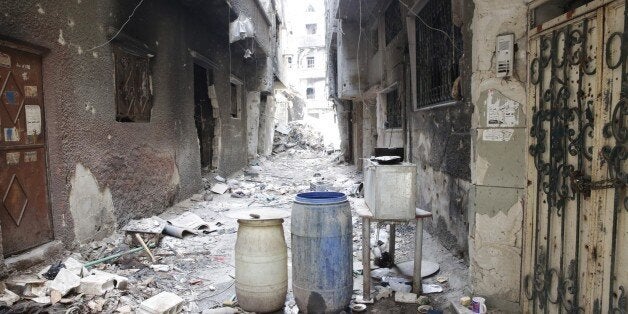 Since the Syrian war started four years ago, Europe has been merely the last stop in the long, cruel and tortuous journey that refugees embark on. They encounter terror, hunger, cold weather and violence before they reach their destinations. We Europeans should all listen to the testimonies of people who come here from Syria; it would wash away any doubts about our duty to welcome them and ease their transition into this new stage in their lives.
If there is one place in Syria that can illustrate the drama and suffering of its people, it's the Yarmouk Palestinian refugee camp. A photograph of Yarmouk, taken in January 2014, has become a symbol of the barbarity of the Syrian war.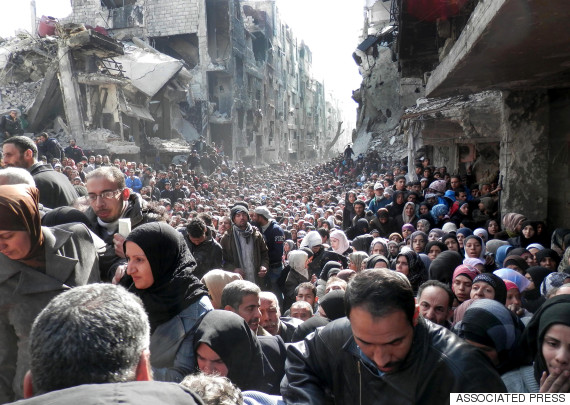 In this Jan. 31, 2014, file photo, released by UNRWA, shows residents of the besieged Palestinian camp of Yarmouk, queuing to receive food supplies, in Damascus, Syria. (AP Photo/UNRWA, File)
"I was there that day," Huda, a Syrian woman, told me last May. "I held a dead person in my arms." Her gaze, like her voice, was cold and flat. Her face looked weary, signalling accumulated fatigue.
"I stopped feeling anything long ago -- I don't feel sorrow or joy. After all I've seen over the past four years, I've become completely numb," she added. "That day, the scene was surreal. People were very dirty, very thin, their hands blackened from burning their furniture to heat their homes or cook. Some wept, others screamed, and some women performed zaghareet [ululation]. Children were there -- children who had been alone for months because their parents hadn't come home after the camp's siege in July 2013. There was a woman in a coma; she was diabetic and had spent months without insulin."
Huda looked down and stopped talking. She didn't want to recount that day. However, after a brief pause, she kept going, spilling out everything she had kept inside. "I cannot do this anymore, I need therapy. I have two daughters and I'm desperate to get them out of here; I want to send them to a safe country."
"Do you have children?" she asked me. "Then you'll understand. Many of my relatives are dead, I've been shot at on the streets. I lived through a car bomb explosion. I lived, because God saved me, but I saw everyone else get blown up. I've been way too close to many bombs, and I have seen too many corpses. My mother moved to Switzerland in 2012, when they started bombing Yarmouk. I have a brother there. She died last year. I never got to see her to say goodbye."
She looked straight in my eyes. "It's not just me, we are all the same. The phone rings constantly, and it's never good news. We are under a lot of pressure. Our families and friends are going through a terrible situation, and they constantly need help. I can't do this anymore. I can't deal with this anymore," she said.
Huda's story is just one among many that I heard that day around Yarmouk. Afterwards, I couldn't return to the camp. Indeed, no one has been able to go back since April 2015, when it was seized by the Islamic State. Humanitarian aid has not reached the camp since then.
This camp, which covers a small area of 2.1 square kilometers, brings together all the ingredients of the Syrian war. It has become one of the country's worst spots. It is located just six kilometers from the center of Damascus; a strategic position to seize control of the capital. That is why all the armed groups involved in the Syrian conflict are fighting over Yarmouk.
The Yarmouk refugee camp was established in 1957 by Palestinians who fled to Syria after the 1948 Arab-Israeli War. Over the years, it became the center of the Palestinian diaspora in Syria. Nearly 160,000 Palestinian refugees originally lived in the camps, and its streets bustled with shops, businesses and Palestinian culture.
"We moved there when I was 10 years old," said Laila, a Palestinian woman from Yarmouk. "I grew up there. When I got married, my family and my husband's family built our house. It was the house of my dreams. We had children. I was happy."
She trembled as she continued her story. "The bombs began to fall in late December 2012. We fled in the clothes we were wearing, nothing else. We left everything behind. My house is 500 meters from where we are. I have nothing. I am Palestinian. That house is the only thing I've ever had. I can't go back. I don't even know if it still exists."
The Syrian army shelled Yarmouk to kill off armed opposition groups who had entered the camp. The vast majority of the population fled, but some 20,000 stayed, mostly women, children, people with disabilities, and elderly people. In short, everyone who could not leave. A few men stayed behind to defend their homes from thieves, as their families tried to find safety elsewhere.
"Since we fled Yarmouk," Laila continued, "we've moved several times. It's always for safety reasons, when the fighting comes too close. Fortunately, throughout this time, I've kept my job. It is very difficult to live in a state of war and, at the same time, to get up every morning, leave your family, and to go to work. You don't know if something will happen after you say goodbye -- you might never see them again. But we have to keep living. Sometimes, on my way to work, a mortar shell lands close by, and I see people dying, sometimes right next to me. At times, I've had to take shelter somewhere, and wait until they've stopped fighting to keep moving. To put yourself to work after something like that is unbearable. Often we get to work and we feel completely insane, in a state of shock."
Laila told me that she still speaks on the phone with a friend who stayed in the camp. Her family couldn't leave after the siege of the Syrian army in July 2013. "One day she called me crying, and asked me for help," said Layla. "A bomb had killed her six year-old son, who's the same age as my son. They grew up together. She asked for my help, but there was nothing I could do. I couldn't enter Yarmouk."
A call interrupted our conversation. Laila grew nervous and hung up after exchanging only a few words. "Sorry, I'm expecting an important call, but it wasn't this one," she said, blushing a little. After a brief silence, and she continued: "My husband's family set sail from the Libyan coast a few days ago, and we know nothing yet. We were told they would call as soon as they landed. We are very worried."
Laila is not the first person to tell me that her biggest goal is to leave Syria. In my journey, I've known quite a few others who have felt the same way. It's a constant theme in my conversations. However, Laila doesn't want to talk about it, so we went back to our conversation about Yarmouk. She says that the camp has been destroyed, and that there's no point in going back.
"What will we Palestinians do? Even if we survive, we can't go back to our land. You know our history. And we no longer have a home to return to here either. It's better to go to a different country," Laila said.
Yarmouk suffered under the siege of the Syrian Army for six months. Humanitarian aid that was necessary for the refugees' survival could not make it into the camp. People say that during that time no one, and nothing, could enter Yarmouk. They had to eat their pets. They boiled leaves, seeds and weeds to trick their stomachs into believing that they were actually eating. No one knows for sure how many people died of starvation. Photographs of malnourished corpses, mostly of old people and children, have emerged on social networks. After growing pressure from UNRWA, the first food convoy entered the camp on January 18, 2014. Photos capturing the food distribution made it to front pages worldwide.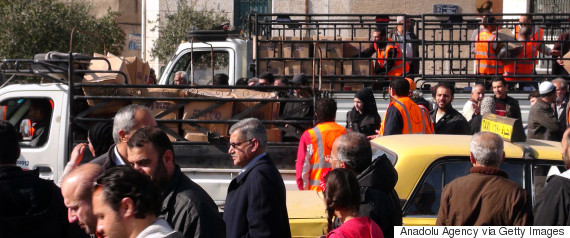 The Yarmouk refugee camp, where Palestinians struggle with hunger has received food aid from the United Nations Relief and Works Agency for Palestine Refugees in the Near East (UNRWA) in Syrian capital Damascus on January 18, 2014. (Photo by Anadolu Agency/Getty Images)
As if there had not been enough suffering in Yarmouk, in April 2015, the dreaded Islamic State seized control of the camp. As clashes erupted between various armed groups, including al-Nusra Front, almost a hundred people managed to escape. I met them in a public school a few hundred meters from Yarmouk's main entrance. Most of them were women and children.
A tall woman with a long ponytail, called Iman, caught my eye immediately. Despite her scrawniness and her worn-out clothes, she still looked elegant. As she chain-smokes, she tells me -- in impeccable English -- that they had been caught off guard by the fighting in the streets. That's why they fled, carrying only the children who were with them at the time. The rest of their families remain in Yarmouk. They want to return, but they are too afraid of the Islamic State. They don't know what will become of their lives. They stay in touch with their family members in the camp via telephone. Some say that they will return as soon as they can, because their children are still there, and that they can't imagine going anywhere without them. Until then, they would continue to sleep in this school, until a safe return is possible.
When I got up to leave, Iman whispered in my ear that she also speaks Italian and French, and that she now wants to learn German. Her daughter is in Germany, and she doesn't know when she will be able to meet her there, but while she waits, she would like to learn the language. I said goodbye with a hug, telling her that I have no doubt that she'll learn German. I expressed none of all my other overwhelming concerns.
UNRWA still cannot enter Yarmouk. I don't know if Iman managed to meet her daughter. However, Laila told me that her family has safely arrived in Norway, their last stop. Now it's up to her and her children to begin the last part of this cruel journey that has already taken far too long.
This post first appeared on HuffPost Spain and was translated into English.
REAL LIFE. REAL NEWS. REAL VOICES.
Help us tell more of the stories that matter from voices that too often remain unheard.