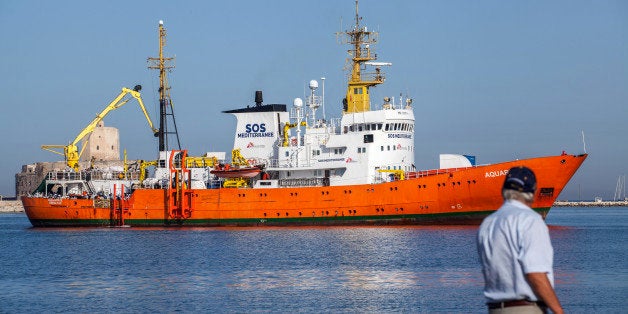 At the moment, I am on board the Aquarius, SOS Méditerranée's rescue boat. This is my fourth mission. As I write this, we are about 50 kilometers north of the Libyan city of Tripoli.
Together with Doctors Without Borders (MSF), SOS Méditerranée uses the Aquarius to rescue refugees.
Over the last couple of weeks, my crew and I have saved almost 3000 people, 600 of which were under 18, unaccompanied and alone.
I have an important message to the people of Europe. Many of you believe that the refugee crisis has subsided, since less people are coming to Europe. But that's nowhere near true: There are still thousands who set out for Europe, and their journeys are deadly as ever.
That's why Europe needs to wake up and find a way to keep people from dying at sea.
A year has passed since the Syrian boy Alan Kurdi was found washed up on the beach of Izmir.
A great number of Europeans are refusing to face the facts: There are still thousands of women, men and children dying in the Mediterranean. When they drown, the ocean mutes their cries, and you hear nothing.
I will never forget little Vincent. He stood by himself on the deck, and told me that he had lost his parents. He had just followed the others to find a place on the boat. Little Vincent is not a victim. He's a hero.
This is our daily routine in the Mediterranean: We either find a boat by chance, or the rescue coordination center sends us the coordinates of one.
I am part of the rescue team. From sunrise to sundown, we keep watch on the bridge, looking for boats that are overcrowded and unseaworthy.
On average, these roughly 12 meter-long rubber boats, which are designed to hold a maximum of 25 people, are crammed with up to 150 people. There are approximately 70-100 liters of fuel on board, barely enough to reach international waters -- that's if you can manage to navigate.
Over the past six years, not one rubber boat has made it to Lampedusa or to the mainland. Some of them have been seized, and the rest have capsized.
Most boats start their journeys at night, around 11 p.m. or 1 a.m., to try to reach international waters by early morning. It's always the same, day in, day out: We get our rescue boats ready, scope out the situation, and evacuate the passengers.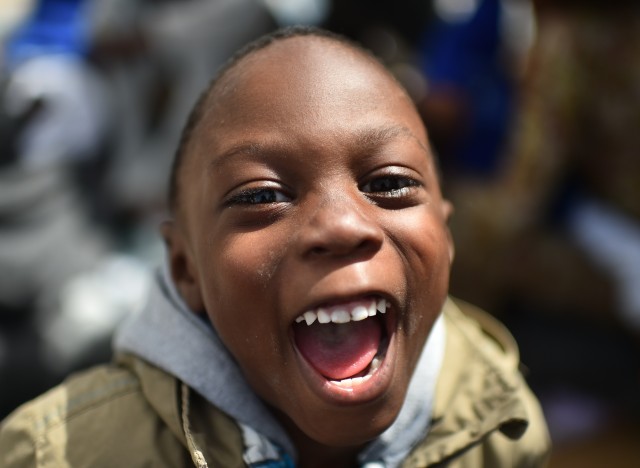 A child migrant laughs prior to leave rescue ship 'Aquarius' as more than 380 migrants arrive in the port of Cagliari, Sardinia, on May 26, 2016, two days after being rescued near the Libyan coasts. (GABRIEL BOUYS/AFP/Getty Images)
I am the only Arabic-speaking member of our rescue team. I alternate between going on one of the rescue boats and receiving the refugees on deck.
We transfer the people to the MSF workers for registration. They receive a little rescue-kit -- a blanket, a towel, a disposable suit, biscuits, and water. If we detect the smell of fuel on any of our guests, we have them take a shower in order to avoid chemical burns.
During a rescue mission in June, we brought a total of 675 people on board. We had rescued a total of three boats and taken in 350 people from the Italian navy.
We see the same thing over and over again when we welcome the people on deck. They are exhausted and soaking wet. Their faces are filled with fear, mixed with hope.
The Maritime Rescue Coordination Center in Rome has issued instructions for rescued refugees to be sent to Trapani in Italy.
This trip takes us 36 hours. During that time, we take care of the refugees, and we support MSF in giving out food and tea. This is when their faces light up once again, and the kids start to play.
Time and time again, the refugees tell us about the terrible situation in Libya and the other countries they've fled. They tells us about men working on construction sites for $1 a day, and about women selling their bodies for less than $10. They talk to us about the torture that takes place in prisons.
Considering the political developments in our countries, I often wonder if they would actually be better off living in Europe with us.
Recently, we were searching for a boat until sundown. The rescue coordination center kept calling us, announcing new coordinates each time. As the sun started to sink, we started to panic; searching for a boat in the dark is like looking for a needle in a haystack.
It was around midnight that we heard an echo on our radar. The captain looked for the boat with searchlights until it finally appeared, 200 meters ahead of us.
There were 124 lost souls on the boat, exhausted and worn down by the long trip across the sea.
The operation lasted 32 hours. We saved 675 people. There were no casualties. On the same day, other vessels saved 6000 more people in the Mediterranean.
We are back in the rescue zone now, which is approximately 2,500 square kilometers. Many boats affiliated with rescue organizations are still moored up in the harbors. We're alone in the eastern region of this area.
We don't know what tomorrow will bring. People keep dying in the Mediterranean. Roughly 3000 people have drowned so far this year. We want this to stop. We want to bring that number down to zero.
Our motto is to stand together and rescue as many people as we can. Relief organizations like SOS Méditerranée, Sea-Watch and Doctors Without Borders are doing incredible work.
Where others fail, we want to show Europe that there is a better way.
This post first appeared on HuffPost Germany. It has been translated into English and edited for clarity.
Calling all HuffPost superfans!
Sign up for membership to become a founding member and help shape HuffPost's next chapter