Co-authored by:
Jonas Freist-Held, UN-Habitat Youth Advisory Board Representative for Europe
How Europe Wants to Shape the New Urban Agenda

The music starts cautiously. Water is trickling out of a small source somewhere in the Czech mountains. Throughout the piece the small stream develops into a big river and the music becomes more and more energetic until it reaches its peak: the river Vltava finally reaches its destination. The grand finale of Bedřich Smetana's masterpiece Vltava reflects the glamour, joy and pride of one of Europe's cultural hotspots: Prague.
Millions of tourists from all around the world come here every year to enjoy the city's unique atmosphere while strolling through old city center's streets and discover the Vltava river or many of the city's parks and public spaces. Prague is known for its historic architecture and cultural heritage. In 1992, UNESCO declared the city's Historic Centre as a World Heritage Site.
As such, the city is the perfect host for the European Habitat regional conference that took place from March 16 - 18. For three days, decision-makers and stakeholder groups from Europe, Japan and the United States discussed what topics and policies they consider most relevant for the New Urban Agenda.
During the first day of the conference one major theme was constantly repeated: cities have to function for its people. A master-planned city is not a success story, if it does not suit the needs and desires of its population in an inclusive and sustainable way. In this context, participation and local stewardship were key words. Cities have to be empowered to develop localized solutions with input from the local population.
Strengthening local components is one important part of the deal. It goes hand in hand with connecting cities and promoting international cooperation to create a sustainable urban environment. In the plenary discussion, European representatives highlighted the importance of transparency in urban planning processes to ensure local ownership on one hand and to share best practice solutions on the other hand. "Strong cities are key actors in a globalizing world," said representative from Germany.
Speaking of best practices: panelist discussed about how to best use smart technologies to advance participation opportunities; how to make public spaces accessible and attractive for everyone; how to create an inclusive environment by improving social and sustainable housing; how to decrease traffic by promoting car sharing models; and expanding and improving sustainable public transportation.
Global Youth Speak Up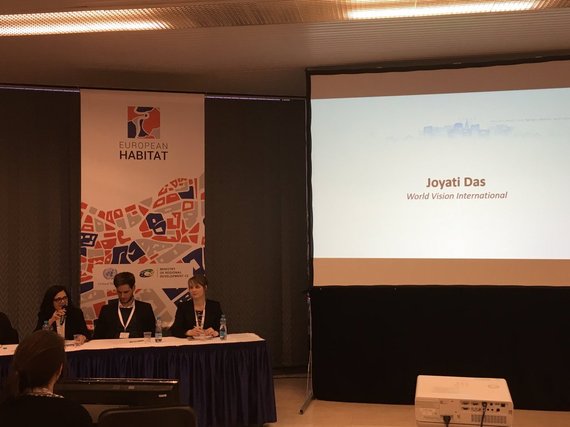 Joyati Das speaking at UN-Habitat Youth's side event at European Habitat.

Despite all variegated the opportunities Europe offers its people, the continent faces a number of challenges. Unemployment rates of young people have been up to 50 percent in many Southern European countries; among other factors, unemployment rate has made the youth demographic the social group with the highest risk of social exclusion in Europe. While streams of mostly young refugees into Europe remain high, countries have to provide infrastructure and opportunities to manage integration. Young people are essential partners in developing a New Urban Agenda.
Joyati Das, Senior Director for Urban Programs at World Vision International, shared an example of a safety programme in New Delhi, India that has engaged young women from the local communities with the local police force, where they explore both how to create safer spaces for youth while receiving training in self-defence. Meanwhile, a representative from YMCA International presented their flagship One Million Voices research project that is currently augmenting youth perspective on social justice issues and barriers and opportunities relating to employment, health, civic engagement, and organizational involvement.
In the last two years, four Urban Thinkers Campuses in Nairobi (Kenia), Caserta (Italy), Recife (Brazil) and Geneva (Switzerland) specifically focused the role of youth in the New Urban Agenda. At the Asia-Pacific Urban Forum in Jakarta in October 2015, more than 300 youth from 31 countries participated in an Urban Youth Assembly. In February 2016, hundreds of African youth participated in a youth assembly that was held at the African Regional Habitat III conference.
Since youth engagement gained momentum on the international level in these past years, more and more youth are seated at the table with decision makers and are able to provide their perspectives and input. "Today's youth movement is historic", says Douglas Ragan, Chief of the Youth and Livelihood Unit at UN-Habitat. As the major Habitat III conference in Quito comes closer, young people from all around the world hope that their voices are recognized in drafting the Habitat III agenda.
The conventional Western-centric perspective painting young people as apathetic, disengaged, and privileged, is clearly mistaken. Thousands of young people around the world are enthusiastically engaging to shape the New Urban Agenda, and a countless number more are contributing in their own capacities, through differing channels, to advance sustainable urban development. Young people are mobilizing everywhere around the world; many of us have just chosen to ignore them.
Decision-makers across Europe emphasized the role of young people in sustainable urbanization during the European Habitat conference. Now, it is up to young people and their advocates to keep their country accountable moving forward to Habitat III in October and beyond.
Popular in the Community