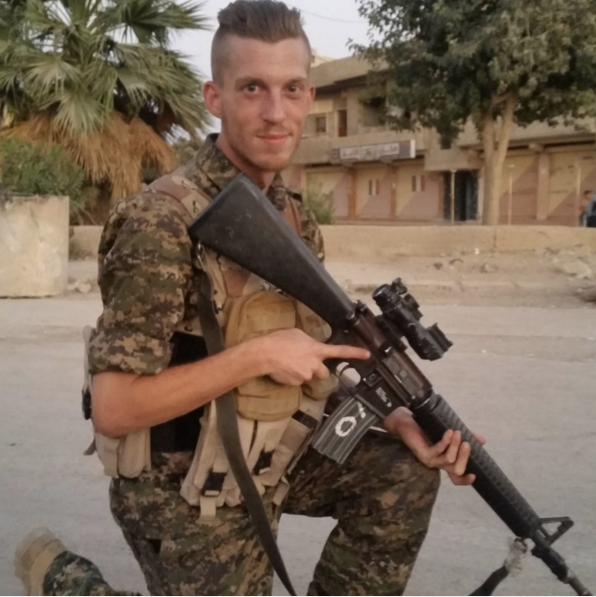 There were two weeks to go before summer break at the Swedish high school where Jesper Söder taught when he quit.
Söder, then 24, had concocted a different plan for himself and didn't want to place his students at risk. He left them behind on May 19 and began his journey to northern Syria. 
Now, temporarily back in Sweden after helping Syrian Kurdish forces combat the Islamic State group, Söder said he has a message for the West after last week's horrific attacks in Paris: Keep up the fight, and refine your tactics.
Söder praised the Syrian Kurdish militia that Washington now sees as a chief ground partner against ISIS in Syria. "In four years [since the start of the Syrian civil war in 2011], they have done more than any groups that fight" the extremists, he said.
The militia, known as the YPG, has captured thousands of miles of territory and multiple towns from ISIS since the U.S. began supporting it with air power last fall. The militia recently played a role in the successful effort to push extremists from the area near Sinjar in northwestern Iraq. And a new coalition the YPG has formed with Sunni Arab fighters will -- if things go as Washington plans and Arab-Kurd ethnic tensions can be managed -- be the force to eventually retake the Syrian town of Raqqa, ISIS's self-proclaimed capital. 
Asked why he decided to take up arms and join the Kurds,Söder replied, "I'm a human lover. I can't just watch and let this happen." 
Söder began to learn about the Kurdish forces and the Islamic State's atrocities in January, as world attention was fixed on the Kurdish resistance to ISIS in Kobani. He began planning to travel to Syria and spent five months saving. After quitting his job, he headed to Suleimaniyah, in Iraq's Kurdistan region. From there, he traveled -- as scores of Westerners have before him -- to what the Syrian Kurds call Rojava, their enclave in Syria.
Söder returned to Sweden two months later for surgery after he was exposed to a mine. While home, he gave an interview to the  the Swedish newspaper Expressen. He didn't like shooting, he explained -- he did it because he felt he needed to.
He returned to Rojava soon after, and began working on relief efforts and mentoring new fighters from abroad, he said.
Asked about criticisms of the YPG from Arab opposition groups that say it cares only about Kurdish concerns and from human rights organizations that have tracked alleged anti-Arab war crimes by some of its fighters, Söder said he saw the militia as open to all communities in the swathes of Syria it now controls, which include some of the country's most religiously and ethnically diverse regions.
Söder said he is eager to return to the front lines. He plans to be away "for two months maximum."
His trip home comes as more attention is being paid to ISIS strategy than since Kobani, or the point when the U.S. and a range of European and Arab partners launched a coalition to tackle the group last year. And Söder is not out of touch. On the Instagram feed he loyally maintained while in Syria, he posted an image of the French flag tagged #prayforfrance the day of the attacks in Paris.
"You can do airstrikes, you can do more weapons, but you also need to stand up to Turkey ... and those financing and supporting terrorists," Söder said. 
Soder blasted the Turkish government and suggested that many of the foreign fighters collaborating with Syrian Kurds who are key to the ISIS fight would like to see Turkey removed from the NATO alliance.
Many observers of the Syrian civil war -- particularly the Kurdish forces Söder aligned with -- have faulted Turkey for the extremists' rise because they say its lax border policies have aided the flow of foreign fighters to ISIS and other radical groups in Syria.
Söder said he sees those attacks as attempts to provoke the YPG into responding, and shattering its fragile relationship with the U.S.
Söder's comment on financing points a finger at donors in Gulf Arab states who have funded the Islamic State group and other radical elements in Syria, such as the al Qaeda affiliate there, for ideological reasons or because of opposition to Syrian President Bashar Assad. It also implicates Senate Republicans, whose stalling over Obama administration nominees for top jobs has left a vacancy at the Treasury Department office responsible for curbing terror financing. 
The Kurdish forces Söder is associated with have drawn the ire of the largely Sunni Arab opposition because they take a mostly neutral approach to Assad. His withdrawal from Kurd-dominated northern Syria in the summer of 2012, to focus on fights with fellow Arabs elsewhere, is what gave the Kurds to chance to build their own society. Assad's only presence now in the Kurdish region of Rojava is in strategic points in urban centers, like the airport in the Kurds' capital of Qamishli.
"We are not allies, we are not enemies, with the regime," Söder said. "If Daesh would attack [the city of] Qamishli ,they would, of course, fight together to save it."
Söder said he wanted European leaders to be more vigilant about the risk of ISIS infiltration among refugees pouring into their countries. Unlike the U.S., Europe does not screen refugees until after they arrive on its soil.
The volunteer fighter said he believes the Kurds' next big move on ISIS -- the push on its capital -- is inevitable. "It's as soon as possible," Söder said.
PHOTO GALLERY
Images Show How Syrian Refugees Live And Why They Left
Calling all HuffPost superfans!
Sign up for membership to become a founding member and help shape HuffPost's next chapter