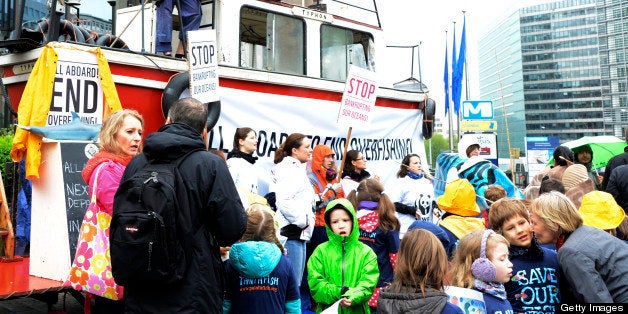 BRUSSELS, May 15 (Reuters) - European fisheries ministers agreed on Wednesday to end decades of overfishing and the discarding of fish in European waters in an effort to restore devastated stocks.
The agreement, which needs the approval of the European Parliament, could end haggling over annual fishing quotas and introduce long-term plans to replenish fish stocks, which have been all but wiped out in some European waters.
But environmental groups said the plan was not ambitious enough and there were immediate concerns that the European Parliament could raise objections.
"This decision ... is a major conciliatory step in the direction of the European Parliament and hopefully paves the way for successful conclusion of the ... negotiations," said Ireland's fisheries minister, Simon Coveney, who chaired the talks. Ireland holds the EU presidency.
"The historic package agreed this morning will prepare the way for a European-wide discards ban," and pave the way for more sustainable fishing levels, he said.
Ministers negotiated for 36 hours to reach the deal to overhaul the EU's Common Fisheries Policy, which dates from the 1970s and is widely regarded as a failure for allowing subsidised, industrial-sized fleets to devastate fishing grounds.
About 80 percent of Mediterranean and 47 percent of Atlantic stocks are overfished, European Commission figures show.
The deal will introduce new limits on catches and a ban on throwing some species of undersized or unwanted fish back into the sea, often to die, which damages reproduction of species.
The discards ban would apply to mackerel and herring by 2015 and to other species from 2016.
The European Parliament, which will examine the deal later this month, may seek more ambitious measures, such as setting a 2020 deadline to replenish stocks. Its first reaction to the agreement was to say it was not "courageous" enough.
Campaign groups expressed disappointment and said they believed it would take longer than expected to replenish stocks.
A report by the World Wide Fund for Nature said it would take more than 100 years for fish stocks to recover. Sea lobby group OCEANA said the ban would allow a substantial amount of fish to be thrown back.
"We have a fraction of the fish that used to be there," said Markus Knigge from research group the Pew Charitable Trusts, saying overfishing led to a very low reproduction rate which needed time to recover.
British television chef Hugh Fearnley-Whittingstall - whose campaign against overfishing, Fish Fight, has attracted almost 860,000 supporters - said he backed the European Parliament's more ambitious demands such as enforcing dates by when fish stocks should have improved.
There are several reasons for overfishing. Fishermen face time pressures and premiums are offered by retailers for fish of a certain size.
Britain's fisheries minister, Richard Benyon, said: "This was a difficult negotiation, and although it is not as ambitious as I would have liked, we have stuck to our key principles.
"This package of reforms fulfils our promise to make discards a thing of the past and ensure sustainable fishing for future generations." (Reporting by Claire Davenport; Editing by Philip Blenkinsop and Janet Lawrence)
Calling all HuffPost superfans!
Sign up for membership to become a founding member and help shape HuffPost's next chapter
BEFORE YOU GO
PHOTO GALLERY
Most Vulnerable Nations to Seafood Security Threats from Ocean Acidification