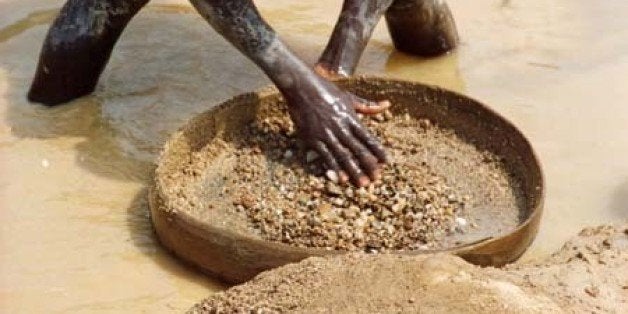 Twenty-four years ago, I managed to flee to the United Kingdom from the Democratic Republic of Congo and was lucky enough to be granted political asylum. My journey was difficult, and made worse by not being able to contact my friends and family back home to know if they were safe. Today, communicating with them is easier. My children get to know their grandparents through our mobile phones.
Since 1997 my home country, the Democratic Republic of Congo (DRC), has been devastated by a series of wars which have claimed over 5 million lives and displaced 2.6 million people. But this war transcends the borders of the DRC by affecting each and every one of us. How? Material that goes into making the electronic devices that helps us stay connected -- is extracted from mining areas that are directly fueling the war in my country.
Electronic devices such as mobile phones are made using a range of minerals including tantalum, tin, tungsten and gold. Ultimately, these minerals end up in the supply chains of the electronics companies that make our phones -- in 2013, global imports of 3TG ores, concentrates, and metals were worth in excess of €123 billion. However consider this: the sale of these minerals frequently funds the horrific violence of the ongoing war in my country. A huge range of our electronic products are tainted by forced labour, sexual violence and children forced to fight by armed groups.
Rebel groups and factions of the Congolese National Army have been profiting off the backs of people living around the mines for years, by taxing and trading minerals to help finance their operations. It's a lucrative business: there is a global demand for these minerals for consumer products and according to Source Intelligence, 75 percent of the funding that sustains armed conflict in the Congo comes from mining revenue.
These wonderfully necessary products are a result of unimaginable suffering back in my home country.
Today conflict is still ravaging my country but this week, in an unprecedented move, the members of the European Parliament voted on a law that could go a long way in making sure that our mobile phones don't contribute to the war in the DRC. The law would require mandatory compliance for all European companies sourcing their materials in conflict areas such as the DRC. This means that some 880 000 European companies that use tin, tungsten, tantalum and gold in the manufacturing of electronic consumer products like mobile phones, will now be obliged to provide information on the steps they take to make sure that their supply chains are free of conflict minerals.
It's incredible to imagine, but this move has the potential to make an enormous difference to the lives of people living in conflict-affected areas, such as in my home country.
This historic development makes the European Union a leader in the global effort to ensure that companies are not contributing to the conflict in the DRC. I congratulate the members of the European Parliament for heeding to calls from many organizations including Congo Calling, and Walk Free, to overturn a weaker law that would have only affected a handful of smelters and made very little impact.
But our work is not over. The EU Parliament will now start negotiating with the European Commission and member states on how this proposal will become law. The final step is approval from the European Council. We still have work to do to ensure that all minerals coming into the EU are sourced responsibly. Now is not the time to relent our efforts, we must continue to be united in this struggle to end the violence, exploitation and modern slavery fueled by conflict minerals.
As Dr. Denis Mukwege, Congolese human rights activist and 2014 Sakharov Prize winner, recently stated, "A conflict-free minerals industry would greatly benefit the people of Congo and contribute to ending the unspeakable violence they have endured for years. The legislative tools to help make this a reality are available to international policy makers, but they must be enacted and enforced."
When used for communications and campaigning, our electronics have the potential to do so much good. Let's at least ensure they do no harm.
Related
Popular in the Community