So far in 2014, using the excellent Web resource OperaBase as a travel-planning tool, Jackie and I have built two European vacations around performances of operas by the seventeenth-century Venetian composer Francesco Cavalli (1602-1676), the first at the Bavarian State Opera in Munich and the second at the astonishing, spanking new Sam Wanamaker Playhouse at Shakespeare's Globe Theatre in London.
I still marvel at the fact that there are performances of two Cavalli operas in a single year. When I was studying music history, in the early 1970s, the composer was just being rediscovered; we found it enviable that a graduate student in our department -- Jane Glover, now a prominent conductor -- was in Italy poring over manuscript sources and researching his life and works. And around the same time, the conductor and harpsichordist Raymond Leppard was devising performing editions of a few of Cavalli's forty-odd operas, extrapolating from sometimes sketchy archival material. Scholars found these editions wanting, but they held the stage for some time.
Even in today's more authentic and interesting productions, seventeenth-century Italian/Venetian opera can be a hard sell: Where are the tunes amid all the recitative-like declamation? It is hard to credit, but the same question used occasionally to be asked about Verdi's 1893 masterpiece Falstaff, and the answer is identical: The tunes are everywhere. These works are chock full of melodies long and short, but the music often shifts seamlessly into and out of declamatory passages, springing from the logic of the words.
This means that the words are of crucial importance to full enjoyment. Happily, they're generally very good words, in turn funny, moving, poetic and down-to-earth, and one challenge facing opera companies is getting those words across. Munich and London exemplified two different approaches to this -- and yielded two different experiences for the opera-loving traveler.
The more exciting one was at London, thanks in considerable part to the venue. When the semi-outdoor Shakespeare's Globe was conceived, the plan also provided for a small indoor stage. Earlier this year, the Sam Wanamaker Playhouse -- based on mid-seventeenth-century precedents but not a copy of any particular theater -- opened, and among its first productions was a collaboration with the Royal Opera: Cavalli's l'Ormindo performed in English by a company of young singer-actors led by the conductor Christian Curnyn.
Just about every word of Christopher Cowell's elegant and witty translation was comprehensible thanks not only to the clarity of the singers' diction but also to the size and construction of the room: The two-tier candle-lit playhouse holds just 340 people, seated and standing (even fewer than the sort of theater for which the opera would have been written), and, within its brick outer walls, it is made mostly of oak -- green, not seasoned -- which in March still smelled exhilaratingly new as we entered. Every seat in the house is close enough to the performers to hear their every murmur; the small orchestra was in a gallery above the stage, and singer-instrumental balances were just about perfect.
The costumes, by Anja Vang Kragh, were of a piece with the Jacobean epoch of the theater rather than with the exotic locale of what the libretto is pleased to call ancient Mauritania Tingitana; Kaspar Holten's production, too, evoked that era in its use, but not over-use, of dance (choreographed by Signe Fabricius) and of visual symmetry -- also suggested by the pairs of lovers. But the use of every possible entrance and exit to the stage, including through the audience, not to mention the ceiling and floor, and the natural style of acting were very much of the present day.
Singing was uniformly beautiful; acting was uniformly true and free of operatic nonsense: even in broad comedy (of which there was plenty) no one crossed the line into vulgarity. It would be pointless to pick favorites; read their names on the cast list and look out for those names in the future.
Note that opera is not going to be the Playhouse's bread and butter; its cold-weather seasons will be dominated by plays, with a sprinkling of other performance pieces and concerts. In warm weather, at least for now, most plays will be given in the outdoor Globe, though the Playhouse will not be entirely idle. Clicking on its schedule would not be wasted effort.
The Munich production, of La Calisto, was of course in a typical medium-large theater (seating around 2,000), where hearing every word is probably an unattainable goal. It was sung in the original Italian and employed supertitles (German ones, so it helped that I'd familiarized myself with the libretto in advance). Calisto was a grand entertainment with a marvelous cast that included singers who by any measure -- not just that of the Baroque opera scene -- are major stars, notably Danielle de Niese in the title role of a nymph who is sworn to virginity and obsessively devoted to the goddess Diana -- and whom Jove manages to seduce by disguising himself as that same goddess. There's lots of timeless comedy here, some of it musical, with Jove (the excellent bass Luca Tittoto) disguising his voice as Diana's, sometimes in falsetto sometimes lip-syncing to the real Diana (mezzo-soprano Anna Bonitatibus, a long-time favorite of mine). David Alden's 2005 production was comical in a rather broad, shticky way and was great fun, though a more coherent concept might have given the performers more to latch on to in creating three-dimensional characters. This, plus a beautifully sung and interestingly staged performance of Wagner's The Flying Dutchman, were excellent excuses for a three-day side trip from London to Munich, where we ended up spending just about every daylight hour in the city's wonderful art museums.
And that is a fine thing about opera tourism: Even if the show disappoints (which it rarely does if you're at least minimally careful about what you book), it has brought you to a place you might not otherwise have chosen to visit. Next stop, later this month: Gothenburg, Sweden!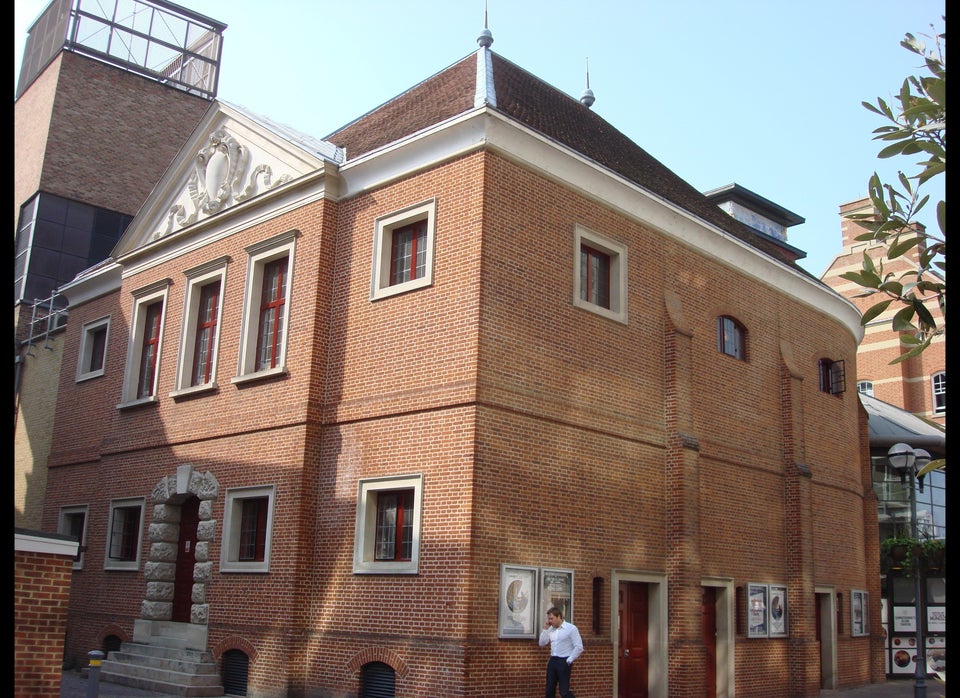 Seventeenth-Century Opera In Two European Cities