WASHINGTON — The European Union has called for Arkansas to cancel its scheduled execution Thursday of 38-year-old Kenneth Williams.
In a letter Wednesday to Arkansas Gov. /www.huffingtonpost.com/news/asa-hutchinson/"}}" data-beacon-parsed="true">Asa Hutchinson (R), EU Ambassador to the United States David O'Sullivan wrote that the union "wishes to make an urgent humanitarian appeal" on Williams' behalf.
"It is my understanding that evidence was introduced at trial to show that Mr. Williams was intellectually disabled," O'Sullivan wrote. "While at the time there was no categorical exclusion for the execution of the intellectually disabled, this is now the case. I also understand that three doctors have submitted reports to the courts this week finding that Mr. Williams meets the definition of intellectual disability. I believe this evidence should be heard and that Mr. Williams should not be executed." 
Williams is one of eight inmates that Arkansas planned to execute this month before its supply of a lethal injection drug expired. Last week the state executed Ledell Lee. On Monday, it carried out a double execution — the nation's first since 2000, putting to death Jack Jones and Marcel Williams. Four inmates have been granted a stay of execution.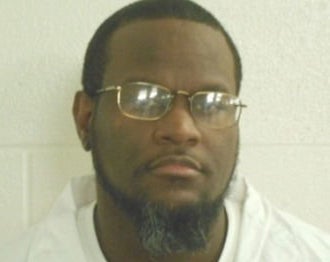 In his letter, O'Sullivan said the state's string of executions had "regrettably put an end to the de facto moratorium" on capital punishment in Arkansas since it executed a man in 2005. And he called the pace with which Arkansas is carrying out these executions "unprecedented."
"The European Union is opposed to the use of capital punishment under all circumstances and accordingly aims at its universal abolition, seeking a global moratorium on the death penalty as a first step," O'Sullivan wrote. "We believe that the elimination of the death penalty is fundamental to the protection of human dignity, and to the progressive development of human rights on a global scale."  
He added that while the EU recognizes the "serious nature" of Kenneth Williams' crimes and offers its "sincere sympathies" to the victims' families and friends, it "does not believe that their loss will be mitigated by the death of Mr. Williams."
In an essay published earlier this month by The Marshall Project, Williams addressed his looming death. 
"God has transformed me, and even the worst of us can be reformed and renewed. Revealing these truths meant more to me then being granted clemency. I'm still going to eventually die someday, but to stand up for God in front of man, that's my victory. To the families of my victims, to whom I have brought pain, great loss, and suffering, as shallow as 'I am sorry for robbing you of your loved one' can sound, I would rather say it, and mean it, than not say it at all."
The state of Arkansas is facing two federal lawsuits over this month's parade of executions. On Wednesday, the Arkansas Supreme Court denied all requests for stays of execution for Williams, KARK 4 News in Little Rock reported. He is scheduled to be put to death at 7 p.m. CDT Thursday.
Here's the letter from Ambassador O'Sullivan:
Calling all HuffPost superfans!
Sign up for membership to become a founding member and help shape HuffPost's next chapter
BEFORE YOU GO
PHOTO GALLERY
Arkansas Men Facing Execution