In a press release, the E.U. announced it would use more than $56 million in regional funds to finance the restoration of the United Nations Educational, Scientific and Cultural Organization (UNESCO) World Heritage site that an estimated 2.3 million tourists visit each year.
The Great Pompeii Project, as it's been named, seeks to "secure the site's damaged areas and to ensure that this is done using capable, honest businesses, not organized crime," Italian Prime Minister Mario Monti told reporters in April, according to United Press International.
Just this week, Italian police placed former Pompeii restorer Annamaria Caccavo under house arrest on charges of corruption, the BBC reports. Caccavo and her firm, which won the multi-million dollar restoration contract, are accused of overspending and permitting unnecessary work.
According to the Agence France-Presse, Caccavo estimated one contract would cost €449,882 (about $608,000), however, the actual charge totalled €4.84 million (about $6.5 million).
E.U. Regional Affairs Commissioner Johannes Hahn is stepping in to oversee restoration efforts and make sure the portion of Pompeii's total funding is put to good use. So far, roughly $10.4 million has been spent on 22 projects completed on the site from 2001 to 2006, according to the press release.
The ancient Italian city has been slowly decaying since the eruption of Mount Vesuvius in 79 A.D., which smothered Pompeii in volcanic ash, killing its inhabitants.
"The problem with Pompeii is that they always treat its preservation like an emergency," Dario Sautto, a member of Italy's Cultural Heritage Observatory, told NBC News. "But the emergency started in 79 A.D., not today. And still they can't figure out how to save it."
While the Great Pompeii Project, a four-year restoration plan, is expected to be completed by 2015, researchers have warned of another looming danger in Pompeii: the same "supervolcano" that decimated the ancient city almost 2,000 years ago. Though it would be extremely rare for the volcano to erupt at full capacity, an eruption -- and the resulting ash -- could still have a catastrophic effect, Giuseppe De Natale, head of a drilling project at Campi Flegrei told Reuters.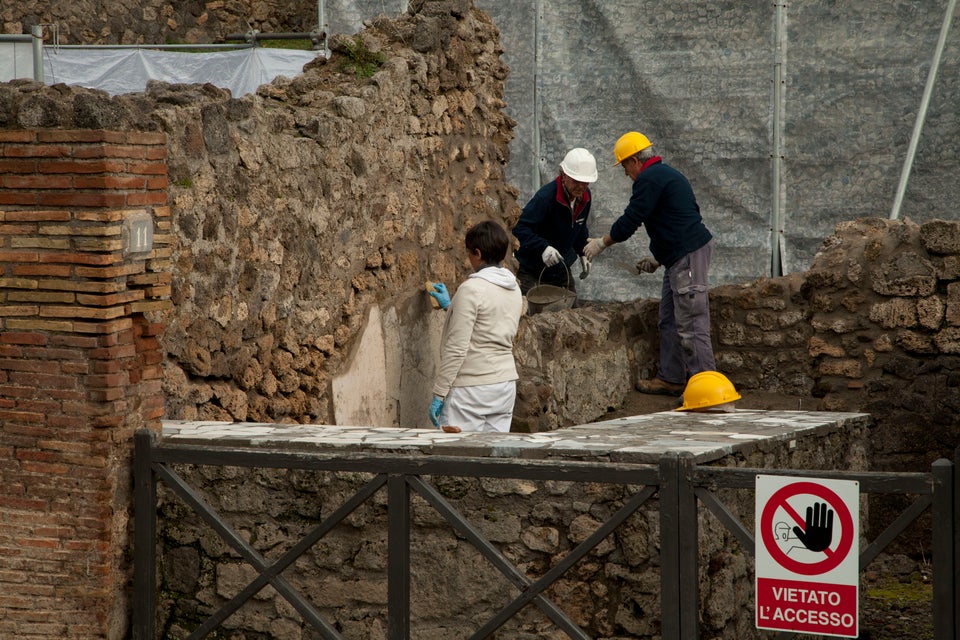 'Great Pompeii Project'
Related
Popular in the Community