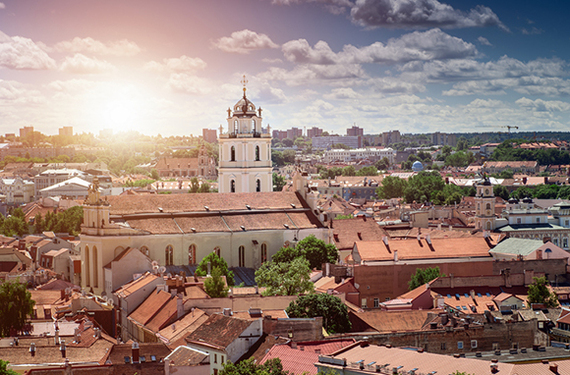 (Photo: Vilnius, Lithuania/Shutterstock)
You've heard it a lot in the last few months: Europe is cheaper than it's been in a long time. The time to go is now. But Europe is a big place. So where should you go to make the most of the strong dollar?

Every year, PriceOfTravel.com updates its Europe Three-Star Traveler Index. It's a snapshot of the current cheapest cities in Europe for budget-minded travelers, based on the daily cost of a well-reviewed 3-star hotel room in a central location, two cab rides, entry to a cultural attraction, and three meals and three drinks per day.
Here are the cheapest European cities for budget travelers this year.
Daily 3-Star Traveler Index: $43.80
For an intriguing look at the political and cultural extremes of Romania's history, check out Bucharest's Palace of Parliament, Village Museum, and Cotroceni Palace, each of which will give you a different sense of the Romanian experience.
Daily 3-Star Traveler Index: $44.71
Sofia mingles urban charm with natural beauty. The architecturally-rich city is one of Europe's oldest, with cobblestone boulevards and, in the warmer months, an al fresco cafe culture that invites travelers to stay a while.
Daily 3-Star Traveler Index: $46.35
Now may not be the time to visit Eastern Ukraine (read the State Department's latest warning for full details) but capital city Kiev--located squarely in the middle of the country--is still welcoming visitors with its incredibly good exchange rate and World Heritage Sites.
Cesky Krumlow, Czech Republic
Daily 3-Star Traveler Index: $49.10
Travelers looking for an off-the-beaten-path destination worth the extra effort of getting there will love Cesky Krumlow. The medieval river town is friendly, ultra-affordable, and full of fascinating historical sights.
Sarajevo, Bosnia and Herzegovina
Daily 3-Star Traveler Index: $50
East meets West in Sarajevo, where low prices reign in 2015. More than a decade after war, the city has been almost entirely reconstructed, and is once again a lively and welcoming place. And there's no beating its proximity to gorgeous nature--nearby dense forests and alpine lakes make for an easy day trip.
Daily 3-Star Traveler Index: $50.48
For the last decade, Saint Petersburg has been earning a reputation as a pricey destination. But with the weakened Russian ruble, Russia's most beautiful city has become a budget bucket-lister's dream.
Daily 3-Star Traveler Index: $51.06
Budapest has long been a magnet for budget travelers, and it continues to offer an incredible experience at an affordable price. Get off the tourist track to find authentic and affordable food and hotels, and embrace coffee houses and thermal baths to discover the best of the city.
Daily 3-Star Traveler Index: $52.36
PriceOfTravel.com says Krakow is "easily among the best bargains in Europe," sighting its historic center and "weirdly low" prices as perfect excuses for making the journey. One of the first world heritage cities to be designated by UNESCO, the 13th-century merchants' town is home to Europe's largest market square and a hilltop palace.
Daily 3-Star Traveler Index: $53.52
Belgrade stands out for the relatively high quality of accommodations, even in lower price ranges. The city's architecture--which ranges from Byzantine to Art Nouveau--tells the story of its past, while its beach and nightclub-river-barge culture gives it a youthful edge.
Daily 3-Star Traveler Index: $62.08
Cheap, easy to reach, and flourishing with a rich local culture, Split is where anyone looking for a Croatian slice-of-life should go for vacation. Its seaside location makes it an ideal jumping-off point for exploring the country's famed islands.
Daily 3-Star Traveler Index: $64.92
Another Croatia gem, Zagreb's inland location shelters it from the surf-and-sand crowd, and keeps prices low. Its charming old city center and thriving arts and culture scene means there's plenty to do, even on a budget.
Daily 3-Star Traveler Index: $65.88
While most of the destinations on the Three-Star Traveler Index require extra effort on the transportation front to visit, Vilnius is a rising star for European budget airlines, which deliver people directly to the city from other major European airports.
Daily 3-Star Traveler Index: $68.39
Just a stone's throw from pricey Vienna, Slovakia's Bratislava offers plenty of historic charm without inflated prices. Cobblestone streets and a thriving cafe scene keep things quaint, while the city's towering UFO Observation Deck gives it a futuristic spin.
Daily 3-Star Traveler Index: $69.49
Santorini--and indeed the Greek islands in general--is a great deal this year as long as you're not visiting in July and August, when prices jump to take full advantage of the high demand. Gorgeous scenery, affordable food and drink, and reasonable accommodations rates make it worth the ferry ride.
Daily 3-Star Traveler Index: $69.94
Riga is finding its way into the mainstream with the introduction of low-cost flights from budget European carriers. Even so, this UNESCO-recognized city with its famed Art Nouveau center remains among the most affordable spots in Europe.
More Affordable European Cities this Year
The
includes 56 cities. Here are the destinations that round out the top 20:
Tenerife, Spain
Prague, Czech Republic
Istanbul, Turkey
Warsaw, Poland
Moscow, Russia
You Might Also Like: