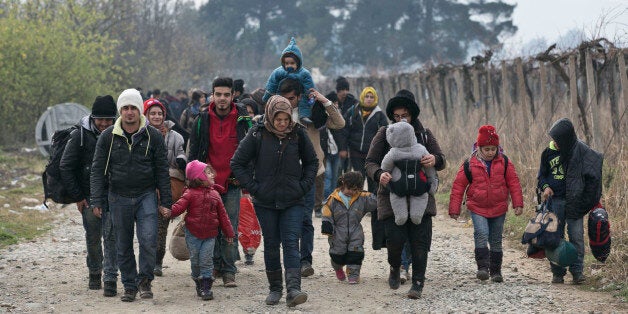 The coincidental and overlapping refugee and terrorism crises besetting Europe pose a unique challenge to the European Union. For it places exceptional stresses on two weak points in the still incomplete community. The first is the absence of legitimate and effective mechanisms for reconciling divergent national interests, and composing them in coherent policies, when salient matters of a non-economic nature rise to the top of the agenda. The other is the weakness of a common identity crucial to addressing problems that involve the EU's engagement with the rest of the world.
We see the consequence of those shortcomings in the disjointed response to the refugee wave that crested over the past few months. Generosity (on the part of Angela Merkel's German) and a fair measure of cooperation in arranging the transit of migrants from country to country have given way to the triumph of parochial interests as greatly accentuated by fears of terrorism. Those fears are producing restrictive policies as national governments resort to insular solutions for both self-protection and to counter the mounting domestic pressures from agitated publics.
A joint EU strategy for dealing with the refugee crisis is now in limbo with no early prospect of its regaining a firm footing. There were rudiments of a more or less comprehensive plan on the table early in November. They included: a formula for distributing 160,000 asylum seekers among member states; the need to establish processing centers at points of entry for most of the migrants - Greece and Italy above all; a sifting process for differentiating between those who had a valid basis for claiming political asylum as opposed to the seeking of a better life; an improved system for the repatriation of those who failed to qualify asylum status; a strategic partnership with the principal transit countries (above all Turkey) along with countries of origin to facilitate a monitoring of refugee flows and methods of repatriation; and payments to states burdened with large concentrations of displaced persons. Each piece of the package required further discussion and negotiation before it could be implemented. Moreover, there was no guarantee of an accord or that the overall strategy would work. A direction had been set, though.
Whatever rays of light were sparked by these initiatives, they soon dimmed when eclipsed by the terrorist acts in Paris and the excited response they engendered. Here, in summary, is their current status. Talks with Turkey begun by Angela Merkel in Ankara on October 31 have slowed to a crawl. The EU offer of financial aid to the Erdogan government was welcomed but the particulars on other parts of a proposed cooperative agreement awaiting more extensive talks. The way to be cleared at a Summit between the EU 28 and President Erdogan in Brussels on November 29; however, the latter's announcement that he would not be attended postpones the parties' full engagement to an undetermined later date. Hence, the questions associated with a prospective restriction of outflows, and of repatriation, are up in the air.
As for processing centers, no concrete plans as yet have been laid as to their staffing, how to render the process efficient, uniform and fair. On the Greek island of Lesbos, the buildings themselves need to be constructed. It is agree that the "Dublin system," whereby the governments of "recipient" countries were responsible for registering migrants arriving on their shores is dead. However, officials in Rome and Athens remain fearful that they will be left with the main responsibility and costs unless an entirely new system is put in place reasonably soon. In regard to the approximately one million refugees who have entered Europe during the past year, there has been back-sliding from the optimist high point in late October. Germany, along with Sweden and Austria, have reinstituted border controls which they declare to be temporary measures that will be removed once monitoring procedures adequate to handle the large numbers of migrants are in place. Denmark has reneged on its pledge to accept 1,000 Syrians. French Premier Valls has added his voice in stating unequivocally that France has reached its limit in agreeing to accept 30,000 Syrian refugees -- adding that Europe as a whole is in a state of super-saturation.
Meanwhile, border fences are going up along the main refugee transit routes: in Austria, Macedonia, Serbia, Croatia, Slovenia, Hungary, and the Czech Republic. Even more disturbing of a collective effort are the decisions in Budapest, Warsaw, Bratislava and Prague to reject their assigned quotas outright while challenging the plan in European Court of Justice. All of this is taking place in the tense, fearful atmosphere created by the terrorist attacks of November 13 which have all European governments "running scared." The community may not be back to square one. Yet, there is no gainsaying that there is no consensus at this time on the design and architecture of a system to deal with the current and prospective future crises.
These developments are threatening the European Union's landmark Schengen Agreement. EU Commission President Jean-Claude Junker warned last week that "Schengen is partly comatose." He went on to say: "If the spirit leaves our hearts, we will lose more than Schengen. A single currency does not exist if Schengen fails. It is not a neutral concept. It is not banal. It is one of the pillars of the construction of Europe."
Schengen created a single EU-wide legal space that allows for free movement across national borders. An ancillary provision permits unimpeded entry of citizens at external boundaries. The viability of those arrangements is `now in jeopardy. Unrestricted movement within the community for whomever has managed to gain entry - visitor with visa, refugee, holder of fake passport - is increasingly seen by national authorities as too risky in the current threat environment. That concern is compounded by the incomplete cooperative mechanisms now in place among police and security agencies. While cooperation is at unprecedentedly high levels, there remain issue of timely communication, differing methods of collecting and evaluating data, and a certain reluctance to make very sensitive information available to counterparts whose data bases are not hermetically sealed against hostile intrusions.
Perhaps most debilitating is the sense that what Europe decides, what it does -- or even whether it does nothing at all - cannot determine its future. That is because a willful America pronounces on the matters that count most, because Europe is unable to counteract or deflect it, and thus in some profound way Europe is irrelevant to the great issues of the day. There could be no better example of a self-fulfilling, if silent, prophecy.
The global loss of trust in the United States' probity has exacerbated the Europeans' predicament. A less effective American foreign policy aggravates regional problems. A less credible United States whose ideals are eroded by egregious acts delegitimizes the West as a whole. Together, they raise the stakes on Europe filling the gap in both effectiveness and legitimacy. Yet, the former challenge is neither recognized nor engaged as Europeans suffer from the residual instincts of reliance on Washington and from their own self-doubts.
They are psychologically handicapped by that dependency relationship over the past 70 years. One need only contrast Russia's display of purposeful action with European leaders' maneuver s and gestures to recognize how unprepared they are to take on the challenge of charting their own course.
It is against this background that we can better understand Europe's unnaturally strong impulse to follow in the wake of the United States - no matter what. Over the past fifteen years, it has suffered the side-effects of America's disastrous policies in the greater Middle East. Yet, it remains the loyal lieutenant as even greater failures and attendant dangers impend due to Washington's arrogance, ignorance and poor judgment. At this moment, the unprecedented degree of incoherence, as expressed in the disjointed bits of policy that themselves are executed ineptly, spawns the refugee crisis as they have spawned and aggravated the crisis associated with violent jihadism. To continue accepting the status of passive accomplice is to deny Europe's own responsibility for its fate and to make itself a willing victim of whatever befalls it.
The outcome is incongruous. Since Washington allows itself to be held in thrall by its sometimes allies in the Middle East - Saudi Arabia, Israel and Turkey, and given Europe's uncritical deference to the United States, its own high stakes in the region are hostage to those warped relationships. That was on vivid display this week in the response to the Turkish downing of a Russian plane. Washington, for its own unstated reasons, refuses to call out Erdogan for his now manifest alliance with al-Nusra/al-Qaeda or for his facilitating of ISIL -- the latter includes being a partner in the oil trade that largely finances ISIL. (We now learn that Erdogan's son Bilal control the Turkish company that transports the oil via Turkey to Israel; and that explains why the US has not targeted that traffic during its 15 month phantom air campaign).
In short: Europe's feeble leaders have placed the well-being of their peoples in the hands of the Salman/Salafist branch of the Saudi royal family led by the unstable Crown Prince Mohammed, the reckless Hebrew zealot Netanyahu, and the ruthless would-be Caliph Erdogan in Ankara.
Popular in the Community