Today is election day in Moldova, Europe's poor step-sister in the southeast corner, near the Black Sea. A good excuse to break out some of the most pleasant wines on the continent -- accompaniment to a smooth, ground lump of golden hominy, plus anything and everything smothered in sour cream.
People throughout the countryside will vote en masse in these parliamentary races, given that the assembly elects the president, and the president chooses the prime minister and other ministers. City folk turn-out will be less - "probably because people have more information, so they don't trust anyone," I'm told by Boris, our polished taxi driver.
Boris is from a Russian family who moved to Moldova in the 50s, he guesses. A crossroads between east and west (including the principality of Count Dracula's Transylvania!), over the centuries the country was invaded repeatedly, most recently moving in and out of Russian and Rumanian states. Annexed by the Soviet Union, it declared independence in 1991, but scars of forced "cultural re-education" are deep, and many link the reclaiming of Romanian language and alphabet with patriotic identity.
Although only 13% of the four million Moldovans are ethnic Russian, they tend to be the more active of the citizens - and the more prosperous. An erudite political analyst explained to me that if you go to fancy places, you'll hear Russian spoken. But listen in the open markets; they speak Moldovan. Those differences weigh heavily in an election where villagers, pensioners, and Russians together can elect the new government.
Working as I do with women leaders, I'm particularly interested that, as in neighboring Ukraine, the prime minister (of one year) is a woman. Zinaida Greceanii is a technocrat and refused to join the party of the president who appointed her. That was probably a smart move, given uncertainties of the political scene. With this election, four opposition parties are expected to meet the 6% threshold for representation in the parliament. The communists will almost certainly have the plurality, and the ironic question is whether the three largest opposition parties, which are personality-based, have enough ego-strength to compromise into a coalition.
To get some sense of life outside Chisinau, the capital, we went into the rolling countryside, where boys were driving horse-drawn carts of firewood, and women in bright scarves joined men in caps cultivating potatoes and tending grapes vines. The president's black Mercedes whizzed by, police car in front plus follow car. Vladimir Veronin, head of the party of communists is term-limited. He is also confusing. That's because his Party of Communists of the Republic of Moldova is built on fault lines. He's the leader of true-believing old-timers, who face east toward Moscow. But he also speaks for young reformer modernists, who privately say they're embarrassed by the party's name and want to change it.
Veronin learned the price of crossing the Big Bear. When the Moldovan made statements about the importance of being close to Europe, Russian President Vladimir Putin declared a boycott of Moldovan wines, a precious export of this cash-strapped country. Even though Veronin has crawled back into the fold, the party is so far removed from the ideology of the bad old days that at least one Western diplomat here has forbidden his embassy employees to call party members "communists." He says the word points to power, not economic theory. In fact, sleazy power.
According to several sources, if a policeman stops you, you pay him half and leave without a ticket. Police, to inspectors, to politicos. The only clean leading candidate in this election, I'm told by an international official, is the 30-year-old mayor of Chisinau. More likely it will be the communists who create a coalition by buying members of parliament elected on the opposition tickets.
The president's son is particularly disliked. He is young and greedy, using masked thugs to physically threaten business owners not inclined to sell to him. "It's not really business when behind, you have a father who is the president," say the taxi driver. "People aren't blind. They can see that if the son wants to buy your supermarket, tax police come every week until you give in. It's not a life. And it's not democracy."
As he was finishing, a policeman pulled us over and asked to see his papers. "Why did he stop you?" I asked.
At least he has a job to be bored with. With sky-high unemployment, many Moldovans are supported by the 25% of the population working abroad. But the government isn't doing enough. "You can't just wag your finger and expect money to come in," Boris continued. "They don't invest in agriculture even though our soil is so rich, it's like gold. And many office buildings are empty." He resumed pointing out the sights: The former KGB, next to the Orthodox church. Opposite, the Parliament. White House. opera house.
Last night I was at the National Philharmonic, watching my husband, Charles Ansbacher, conduct the Moldovan Symphony. The players are well-trained. The music was beautiful. The crowd appreciative.
Fourteen years ago, the first time I stepped into that building, it was dilapidated. Since then, it's hard to see where a nickel has been spent on maintenance or repair. Musical scores are in tatters, the light board is run manually by a man in his seventies, the front of the stage overflows with cascading white plastic flowers, the sound system hums, and there were no printed programs.
Backstage, in front of wooden steps leading to the stage door, I stopped and took out my camera. A patch of tin was hammered over a rotten board. The patch would do, of course, but it sure wasn't pretty. That's how life seems right now in Moldova. A lot of beauty happening in the midst of ugliness. Let's hope elections this week will move the country a step toward political, economic, and social health.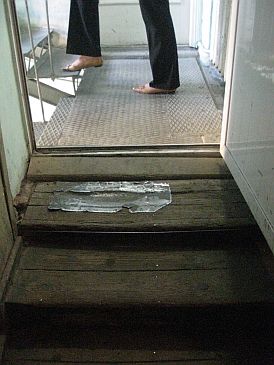 Related
Popular in the Community