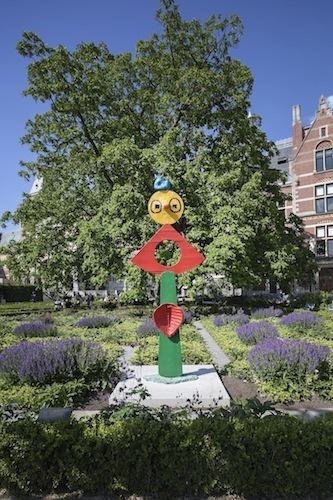 We've already rounded up our pick of the best of this summer's public art shows in America, so now we travel to Europe for some more recommendations.
1. Carsten Höller: Decision
Höller's largest show to date takes over the Hayward Gallery on London's south bank, moving beyond the gallery to its walls, roof and the riverside spaces. While the work inside the gallery attempts to induce hallucinations, in the widest sense, the attention grabber is "Isomeric Slides," two huge spiraling chutes that allow visitors to zoom down from the gallery's roof to ground level.
Until September 6th at the South Bank Centre
2. Miro in the Rijksmuseum Gardens
Amsterdam's Rijksmuseum underwent a comprehensive 10-year refit and overhaul before reopening to rave reviews in 2013. There's even more reason to visit the gallery this summer as 21 sculptures by Spanish surrealist artist Joan Miró are on display in the museum gardens and free to the public. This is the first ever display of Miró's work in the country and includes the four meter high Oiseau Lunaire.
Until October 11th at Rijksmuseum Gardens, Amsterdam
3. Labyrint
A huge industrial steel maze has been installed at a former coalmine by the Belgian studio Gijs Van Vaerenbergh. A kilometer of steel corridors -- weighing 186 tons and with walls of up to five metres in height -- are arranged so the end result is part-tourist attraction, part-sculptural installation. Various cut-out sections and optical tricks reveal disorientating depths to the labyrinth as the visitor moves through it.
Until September 30th at C-mine, Genk, Belgium
4. Blu in Rome
Italian artist Blu (aka Fabrizio Ceruso) has become one of Europe's most inventive (and at times controversial street painters. Usually based in Bologna, this summer has seen a new large-scale piece of work appearing in Rebbibia, a suburb of north-east Rome. A six-story local authority housing building serves as the canvas for the image that shows a grey prison, gradually being destroyed by a rainbow-colored surge of tree roots that climb up the building and pull open the bars. The work was financed and organized by a local residents committee.
On Via Ciciliano, Rebbibia, Rome
5. Ruth Beckermann in Vienna
This temporary public installation by Austrian filmmaker Ruth Beckermann builds on an existing work of art. Alfred Hrdlicka's 1988 monument "Memorial Against War and Fascism" is a bronze figure of a bearded man, representing the moment when Jews were forced to scrub the pavements clean after the Anschluss of 1938. A scrap of footage recently discovered at the Austrian Film Museum shows a crowd of bystanders laughing and watching the event. Beckermann's piece has created an 11-second loop from this footage and built screens around the existing statue, effectively recreating the original scene with both victim and perpetrator. Vienna is one of Europe's strongest cities for public art and this is a powerful, shocking addition.
Until November 10th on Albertinaplatz, Vienna, Austria

Justin Quirk is a editor and writer based in London, contributing to the Sunday Times, Guardian and Ask Men. He is also the founder of photographic publisher No UFOs.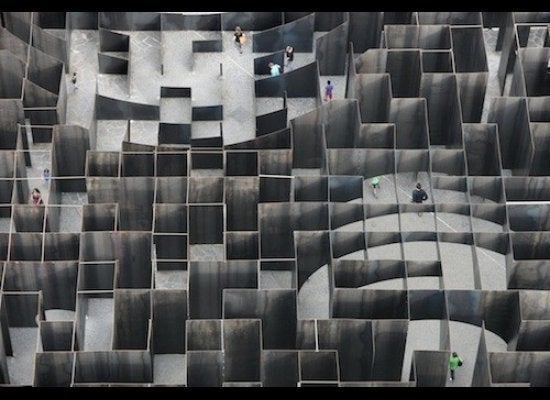 Europe's Top 5 Public Art Shows This Summer
Related
Popular in the Community