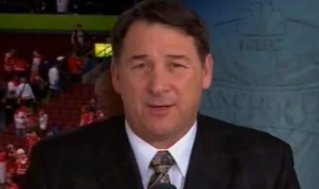 Mike Milburry called Russia's Olympic hockey team "euro-trash" during a broadcast Wednesday evening from Vancouver.
The disappointed NBC sportscaster made the pronouncement during his post-game analysis of Russia's huge 7-3 loss against Canada in the Winter Olympics. Milbury accused the Russians of being intimidated by Canada's physical style of play and criticized Russia's star player Alexander Ovechkin for his less than stellar performance:
Millbury: I was shocked that it was this one-sided. And I was really disappointed that these guys came with their euro-trash game. It was just. No heart, no guts, no nothing there to back it up. I mean Alex Ovechkin was an average player tonight. I know they're going to bounce back, but to be that poor and to be that intimidated physically by the Canadians, that really shocked me.
Milbury showed no shame when the host asked "Did you really say euro-trash? Did that come out of your mouth?"
"I did," replied Milbury.
Fellow analyst Jeremy Roenick looked surprised when Milbury dropped his euro-trash line and noted for the record, that he heard Milbury say it.
He was employed by NBC to serve as a hockey analyst during the 2010 Winter Olympic Games, during which he caused some controversy by referring to the Russian team as the racist phrase "Euro-Trash".
With their victory over team Russia, Canada advances to the Olympic semifinals.
Related
Popular in the Community