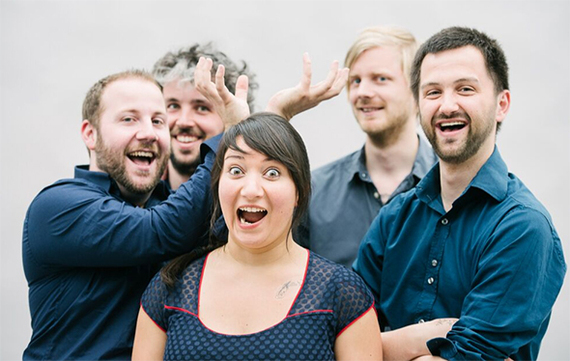 Wör. Photo by Tom Abeloos. Used by permission of Wör
I'm continuing to write about some of the music I picked up this year at the annual Folk Alliance International conference in Kansas City. This year's conference stressed the international part of the organization's mission, and seemed to feature more acts from overseas than ever before. Several of the European acts released albums that were almost entirely instrumental, so I'll review some of those works, which I think of as "Eurotunes."
My favorite new CD of Eurotunes is Back to the 1780s by the Flemish-speaking Belgian band Wör. The title here isn't an exaggeration--in fact, the music on this album is mostly from before the 1780s. The tunes come from manuscripts of carillon players and dancing masters dating to the period 1743-1781. The quintet brings new life to these beautiful melodies, which have spent years in obscurity, but were never quite lost. Wör aren't a historical band, wedded to old performance practices: au contraire, they're a modern folk band with clear influences from Celtic, jazz, and pop. Flemish culture is closely related to the Dutch culture of the Netherlands, exists in close proximity to French-speaking Belgium, and had long and deep relationships with Britain, too. So it's not a big surprise that Wör's music sounds similar to the traditional folk music of France, England, and the Netherlands. If you want to know what they sound like, think of classic French bands like Le Grand Rouge or La Bamboche, or more recent ones such as Topanga or Merle Rouge. If you follow English folk music, think of Blowzabella, Kathryn Tickell, or New Scorpion. Wör approach their unusual repertoire with violin, accordion, bagpipes, and guitar, along with the (perhaps unexpected) baritone and soprano sax. They're all astonishing musicians, coaxing fantastic sounds out of their chosen instruments. But more than this, they craft intricate and fresh arrangements for each piece. Surprising uses of drones, overtones, wordless vocalizations, and other effects only enhance their flexible playing. From the bouncy verve of "Menuet" to the sweet longing of the baritone-led "Maclotte Zerezo," and from the smoldering energy of "March" to the Celtic abandon of "Festa Dies Toto Venerabilis," there's not a bad tune or boring arrangement on the album. Without going off the rails into another genre, they've come up with some of the most imaginative treatments of traditional music I've heard in a long time.
Wör was not the only Eurotune band packing saxes and umlauts at Folk Alliance this year; the young Swedish quartet Bjäran make heavy use of the instrument as well, along with fiddle, drums, mandola, guitar, and bass. Their soon-to-be-released CD Bjäran, as you might expect, sounds like Swedish folk music tinged with jazz. The band works out arrangements that are deeply felt but also constructed intellectually; it's music for the heart and the head. The selections include traditional fiddle tunes, but also a lot of original compositions, ranging from wistful and sweet to dark and foreboding. (The latter makes sense given their name; the bjäran is a type of witch's familiar from Swedish folklore, made of wool and other household materials and animated with blood from the witch.) The album also has light and breezy moments, and there are quite a few brisk dance tunes. The combination of nice bouncy drumming and sax with folk instruments has precedents in Swedish folk going back to such bands as Groupa, and also reminds me of ensembles like Ti Jaz from France; with their fresh approach and excellent playing, Bjäran are worthy successors to these great names in traditional folk.
At Folk Alliance I also spent a lot of time listening to the English trio Leveret, which features Andy Cutting on diatonic accordions, Sam Sweeney on fiddle, and Rob Harbron on English concertina. These instruments don't rely on the sudden attack of strummed or plucked strings, which makes Leveret's sound fluid, more like a string quartet than a typical folk band, but with the sweet timbre of the free reeds and the rich harmonies of Cutting's left-hand chords. Like Wör's project, their CD In The Round presents a lot of tunes they found in very old manuscripts, but adds to those some tunes composed by Harbron. It's a lovely collection of great tunes, beautifully played. Some favorites of mine include "The Rising Sun," technically a waltz but played with the exuberance of a brisk walk in the woods; "An Italian Rant," which has the portentous sound of an old ballad air; and "The Height of Cader Idris," which evokes the feeling of leaving your homeplace on a long journey. Leveret's arrangements are loose and improvisational, with the three musicians finding ways to weave in and out of each other's lines delicately, almost imperceptibly doubling or supporting one another, then swapping roles, providing harmonies, or nudging the rhythm gently this way and that. As with the great singing group The Watersons, it's hard to tell who is leading any given tune but each somehow holds together in a mesmerizing tapestry of sound.
Beppe Gambetta and Tony MacManus weren't at folk alliance, but their record company was, and passed on to me their CD Round Trip. As an acoustic guitar duo, this pair probably have no equal in the world; Gambetta, who hails from Genoa, Italy, is of the best flatpickers anywhere, while McManus, originally from Paisley, Scotland, is a brilliant fingerstyle player who's considered one of the greatest Celtic guitarists on the scene. On Round Trip, they play an inspiring selection of folk tunes in Celtic, Italian and American flavors. Reflective pieces like the famous Sardinian devotional song "Deus ti Salvet Maria" rub shoulders with fun jigs like "Out on the Ocean" and blazing reels like "Doherty." There are astonishing feats of both flatpicking and fingerpicking here; listen to the fluid fingers on "Slán le Maigh" or the lightning-fast plectrums on Peter Ostroushko's tune "Bonnie Mulligan." In addition to the steel-string guitars, McManus plays a beautiful harp-guitar on "Ligurian Bells Melody" and a bouzouki on the quick-paced Greek tune "Moustambeiko," adding tonal variety and color to the set. Incidentally, this isn't JUST a tunes album; each player also sings one song. Although they both do a fine job, Gambetta's rendition of "Valzer Per Un Amore" wins the day; it's a beautiful Italian song, inspired by the same Ronsard sonnet that Yeats paraphrased as "When you are old and grey and full of sleep," and Gambetta's gravelly baritone is perfect for the song's haughty but needy sentiment. All told, a scintillating and refreshing album especially recommended for acoustic guitar fans.
My finds from this year's Folk Alliance aren't exhausted yet--stay tuned!
Related
Popular in the Community