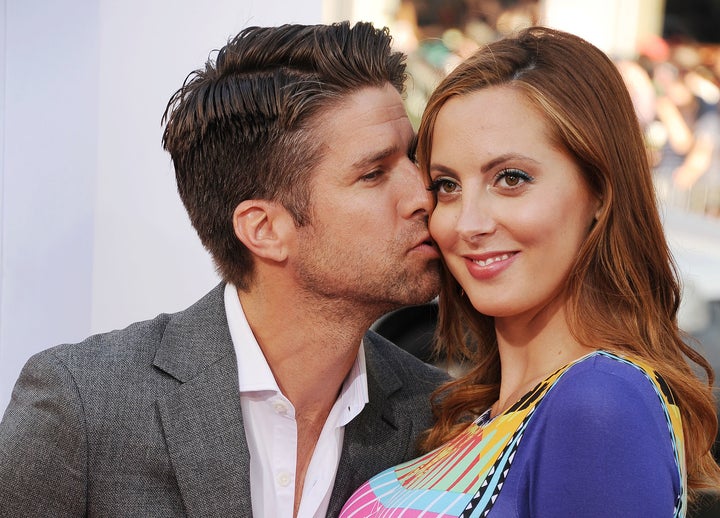 If you're a reader of mainstream celebrity media or tabloids, you'll know that famous people and nannies have a complicated relationship. The story all too often sounds the same: Wife hires nanny, nanny starts working, couple breaks up, news of affair between husband and nanny breaks. 
(Note: Yes, this narrative is problematic -- it's stereotypical and pretty much always puts the nanny at fault, which obviously isn't the case. But we digress.)
The latest star to find herself in the middle of this seemingly common Hollywood situation is Susan Sarandon's daughter, Eva Amurri Martino. Only, according to her, she managed to stop a terrible situation from happening at all. 
In a blog post on her website, Happily Eva After, the actress recounts, in detail, what she calls "Nannygate 2.0."
She explains that while she was in New York, her husband, Kyle Martino, received a text from the couple's nanny, who watches their daughter Marlowe May. 
"OMG. Girl, did I mention to you how hot and sex my Boss is," the text read. "I would love to fuck his brains out ha haah.  Too bad he seems not to like thick Latin women with lots to hold on to LOL."
According to Amurri, her husband was in shock after receiving the message, even though it seemed like a mistake, and told her about it right away. 
"A part of him thought it was so hilarious of course, but the greater part of him was head-in-hands embarrassed for her and couldn't believe he was going to have to deal with the awkwardness of having to talk about something so uncomfortable," Amurri explains in her blog post. 
What seemed to be most confusing to the couple was the fact that the nanny didn't respond to apologize for the mishap. She just let it be. 
After his slight panic, the former pro soccer player brought his daughter to breakfast but things only got worse when he returned home. At that point, the nanny had let herself in to begin her shift -- she had a key to the house -- and was in the couple's bedroom. 
"As Kyle went up the walkway to our home, he looked up at the house and saw her -- peeking out of the curtains OF OUR BEDROOM WINDOW," Amurri wrote in her blog. 
It was at that moment Martino realized the text probably wasn't a mistake. 
The story escalates with Martino eventually confronting the nanny and recording the whole conversation. She claimed she was in his room looking for him, and in terms of the text, she said she was "just messing around with a friend [and] didn't mean any harm." 
That text was sent out as a missive to test the proverbial waters with my husband and give her an opportunity later, when alone, to bring up a sexy dialogue with him. Need more evidence? She sent it the only morning she had that his wife was out of town. I felt a lot of things as I listened to this. I felt anger, I felt pride in my husband for being so loyal (and smart) and handling it well, and I felt a huge betrayal also. How dare this person, who we were paying very generously to care for our young daughter -- how dare she use her time with my child, in my HOME, to plot out a way to screw my husband and screw up my family! It was beyond psychotic.  
Amurri wraps up by admitting "this bizarre Nanny experience brought us even closer (emotionally and geographically) than we would have been otherwise."
Now of course, this is just one side of the story. Amurri was obviously upset about the situation, and especially concerned about being without childcare, but we're not sure calling out the nanny in a "trashy" (her words) blog post remedies the situation. 
What it does, however, is prove that the complicated and tumultuous relationship between celebrities and their nannies is strong as ever. 
Calling all HuffPost superfans!
Sign up for membership to become a founding member and help shape HuffPost's next chapter
BEFORE YOU GO
PHOTO GALLERY
Celebrity News & Photos