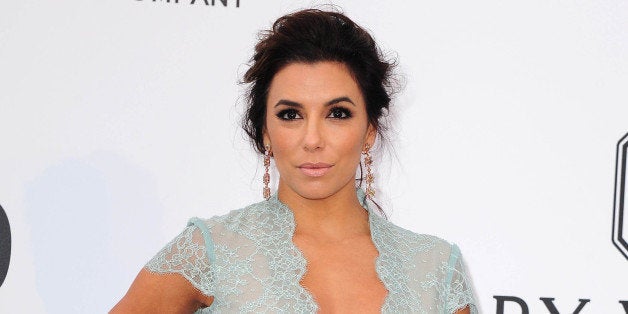 Eva Longoria is set to make her return to the small screen as the star of NBC's telenovela comedy "Hot & Bothered," a show she recently said is inspired by her own experience as a Latina.
In the new series, Longoria plays Ana Sofia Calderon, a telenovela superstar who doesn't speak Spanish and who's struggling to stay on top in an industry where the drama behind the scenes often rivals what happens on camera. The cast also features real-life telenovela star and singer Jencarlo Canela, as well as Diana Maria Riva, Jose Moreno Brooks, Alex Meneses, Amaury Nolasco, Jadyn Maria and Izzy Diaz.
On Sunday, Longoria spoke about how she personally relates to her character during the seventh annual Produced By conference in Los Angeles.
"It's a lot of identity crisis for my character, which is rooted in my life story," said Longoria, according to Variety. "I grew up in Texas, I'm Mexican-American and I'm close to my Mexican roots but I didn't speak Spanish and I don't have an accent."
Since the "Desperate Housewives" finale aired in 2012, Longoria hasn't been seen much on our TV screens -- although fans recently caught a glimpse of her as lawyer Sophia Perez on the Fox comedy "Brooklyn Nine-Nine." But that doesn't mean she hasn't been keeping busy.
The actress has been an executive producer on Lifetime's "Devious Maids" since 2013. The soap opera-cum-mystery series, which just began its third season, follows the lives of four maids in Beverly Hills, California, and the powerful families they work for. (The show has been accused of perpetuating stereotypes about Latinas, a claim to which Longoria responded in a blog entry on The Huffington Post in 2013.)

Longoria and her partners at UnbeliEVAble Entertainment, Longoria's production company, have sold eight shows to various networks in the past year, according The Hollywood Reporter. And in addition to starring in "Hot & Bothered," Longoria will also be producing it.
While many of the shows Longoria is currently working on feature Latino characters or storylines, the actress has said her career as a producer will be much broader.
"What I want to do is create great content on television and movies," Longoria told Glam Belleza earlier this year. "It is not my role to program only for Latinos, and you can't really assume that Hispanics only want Hispanic content. They're watching Scandal and they're watching Cristela. But I do think that we are severely underrepresented in television and film. And instead of complaining about not seeing ourselves, we should become film producers, directors, and writers, and tell our story."
Calling all HuffPost superfans!
Sign up for membership to become a founding member and help shape HuffPost's next chapter
BEFORE YOU GO
PHOTO GALLERY
Eva Longoria's Accomplishments Through The Years