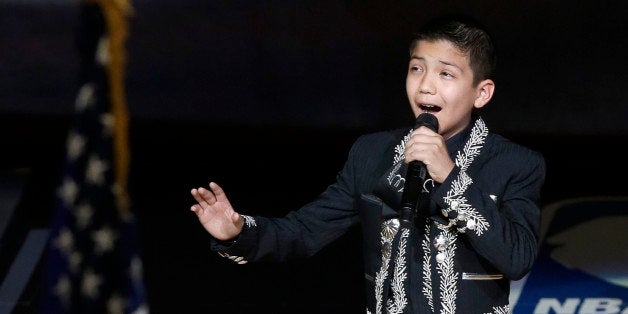 From the time he was a little boy, Sebastien De La Cruz absolutely knew his priorities "There are three things that are important in my life - God, family and mariachi," said the San Antonio native who made it to the semifinals on America's Got Talent and was called "the boy with the golden voice."
So imagine his bliss when 11-year-old De La Cruz was asked to sing the national anthem at game 3 of the NBA finals in 2013. (He filled in for Darius Rucker at the last minute.) De La Cruz's beloved San Antonio Spurs were playing the Miami Heat. Decked out in a silver-and-black Spurs-inspired mariachi outfit he performed a spectacular rendition of The Star-Spangled Banner and charmed the crowd.
The next day when De La Cruz was home getting ready for school he got a very unexpected call from a radio station. The fifth-grader learned that a barrage of haters and bigots tweeted racist remarks -- calling him an illegal alien and wetback. (In fact, De La Cruz was born in Texas. His father served in the Navy for more than two decades.) The radio station was asking for his response. But the boy answered from a place of compassion. "The world isn't perfect, but the world is good," he later said. "Even though bad things happen, the world will always be good."
What resulted was an outpouring of fierce support for De La Cruz. Spurs coach Gregg Popovich wasn't going to let the haters have the last word. So De La Cruz was invited back for an encore performance of the national anthem at the Game 4 finals. Even President Obama rallied on the boy's behalf, tweeting: "Don't miss @selcharrodeoro's encore performance of the national anthem at the #NBAFinals in San Antonio tonight."
Another passionate and fierce advocate for De La Cruz was actress Eva Longoria. "As a Mexican-American, I am so proud of Sebastien De La Cruz, a great symbol of what America is today!" she tweeted. So when she teamed up with ESPN Films to executive produce Versus, a new shorts series, Longoria longed to tell this boy's story. The result is Go, Sebastien, Go, a moving short documentary which Longoria directed and first aired May 8 on ESPN's SportsCenter and on ESPN.com.
Longoria recently presented Go, Sebastien, Go at a special screening at the Tribeca Film festival. She shared a panel with Retta. (The Parks and Recreation actress directed another Versus short about famous French figure skater Surya Bonaly.)
Before the panel, Longoria told me why it was so important for her to be a producer and director. "As an actor you don't have a lot of control of the final product," she said. "I think, I don't like leaving this to chance or in the hands of somebody else. So becoming a director and a producer was just my evil ploy to control the results of my performances."
In addition to Versus, Longoria also has a new NBC comedy series, Telenovela, which takes place behind the scenes of a Hispanic soap opera. Longoria plays the star who doesn't speak Spanish. "We've been producing and developing it for about two years. The show is so funny and I love my cast and crew," said Longoria. "Going back to television in this climate in which the way people view content is so different. That's going to be interesting. Social media is such a big part of our lives now, which it wasn't then. So it's going to be fun."
And if all this wasn't enough, Longoria also is debuting a new bedding line, Eva Longoria Home Collection. "I used to make my own curtains, comforters and throw pillows when I was young," she explained. "So I always said I want to do my own home line because I was really good at it. And then this kind of evolved."
Calling all HuffPost superfans!
Sign up for membership to become a founding member and help shape HuffPost's next chapter