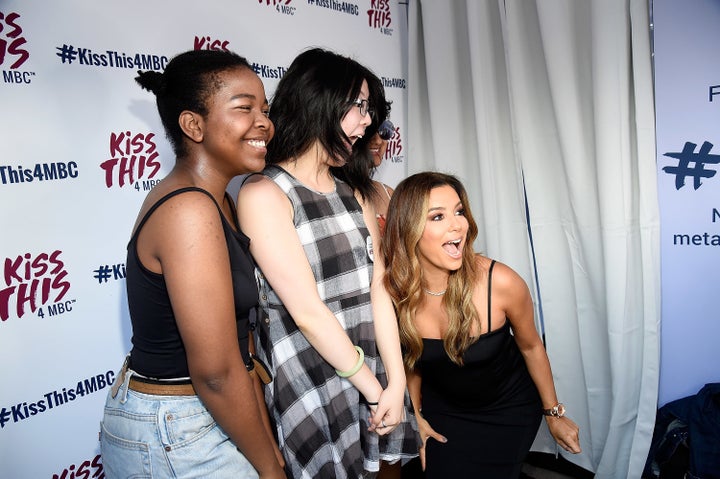 During October's breast cancer awareness month, survivors and activist often come together to discuss prevention and early detection. But if Eva Longoria has her way, we'll also start talking more about women with stage 4 breast cancer. 
The actress recently joined forces with global healthcare company Novartis to raise awareness and funds for research for metastatic breast cancer (MBC), which currently has no cure.
Longoria helped kick-off Novartis' #KissThis4MBC campaign on Sept. 14 in New York City's Washington Square Park by surprising fans in a photo booth and urging them to participate in the campaign on social media.
Breast cancer is a cause that's dear to Longoria's heart, due to her sister's personal history with the disease.
"I have a sister who went through breast cancer, luckily she was in the early stage and caught it in her yearly mammogram and she's in remission now," she told HuffPost. "But when I heard about this particular campaign with Novartis and how one in three women who are diagnosed with breast cancer could develop MBC, I was like 'Oh, wait, I'm pretty literate on the subject of breast cancer and I didn't know that.'"
"So I thought, 'If I don't know that, and I have somebody very close to me affected by breast cancer, then how many other women don't know that?'" she added.
For every selfie or Boomerang that is shared publicly on social media with the hashtag #KissThis4MBC, Novartis will donate $10 the Metastatic Breast Cancer Network (MBCN) and METAvivor, two advocacy groups that support research for people living with MBC.
"There's been so many advances in technology for breast cancer, but most of that has been funding in the early prevention, early detection, early screening ― which is great, because I think the best stage is stage zero," Longoria said. "We've seen great, positive change with that investment, but there's very little people that invest in stage 4, that invest in this terminal cancer that has no cure."
The #KissThis4MBC campaign hopes to raise at least $200,000 in research funds. 
"There's so many barriers to healthcare with people of color and with women, so you have a double whammy when you're talking about breast cancer," Longoria said. "I know for the Latino community it's the aversion of interacting with institutions, whether it's a bank or a school or a hospital or a doctor. There's that hesitance to interact with institutions therefore that leads to late detection, late check-ups, catching it too late [or when] it's developed too far."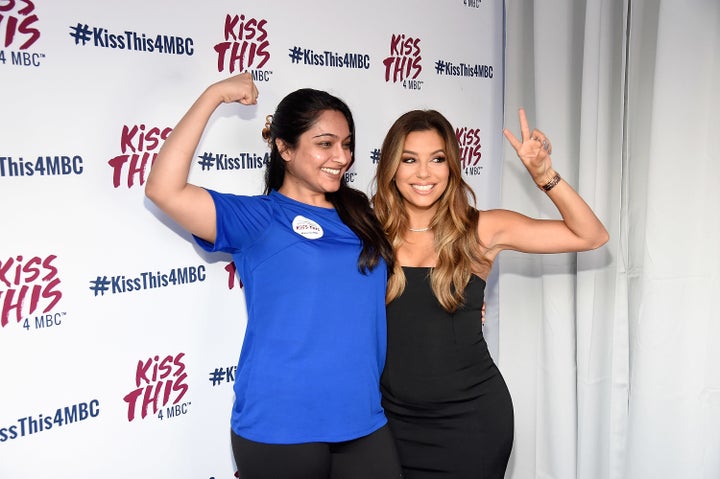 "Then as women, we put ourselves last on every list. It's our kids, it's our husband, it's our family, it's our mom, it's my job ― everything goes first," she adds. "So, of course, who suffers is women because they don't take care of themselves and they don't put their health as a priority."
Longoria says she also hopes that Latinos become more comfortable advocating for their health and asking for second opinions. 
"A lot of the women I talk to with MBC, they were misdiagnosed or they got a late diagnosis, even though they went and they asked," the actress said. "In our community, if a doctor goes 'You're fine, you're fine' and you go 'but should I get a sonogram? Should I get that MRI? Should I get that extra thing?' and when a doctor says 'No, you're fine' we trust that instead of questioning it."
"You have to question it and say 'I want a second opinion, I want to know is there any other test I should do? Let's just be safe,'" she adds. "You have to be your own biggest health advocate and sometimes women in our community have trouble doing that." 
REAL LIFE. REAL NEWS. REAL VOICES.
Help us tell more of the stories that matter from voices that too often remain unheard.