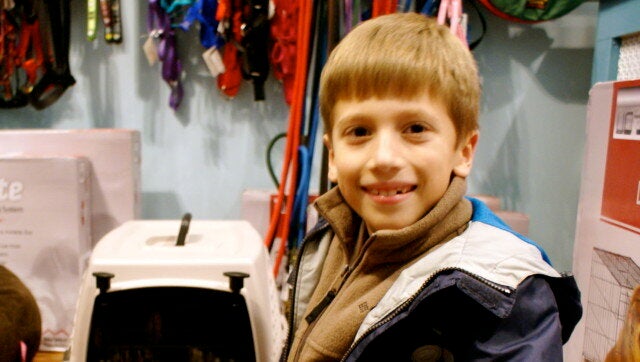 A series of heartwarming letters from a Philadelphia boy to his local cat rescue has gone viral.
On Friday, Redditor appropriate_username shared the story of Evan, a 10-year-old boy who adopted a cat, Macha, from City Kitties and wanted to help other cats who were still strays. In 2009, he started giving money from his allowance to the rescue with handwritten notes.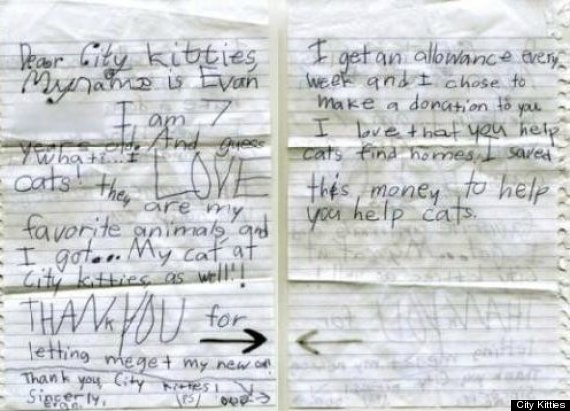 According to an email from his parents that was posted online, the accompanying $46.75 donation took months of diligent saving. And what happened afterward was remarkable:
I can barely explain this, and I can't help but brag about it. Evan saved up his allowance for months and donated $46.75 to City Kitties, the cat rescue from which we got our adorable (if mischievous) Macha. He wrote them a sweet note. They posted it on their Facebook page, and it went viral. Kyle Cassidy matched Evan's donation to City Kitties and suggested that others do the same. At last count, it had been "retweeted" (I vaguely understand that) 47 times. Bloggers are linking back to other blogs. Within hours, City Kitties received more than $400 in donations, and they are still coming.

Other people have donated to rescues in Arizona, Tennessee, California, Toronto, and locations unnamed, in Evan's honor. A woman in Austin, Texas made a video requesting donations for her local animal shelter, and credited Evan with inspiring her to take the time to do so. Sample comment from the blogs: "the world needs more Evans." We agree.

Forgive our bragging! We are just astounded! Happy holidays, everyone.

Lisa, Brett, and Evan
The next year, in addition to sending another letter and donation, Evan decided to sell figs from his family's tree to raise even more money for City Kitties. During that time, Evan's parents noticed that he'd taken a particular liking to a cat named Calvin.
So with City Kittes' help, they planned a surprise. First, Evan's dad told him Calvin was getting adopted and took him to say goodbye to the cat. As the City Kitties staff suspected, Evan asked if Calvin would be living nearby, and when they showed him the new address –- his own -- squeals of joy erupted.
The story continued circulating into 2011, when Examiner.com got wind of Evan's good deeds. He was able to donate a total of $97 that year. Here's the letter that accompanied that donation.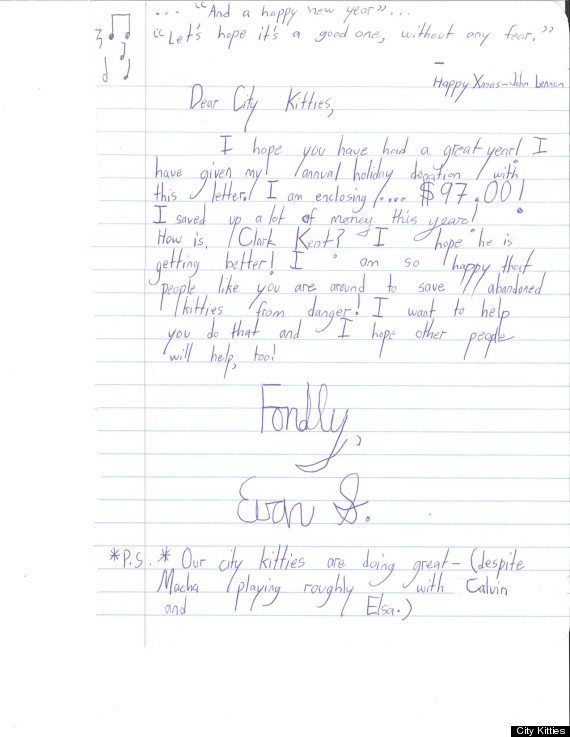 In 2012, Evan donated an amazing $110, which his parents matched for a total of $220. Last week, the letter -- his first in cursive -- was shared on Facebook, where a slew of responders commended him for his actions.
"Evan just made my 2012," wrote Abigail Herschlaght on New Year's Eve. "What an AMAZING and selfless dude!"
Scroll through the slideshow below to see all of Evan's letters over the years.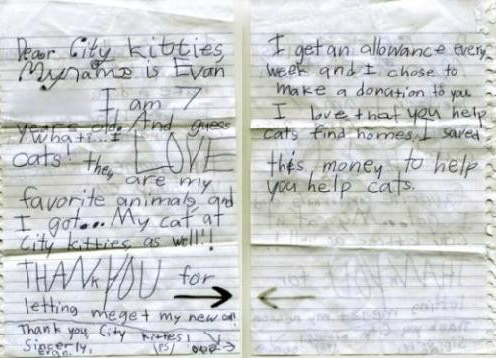 Evan's Letters To City Kitties
Related