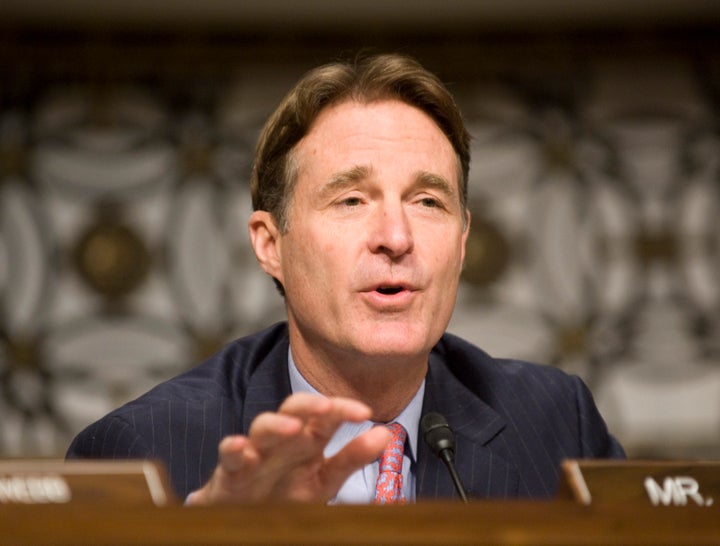 Evan Bayh, the former Democratic senator from Indiana and current Senate candidate, has at least $1 million in holdings with a Bermuda-based insurance company, Athene, that has a business model that a class action lawsuit is challenging.
Athene's business plan, the suit claims, is to buy up the annuities of retirees that had previously been invested in bonds and blue chip stocks, and instead pump their money into the risky bets of a private equity firm. That firm turns out to be Apollo Global Management ― where Bayh is a highly paid senior adviser ― which actually owns Athene, so if the gamble pays off, Athene's parent company gets rich. If it flops, the retirees could take the hit. (An Athene spokesperson said retirees' investments are protected by ample reserves.)
Apollo and Athene have another shell company, AP Alternative Assets L.P., or AAA, in between them, but the interrelationship is readily apparent. A subsidiary of Apollo even handles Athene's investments, extracting fees all along the way.
"AAA is managed by Apollo Global Management," confirmed Karen Lynn, a spokesperson for Athene, in a statement to The Huffington Post. "In addition, Athene has a strategic relationship with Apollo to leverage the scale of its asset management platform. Apollo's indirect subsidiary, AAM, serves as Athene's investment manager." In other words, Apollo is now handling the annuity money.
Lynn said "Athene believes the lawsuit and the allegations made within it are without merit and have filed a motion to dismiss." She added that ratings agencies approve of the assets it has invested in, and that "approximately 94 percent of Athene's available for sale fixed maturity securities are rated either NAIC (National Association of Insurance Commissioners) 1 or 2 ― the two highest categories." The class action suit argues that the retirees didn't sign up to have their money managed by a private equity firm; very few financially conservative, elderly investors would willingly participate in this type of scheme.
Private equity's push into the once-boring annuity industry was the subject of a 2013 Bloomberg story, which found Apollo leading the way. "It's a heads-I-win, tails-you-lose game," said Lawrence Rybka, CEO of wealth-advisory firm ValMark Securities.
Bayh has been working for Apollo as a senior adviser for public policy since early 2011, shortly after he retired from the Senate. On the personal financial disclosure he filed with the Federal Election Commission earlier this month in order to run for Senate in 2016, he states that he has received between $5.7 million and $20.9 million worth of assets in the firm. He lists his holdings in Athene as valued at between $1 million and $5 million.
In 2010, when Bayh was still a senator, he went to battle on behalf of Apollo and other money managers who were working desperately to thwart attempts to close or narrow what's known as the "carried interest loophole," which allows private equity and hedge fund managers to pay bargain-basement tax rates.
With Bayh's help, the effort to close the loophole was derailed. An analysis of Apollo's security filings suggests that the maintenance of the loophole has saved executives tens of millions of dollars on their tax bills since then.
Bayh's rapacious grab for cash since his retirement has been extraordinary even by Clintonian standards, but it is made all the more poignant by the poetic bromides he offered on his way out.
"I want to be engaged in an honorable line of work," Bayh told Ezra Klein in October 2010. He said he wanted to find work where he could come home and tell his wife, "Dear, do you know what we got done today? I've got this really bright kid in my class, and do you know what he asked me, and here's what I told him, and I think I saw a little epiphany moment go off in his mind."
We have since learned ― thanks to the Associated Press, which obtained his Senate schedule ― that by the time he was having this heady conversation, he had already been meeting with executives at Apollo, as well as the brass at the oil company Marathon and the law firm and lobby shop McGuire Woods. He went on to take jobs with all three, joining Apollo, sitting on Marathon's board of directors, and working as a strategic adviser at McGuire Woods.
Bayh is what's wrong with Washington, and the predicament he has put Indiana voters in is emblematic of the problems with our system of government. Any voter who wants the next Supreme Court justice to swing the bench back in a progressive direction has no choice but to vote to send a senator-turned-private-equity-executive back to Washington again.
Bayh's father, Birch Evans Bayh, was a liberal lion who served nearly two decades in the Senate and successfully authored two amendments to the Constitution ― a record for a non-founder. He was the lead sponsor of the Equal Rights Amendment, which very nearly became his third.  
Democrats hoping to take the Senate back celebrated when the younger Bayh announced he would make a bid to reclaim the seat he held from 1999-2011. The GOP has fielded a strong candidate, congressman and former Marine Todd Young, and Bayh's cash grab has made it difficult for him to paint Young as the only stooge of big business in the race, or to claim any populist mantle.
Earlier this month, Bayh warned his supporters in a fundraising appeal that the Koch brothers, Charles and David, were hell-bent on making sure Young won the Indiana race.
While the claim is true, Bayh makes an awkward messenger: The Koch brothers are clients of McGuireWoods, where Bayh is still a partner.
"Evan Bayh was paid by Koch Industries at his lobbying firm as recently as 2016 ― and he will work for them after Election Day whether he wins or loses," said a source who lobbies for Koch Industries, asking for anonymity in order to speak openly about somebody else on their payroll. "He calls Koch names, but he's grateful for the retainer they paid him, and Koch knows it."
The Koch brothers, of course, do not make their retainer checks payable directly to Evan Bayh, but by virtue of his partnership at the firm, he's a direct beneficiary. Bayh's assistant at McGuireWoods referred questions to Bayh's campaign. Ben Ray, a spokesman for Bayh's Senate campaign, said Bayh has never worked directly on the Koch account. "We don't have any comment," said Bob Lewis, senior manager for media relations at McGuire Woods.
"The Kochs have spent millions of dollars trying to purchase Indiana's U.S. Senate seat for themselves so they can advance their anti-middle-class agenda," said Ray, the spokesman for Bayh. "That's unacceptable, and it's why Evan believes we need to take action to overturn Citizens United and get this kind of unaccountable spending out of politics."
Citizens United, a Supreme Court decision that opened the floodgates to unlimited money pouring into politics, is often used as shorthand to describe all forms of political corruption and influence-peddling. And, to be sure, it's a landmark 5-4 decision, and one Democrats would desperately love to overturn. If Bayh wins, the most important vote he casts will be for majority leader of the Senate, helping to elect Sen. Chuck Schumer (D-N.Y.) to run the upper chamber. With Democrats in command, they will be able to confirm Merrick Garland ― or a younger, more liberal alternative Hillary Clinton nominates instead ― to the Supreme Court, flipping the balance in a new direction. That move alone would tilt the direction of policy on everything from labor to LGBTQ rights to reproductive freedom, and beyond.
Bayh, announcing his retirement, delivered a sermon in The New York Times that was filled with regret for the decay of the Senate, complete with hopeful recommendations for reform. But what Bayh actually did while in office has only further degraded the chamber. He used his final year to cast industry-friendly votes while interviewing for jobs with those same industries. Then he left office and became, in a very short amount of time, a wildly rich man worth somewhere between $13.9 million and $48 million. Citizens United has nothing to say about that.
Things were different in Washington in the spring of 2010. Democrats still controlled both chambers of Congress, and full-blown deficit panic hadn't yet gripped the city. The tea party wave was still six months away.
Democrats were looking for funding to extend unemployment benefits, and decided to go after the carried interest loophole. Speaker Nancy Pelosi pushed a narrowing of it through the lower chamber over intense industry objections; Apollo alone spent $1.5 million lobbying against the measure. The Senate was expected to pass the bill in some form, even if it got watered down a bit.
The industry credited Bayh with being a "key player" in negotiations that watered the measure down further. In June, Bayh voted to kill the bill, saying he objected to some of the spending provisions. It died.  
Bayh told HuffPost in a statement this week that he has always supported closing the loophole, and that given the chance to do it in a standalone bill, he'll gladly vote for the move. "I have consistently supported closing the carried interest loophole for years, and I remain fully committed to closing it if I am fortunate enough to serve Hoosiers in the Senate again," Bayh said. In 2007, after Democrats took control of the Senate, he did in fact vote to close it. He also voted for Obamacare in 2009, which included a 3.8 percentage point tax hike on investment income.  
Lily Batchelder, who was chief tax counsel on the committee working on the reform in 2010, recalled that Democrats couldn't find a Republican to get them to the 60 votes they needed. Had they been able to hit that threshold, she said, Bayh and other Democrats who opposed the bill on spending grounds presumably would have supported it. She noted that if closing the loophole is a priority, Bayh is a better bet than his opponent, Young, who has pledged to oppose any tax hike at all.
A few months after helping kill the bill, Bayh was literally sleeping at the Manhattan home of an Apollo executive, according to a Senate schedule the AP obtained. It was one of several meetings with the firm he'd joined shortly after leaving the Senate. (His spokesman told the AP he was staying with a friend.)
If Bayh were truly looking for an "honorable line of work," working for a company that bought up the retirement accounts of the elderly, shifted them to risky investments and hit them with big fees is a strange way to go about it. 
In August, Athene took steps toward going public, which would mean that Bayh's holdings of $1 million to $5 million could jump substantially.
This story was updated to clarify the description of Athene's business practices.
Calling all HuffPost superfans!
Sign up for membership to become a founding member and help shape HuffPost's next chapter