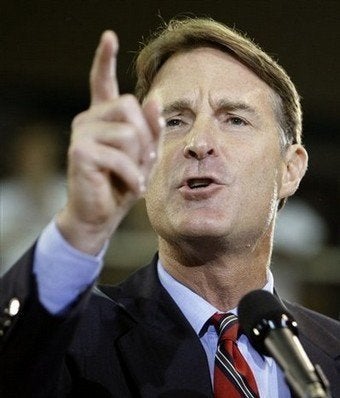 Sen. Evan Bayh (D-Ind.) confirmed on Monday that he will not be running for re-election in 2010, citing a overly-partisan climate in Washington.
The departure of Bayh, a two-term Indiana Democrat who has never lost an election either on the state or local level, leaves a gaping hole for national Democrats to fill. A top operative in the party told the Huffington Post that the decision was "last minute" and "personal," seemingly not driven by prospects of defeat.
"They polled last week and were way ahead of [Republican candidate Dan] Coats," the operative said. A recent Research 2000 poll had Bayh lead over Coats at a quite comfortable 20 points.
A name floated by the operative as a possible replacement for the Democratic seat is that of Rep. Brad Ellsworth (D-Ind.) a blue dog from Evansville who came to office in 2006 riding an anti-Republican wave. Ellsworth, however, lacks the statewide name recognition of Bayh, whose father served in the Senate before him. Moreover, he will have to move remarkably fast in order to get his name on the ballot. The deadline to file is this Friday but candidates have to have 500 valid signatures from citizens in Indiana's nine Congressional Districts to properly certify his or her candidacy.
And while the Democratic Senatorial Campaign Committee has been working overtime to define Coats as a creature of Washington with a toxic past as a lobbyist the electoral deficit it now faces is more daunting.
Bayh held a news conference announcing his decision in Indianapolis Monday afternoon. Watch his remarks:
"After all these years, my passion for service to my fellow citizens is undiminished, but my desire to do so in Congress has waned," he said.

"My decision was not motivated by political concern," he added. "Even in the current challenging environment, I am confident in my prospects for re-election."

"But running for the sake of winning an election, just to remain in public office, is not good enough," Bayh said. "And it has never been what motivates me. At this time I simply believe I can best contribute to society in another way: creating jobs by helping grow a business, helping guide an institution of higher learning or helping run a worthy charitable endeavor."

"Two weeks ago, the Senate voted down a bipartisan commission to deal with one of the greatest threats facing our nation: our exploding deficits and debt. The measure would have passed, but seven members who had endorsed the idea instead voted 'no' for short-term political reasons," he said. "Just last week, a major piece of legislation to create jobs -- the public's top priority -- fell apart amid complaints from both the left and right. All of this and much more has led me to believe that there are better ways to serve my fellow citizens, my beloved state4 and our nation than continued service in Congress."
Popular in the Community