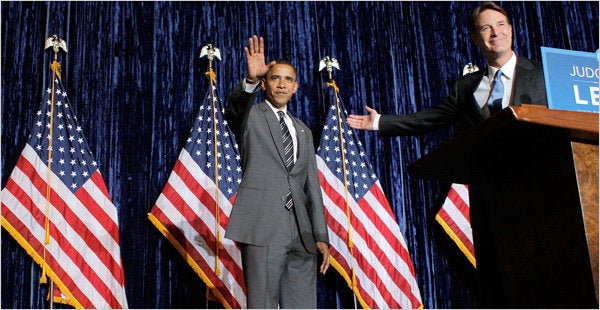 The "Evan Bayh will be Vice-President" meme is running rampant here in Indiana with more and more tips and leaks and rumors spreading like wildfire. Let's catch up on all the latest gossip about the possible nomination.
"Sources in Denver, the site of next week's Democratic National Convention, say that individuals responsible for Obama's major public appearances have been pulled out of the city and are heading east towards Indiana."
Blogger Joh Padgett, a local friend of mine, also e-mailed to say, "Word came to me late last night that stagehands have been hired for Saturday for an mysterious event downtown, with no exact location specified until this afternoon for the stagehands hired, and with nothing on the concert schedule to match."
Obama's campaign spokesperson for Indiana, Jonathan Swain, told WXNT reporter Abdul Hakim-Shabazz, "That's news to me," and several state party sources were also denying the rumor. Now it appears that the rumored visit will happen after all.
CBS News chief political consultant Marc Ambinder confirms that Barack Obama is scheduled to visit Indianapolis on Saturday-a nugget that is sure to add to speculation that the Democrat will pick Indiana Sen. Evan Bayh to be his running mate.
Obama also has an event scheduled for the same day in Springfield, IL -- where he launched his campaign -- leading some to speculate that Indy has been chosen just for it's geographic location and the fact that we're a battleground state this year. No matter who is VP, goes the reasoning, they'll be stopping by Indy to meet and greet.
Does it mean anything that the wife of one of Sen. Barack Obama's veep finalists, Susan Bayh, just got her hair and nails done?

Or that she has also told neighbors that she's sorry about the media pack about to descend upon her Washington, DC, neighborhood?

Does that mean anything at all?
U.S. Sen. Evan Bayh's hopes of joining the Democratic presidential ticket with Barack Obama might have come down to his wife's service on seven corporate boards. Bloomberg News reported today that Susan Bayh's board directorships on companies like Eli Lilly, Wellpoint, E*Trade Bank and Emmis Communications raise "questions about potential conflicts of interest from his wife's work." The Bloomberg report quoted James Thurber of American University's Center for Congressional and Presidential Studies who said, "When you're vetting a vice president and his wife is on seven boards, that is a serious question of conflict of interest on a whole variety of issues." And Bill Buzenberg of the Center for Public Integrity was quoted in the article saying, "It doesn't pass the ethical smell test." That story also surfaced on NBC's Today Show this morning as a potential mark against Bayh's veep hopes. Indiana Democratic sources say the Bloomberg story and other reports on the web have Bayh supporters in Indiana seeing Bayh's ticket potential dim.
Add to this the potential backlash from Obama supporters who are none too thrilled about Bayh's history as John McCain's honorary co-chairman of the Committee for the Liberation of Iraq and you have the possibility of a non-starter. Prominent liberal blogger Booman put it out on the table, "If Evan Bayh is acceptablbe then maybe John McCain's judgment isn't so bad after all."
Regardless of Bayh's merits as a running mate and potential vice-president, his selection would carry with it one immutable and giant negative: the inauguration of Vice-President Bayh would very likely create a new Republican senator. Indiana Governor Mitch Daniels is a Bush loyalist who has a substantial, 10-15 point lead over Democrat Jill Long Thompson in his bid for reelection. As much as we'd like to hope for the best, it's improbable that Long Thompson is going to defeat Daniels.

Now, Indiana Democrats will point out that Long Thompson has done well in fundraising, and that the presence of Bayh on the ticket would undoubtedly help her. But the fact remains that Daniels is more likely than not going to win the race. And that means that he would have the ability to appoint Bayh's successor in the Senate. Perhaps he'd choose Steve Buyer, a wingnut who advocated for the use of nuclear weapons in Afghanistan. Perhaps he'd name himself.

In any case, Daniels would not pick a Democrat to replace Bayh. He would pick a partisan Republican. And that means that President Obama would lose a precious Senate seat at a time when he will need every vote that he can get to defeat near-certain filibusters. Obama wants to push serious energy reform -- but he won't be able to get it unless he can muster 60 votes in the Senate. He wants to enact the Employee Free Choice Act -- but without the vote of every Democrat, and a handful of Northeast Republicans, the bill will die.

Democrats can expect to come out of November with 55-58 Senate seats, not including Joe Lieberman, who'll probably go along with the Democrats on a number of cloture votes. That puts us in a very good position to beat filibusters on a number of crucial legislative initiatives. But every seat that goes to a far-right Republican is a body blow to our ability to really take advantage of our majority. Barack Obama needs to ask himself whether Evan Bayh is worth possibly losing meaningful health reform or immigration reform.

He isn't. No VP candidate is.
If you were the Party would you want to step in and take over another campaign to prevent future repercussions? Or would you just choose someone else without as many flaws? What do you think Bayh's chances are?
And would you support Bayh as the Veep candidate? If not, who do you think is the best choice?
Bil Browning is a long-time LGBT activist and political consultant. He publishes The Bilerico Project, one of the nation's leading queer political blogs.
Popular in the Community