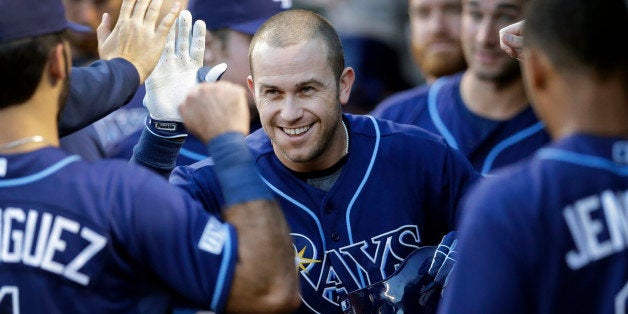 When Evan Longoria's second child was born in November 2014, he was not near his fiancee in St. Petersburg, Florida. Instead, Longoria was on the other side of the world, playing in the Tokyo Dome for a baseball series with Japan.
Checking his phone incessantly throughout each inning, he got the heads-up that the baby was coming soon. He proceeded to take himself out of the game and FaceTime fiancee Jaime Edmondson, watching via live stream as his son was born.
"Of course, it was right during the game," Longoria told The Huffington Post. "And it was a surprise. We didn't know what it would be, but Jaime urged me to go and wasn't upset."
At 29 years old, Longoria is firmly in the prime of a splendid career spent entirely with the Tampa Bay Rays. A three-time All-Star third baseman with two Gold Gloves, he won the 2008 Rookie of the Year and leads the franchise in both total home runs and RBIs.
To understand Longoria's current success on the baseball diamond, it helps to first understand the rather inauspicious start to his career.
Just over six feet tall and 170 lbs. as a high school senior outside of Los Angeles, "Longo's" only legitimate collegiate interest came from nearby USC, a proud program with fantastic baseball tradition. But the Trojans eventually soured on him and didn't offer him a scholarship. Instead of trying to walk on, Longoria enrolled at nearby Rio Hondo Community College, where he got stronger and excelled. Long Beach State -- a perennial powerhouse, with four trips to the College World Series -- came calling. Three years later, Longoria was selected third overall in the MLB Draft, providing a lesson in both perseverance and grit.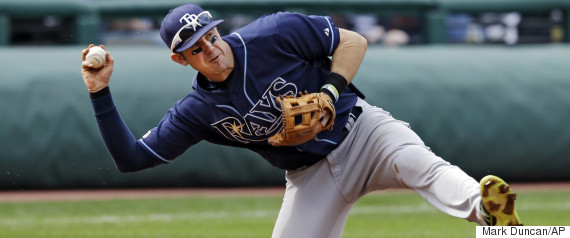 "Sometimes the road less traveled ends up being easier to navigate because ignorance is bliss," Longoria says. "I didn't know that I was any better or worse than the next guy -- I just enjoyed playing the game and didn't worry about anything else."
When he's not playing baseball, Longoria spends his time with his family, but also as an ambassador for Red Bull and for the restaurant Ducky's, a sports lounge near downtown Tampa. Perhaps his favorite hobby is drumming, a skill he picked up about five years ago.
"I have my kit in this room off to the side of the field," he says. "It's right next to the visitors' clubhouse. The guys in the AL East have noticed my minor improvement."
Minor improvement -- or not so minor -- for the Rays is a necessity. After the most successful stretch in franchise history, including a trip to the 2008 World Series that Longoria helped spark as a rookie, the team has regressed. Last season, it traded its best asset -- 29-year-old ace and former Cy Young winner David Price -- and enters the 2015 campaign without manager Joe Maddon for the first time in nine years.
Longoria, for his part, talks confidently about embracing his role as a team leader.
"It's sort of come organically over the natural progression of time," he says of his role. "It's a pretty humbling and an eye-opening experience."
Opening day is here, which means that for Longoria, the ballpark is essentially home for 162 days and nights a year. The challenges presented by baseball can become immense, which makes family time that much more valuable.
"This year I'll be able to bring my daughter [to the stadium]," he gushes. "But it's hard not being able to be there to help Jaime. [My daughter] knows when I'm gone. She says, 'I want daddy.'"
"She's getting better at FaceTiming."
Apparently, it runs in the Longoria family.
CORRECTION: An earlier version of this story indicated the Longorias live in Tampa, Florida. In fact, they live in St. Petersburg.
Email me at jordan.schultz@huffingtonpost.com or ask me questions about anything sports-related at @Schultz_Report, and follow me on Instagram @Schultz_Report. Also, be sure to catch my NBC Sports Radio show "Kup and Schultz," which airs Sunday mornings from 9 to 12 EST, right here.
Related
Popular in the Community