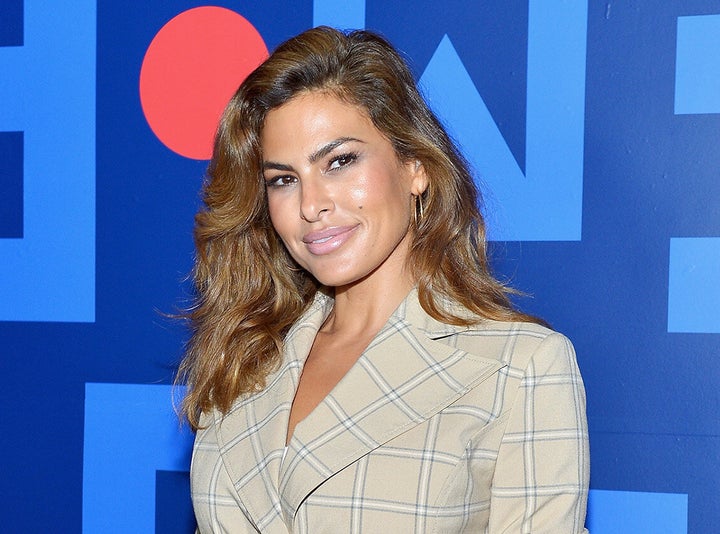 But if you thought you were pumped about director Greta Gerwig's vision for the iconic Mattel doll, rest assured that no one is more excited than Eva Mendes.
The typically press-averse star, who shares two daughters with Gosling, has been unusually vocal about her support for the film, particularly when it comes to the underwear her longtime partner wears as Ken.
"I said, 'Can I please have that underwear? Please! I never ask for anything,'" a laughing Mendes told CBS's "The Talk" co-hosts on a recent episode. "So, anyway, I do have it. I'm wearing it right now."
The first look at Gosling as Barbie's paramour was released earlier this month, featuring the actor in all his shirtless glory wearing a cut-off denim vest and his own Ken-branded briefs, which apparently are now in Mendes' possession.
"Well first of all, I saw the photo and the 14-year-old in me was like, 'Ahhh,'" she said. "It's a funny photo and he's trying to be funny. So, it worked on all levels."
"There was something about the image that sparked my, you know, that little teenage..." she continued.
While Mendes is onboard with Gosling's new role, she playfully addressed the critics of his transformation online, adding, "People do know he's not playing a real person, right? He's playing a fake person!"
Mendes had a similarly enthusiastic response to Gosling's transformation when it was first unveiled on Instagram.
Apart from Gosling and Robbie, who stars in the title role and produces the film, "Barbie" also features actors Kate McKinnon, Alexandra Shipp, Michael Cera, America Ferrera, Ncuti Gatwa, Simu Liu, Issa Rae, Hari Nef and Will Ferrell.
Robbie encouraged fans not expect to a conventional story about the character, which she admitted "comes with a lot of baggage and a lot of nostalgic connections"
"But with that come a lot of exciting ways to attack it," Robbie told British Vogue last year. "People generally hear 'Barbie' and think, 'I know what that movie is going to be,' and then they hear that Greta Gerwig is writing and directing it, and they're like, 'Oh, well, maybe I don't…'"
Written by Gerwig and partner, Noah Baumbach, "Barbie" is set to hit theaters July 21, 2023.
Support HuffPost
The Stakes Have Never Been Higher
Popular in the Community