New York-based graphic designer Evan Robertson has created a charming series of literary posters based on quotes by famous authors. He takes clever phrases by writers such as Ernest Hemingway and Kurt Vonnegut and transforms them into black-and-white posters. The resulting works are starkly designed and deftly capture the spirit of the writer's message in a few words. To find out more about the man behind the work, we asked Robertson some questions about his inspirations and upcoming projects. Scroll down for images.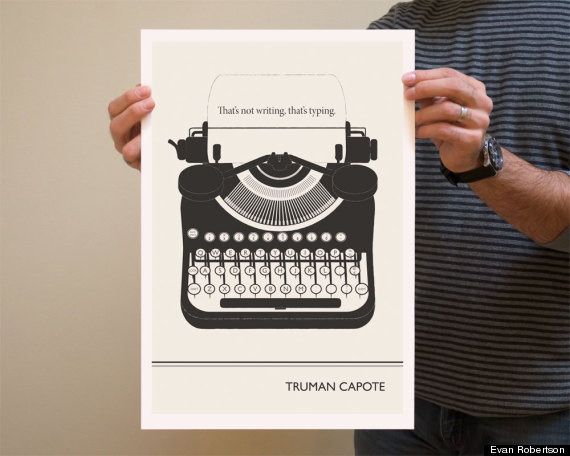 HP: What inspired you to create this literary poster series?
ER: The best thing about paperbacks (apart from the smell, of course) is that when a little jewel of a sentence grabs you, you can underline it. If you've only ever read a book on a screen, then let me explain: Underlining something in your book is the original "interactive" media. Think of it as a hyperlink that redirects to your own thoughts, and like a hyperlink, it can leave the rest of the story behind and open up a new window of ideas, insights, musings.
That's the spirit of this series of illustrations. I took little snippets of text and ideas from some of my favorite authors (with some notable exceptions that I'm saving), and let the words be a springboard for an illustration. The illustrations incorporate and interact with the text and hopefully add up to something that engages the mind as much as the eye.
HP: What is the design process like for these posters and how do you choose your quotes?
ER:The quotations came from various places. I wasn't interested in the usual suspects, and wanted to find things that I had either underlined in my own travels or had stumbled across and just loved. I think visually, so I knew I had a great quotation when it inspired my hand as well as my head.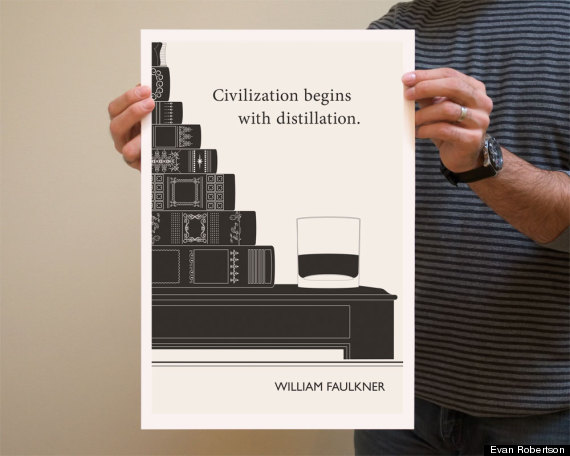 HP: Do you have plans to continue the series? Maybe there are some other authors you would you like to illustrate?
ER:Absolutely! I plan on completing another round of designs for the fall. September always makes me think of books.
HP: Beyond your literary designs, are you planning any other graphic design projects?
ER: My next project is also a bit literary but with a pop culture twist. I had a great professor in college (Harold Bloom) who once mused that if Shakespeare were alive today, he would most certainly be writing for TV, since theatre was the cheap entertainment of the Elizabethan era. That's the germ of the next project: What would Shakespeare be doing now?
PHOTO GALLERY
Graphic Designer Evan Robertson Makes Charming Literary Posters
Calling all HuffPost superfans!
Sign up for membership to become a founding member and help shape HuffPost's next chapter
BEFORE YOU GO