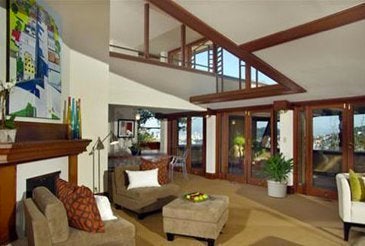 Let's see if we can sum this story up in under 140 characters:
Top tweeter tries to trample century-old house & build new one on lot, neighborhood history buffs protest #YOLO
Early last year, Twitter co-founder Evan Williams and his wife Sara Morishige Williams purchased the house at 226 Edgewood Avenue in San Francisco's Parnassus Heights neighborhood for $2.9 million, down from an initial asking price of $3.5 million.
It is, by all accounts, a very nice abode: three stories, 3,487 square feet, stunning views, four bedrooms, four baths, a gazebo, parking for four cars, hardwood floors, a classic example of Arts & Crafts style architecture and way more privacy than most San Franciscans would even imagine possible without moving out to the 'burbs.
Even so, the young tech mogul purchased the property not because he wanted to live in the house, but because he intended to tear down the existing structure and build something on the lot more to his liking.
However, Williams' plan has a slight problem. The house they're looking to demolish dates back to 1915 and is the work of famed architect Louis Christian Mullgardt. As such, a number of people are none too pleased with his intent to bulldoze the structure.
Business Insider reports that 300 neighborhood residents have written to the city's Planning Department criticizing the demolition.
"A complete teardown of such a home would be a precedent for our extended neighborhood and would set the stage for numerous future demolitions that will alter the character of our beloved S.F. Neighborhoods," neighborhood group Friends of Parnassus Heights wrote to local real estate blog SocketSite. "Edgewood Avenue is a brick-lined street that features a large number of Arts and Craft homes from the early 1900s. 226 Edgewood Avenue clearly contributes in a significant way to the beauty of this unique street and its history."
Not only is the property in question the only Mullgardt currently standing in San Francisco, but the Planning Department has previously looked into declaring the structure a historic building.
This protest isn't the first time Williams has run into difficulty trying to create his dream home. In 2010, he told Gawker that plans he had to build a house with his wife, a designer responsible for Twitter's chic new digs, were put on hold.
Check out these shots of the inside of the soon-to-be-(maybe)-demolished property: