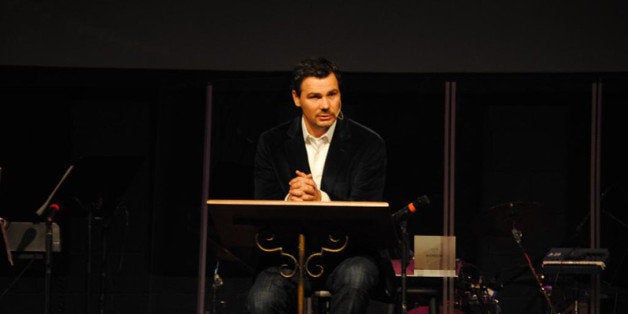 NASHVILLE, Tenn. (RNS) Pastor Stan Mitchell's announcement that his evangelical GracePointe Church would fully affirm gay members met with a standing ovation from some, stunned silence from others, but everybody prayed together quietly at the end of it.
A month and a half later, Mitchell routinely receives emails inviting him to kill himself, often including the assurance they were sent in love from other Christians. Half of his 12-member board has left, along with half the average offering and about a third of the weekly attendance -- once at 800 to 1,000 people.
He's met with dozens of disenchanted members and plans to see dozens more, apologizing almost compulsively for his handling of the issue. But there's no going back, he says. He doesn't even want to.
One of his biggest fears is that talking publicly about what happened at GracePointe could discourage countless other evangelical pastors who he says are ready to make the same move.
"I'm watching LGBT people finally make peace with themselves because they couldn't get away from the authority of Scripture and what they thought it said about them," said Mitchell, 46.
"The upsides -- my God, they're everywhere in this."
The shifts and conversations within this Bible Belt congregation mirror a larger debate among American evangelicals as they engage tricky and sensitive matters of human sexuality, the authority of Scripture and a rapidly changing culture. That dialogue is being pushed by Christians who, like Mitchell, no longer believe that the terms "evangelical" and "LGBT-affirming" are mutually exclusive.
Last year, evangelical ethicist David Gushee at Mercer University wrote the book "Changing Our Mind," about his own theological shift -- on questions of gay marriage and welcoming gays and lesbians into church leadership. Author Matthew Vines' Reformation Project and his book, "God and the Gay Christian," drew attention from top evangelical leaders.
A handful of large evangelical churches are publicizing their supportive stances. The Highlands Church in Denver was among the first, suffering deep drops in attendance and donations but now recovering. EastLake Community Church in Seattle announced its LGBT inclusion and affirmation; Mitchell spent a February weekend there, huddling with church leaders.
But there remains a high price: Last year, the Southern Baptist Convention expelled New Heart Community Church in La Mirada, Calif., after its pastor changed views on homosexuality. More recently, the Chicago-based Evangelical Covenant Church cut off funding for a church plant in Portland, Ore., when its pastor announced his support for LGBT equality.
Several factors are coming into play in the pastors' decisions, observers say. Marriage equality has reached all but 13 states, forcing churches to confront an issue many have long demonized or simply hoped to avoid. Polling by the Public Religion Research Institute survey shows 43 percent of white evangelical millennials support same-sex marriage, double the percentage of the oldest generation of that demographic.
At the same time, gay Christians raised in and rejected by evangelical churches haven't lost their love for those roots, said Scott Thumma, a sociologist at Hartford Seminary who has studied both homosexuality and megachurches.
"To be an evangelical Christian is more than the theology. It's the tradition you were raised in, the songs and hymns you sang as a kid," he said. "There's a pull to the expression of Christianity they grew up with, where they feel at home and where they feel the deepest connection to God even if the theology said they didn't belong there."
In some ways, the change is happening from the inside out. Gay-friendly mainline Protestant churches such as the Episcopal Church just don't hold the same appeal for that group, said Brandan Robertson, 22, spokesman for Evangelicals for Marriage Equality.
"It's not that we're ashamed or not grateful to be welcomed," he said. "But rather, we just want to be seen as normal Christians, not part of some 'special group.'"
Robertson, too, says there are dozens of evangelical churches on the precipice of making announcements of their affirmation. But he also knows the price: He said Christian publisher Destiny Image canceled his book contract for "Nomad: Not-So-Religious Thoughts on Faith, Doubt and the Journey In Between" because of his self-identity as a "queer" evangelical.
"If you look at the Scriptures, everybody who did the right thing got crucified to some extent," said Greg Bullard, who has been watching the drama unfold at Mitchell's church. Bullard is the openly gay pastor of Covenant of the Cross, an LGBT-affirming nondenominational church that meets in a former movie theater about 26 miles north of GracePointe.
Exclusive salvation questioned
Mitchell took to the pulpit at age 16, gaining ordination through the United Pentecostal Church. He began to question his tradition's exclusivist ideas about salvation and voraciously read the work of modern theologians, working his way from Max Lucado to Paul Tillich to C.S. Lewis. Mitchell became an associate pastor at Christ Church Nashville, a megachurch with Pentecostal roots, and quickly gained popularity among members of the congregation.
"We were at Christ Church when Stan preached his first sermon," said David Schwab. "I felt he had been our pastor ever since then."
Schwab and his wife, Becky, joined six other couples in reaching out to Mitchell in 2002 when he took a break from the pulpit. The couples promised to support him in a new church, which was born in Mitchell's living room. Soon, they grew to 40 people meeting in rented space at a school. In May 2009, they moved into their new 12,000-square-foot church in the tony suburb of Franklin.
Mitchell, a twice-married father of two, said he'd been struggling with his stance on homosexuality since meeting several gay Christians at Christ Church Nashville. By 2012, he said, it was clear they had to take the issue head-on.
The congregation is split on how that process went. Some members say they were aware of ongoing conversations in small groups and Bible studies and messages from the pulpit. Others, including Schwab, say they thought the stance was clear: LGBT people were welcome to worship, but they couldn't hold leadership positions.
Both sides agree the issue came to a head when Mitchell performed a same-sex wedding without telling the board. After a two-day retreat with some board members and elders, Mitchell emerged with a decision. He'd announce from the pulpit on Jan. 11 that GracePointe would be fully affirming. When he did, he fought back tears as he described being knocked to the floor by the realization of what he had to do.
Schwab hasn't been back since. "Those of us who sat through the tough times, he just kicked us out the door. It's hard to fathom. Why would somebody do this?"
But even if there'd been ample warning, Schwab said, he and his wife would have left over the issue.
"I love my gay brothers and sisters. I really do," he said. "But I think the Bible is pretty specific."
Interpreting the Scriptures
Mitchell and other LGBT-affirming pastors typically respond to scriptural arguments with the same answers they'd give for slavery, or for denying remarriage after a divorce: Both once found support in Scripture, they say, but no longer. The same is true of homosexuality: In biblical times, there simply was no concept of loving, equal, committed relationships between people of the same gender.
Of course, those arguments, so far, don't work for the majority of evangelicals who take biblical prohibitions on homosexuality at face value. The nation's largest Protestant denomination, the Southern Baptist Convention, held two summits last year devoted to rejecting the notion of God-sanctioned same-sex marriage. After Mitchell's announcement, his former Nashville church posted an online statement: "We must neither rewrite scripture to excuse our sins nor demonize ourselves if we fall into them."
And that's why GracePointe should be proactive in helping members explain the stance to evangelical friends and relatives, said the Rev. Cynthia Andrews-Looper, a lesbian who started attending GracePointe the day Mitchell made his big announcement.
"A lot of new LGBT individuals are showing up," said Andrews-Looper, whose upcoming memoir traces her journey from onetime fundamentalist to founding pastor of Nashville's predominantly gay Holy Trinity Community Church 18 years ago. "I know where they are, walking in. But I'm also aware that, for those on the fence, they are still embracing the misconceptions about the LGBT community. As they get to know me and the other gay people there, those misconceptions can be challenged."
Painful no matter what

In retrospect, Mitchell admits his change of heart could have been better communicated. But the schism isn't surprising: After moving toward greater acceptance of LGBT parishioners, the Presbyterian Church (USA), Evangelical Lutheran Church in America and Episcopal Church have all seen small but significant losses.
"There's going to be polarity on this issue either way you go," said Dave Travis, CEO of Dallas-based Leadership Network, a church consulting firm. "The vitality of American religion is that people vote with their feet. ... If (Mitchell) retains half, that's about right."
Steve Joiner, managing director of the Center for Conflict Management at Lipscomb University, which is affiliated with the conservative Churches of Christ, said churches that adopt a major shift need to make sure that all members have the chance to feel like they've been heard. Losses should be acknowledged and addressed, he said, and then the congregation should enter about a two-year process of deciding who they are, or want to be, going forward.
It sounds similar to the path Mitchell said he's already taking at GracePointe. And he's following another piece of Joiner's advice: There's no benefit to revisiting the core issue.
Related
Before You Go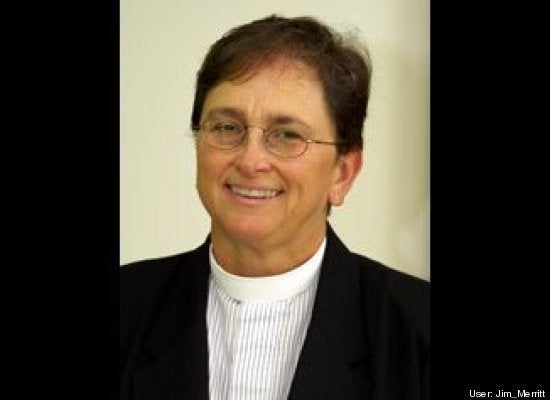 Most Inspiring LGBT Religious Leaders
Popular in the Community