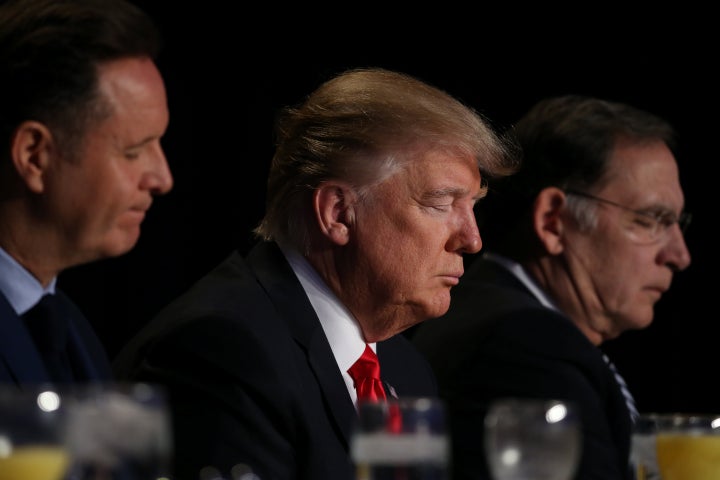 Donald Trump gave an inappropriate political speech to 40,000 Boy Scouts at their quadrennial jamboree last week, and then lied in an interview with the Wall Street Journal, claiming he received a laudatory call about the speech from "the head of the Boy Scouts." (The Boy Scouts of America confirmed no such call took place; the BSA's chief executive had actually apologized for the inappropriate speech in a statement).
The Christian evangelical leaders and pastors of Christian mega-churches who fervently back Trump, leaders of groups such as Family Research Council (FRC) and pastors such as Dallas Southern Baptist mega-church leader Robert Jeffress, saw no reason to speak out about the lie, let alone about the disgracefulness of Trump, an admitted sexual predator, standing on a stage as a role model for young boys.
But they did effusively praise Trump for announcing on Twitter two weeks ago that he will be ejecting transgender people from the military, men and women serving their country honorably and whose service is needed. Trump's own defense secretary, James Mattis, who lobbied members of Congress just a few weeks ago not to restrict medical care for transgender people, was reportedly "appalled" by Trump's announcement, which he wasn't consulted on. Fifty-six former generals and admirals wrote a letter to Trump opposing the decision.
Yet, the Christian right, hardly military experts, was ecstatic.
"I applaud President Trump for keeping his promise to return to military priorities – and not continue the social experimentation of the Obama era that has crippled our nation's military," FRC's Tony Perkins said in a statement. He was lying himself by claiming that lifting the ban on open trans service was about "experimentation" when it was in fact about strengthening the military by allowing the best and brightest to serve without discrimination.
And Perkins is positively giddy over the access he's had to Trump and White House officials.
"I've been to the White House I don't know how many more times in the first six months this year than I was during the entire Bush administration," he told the New York Times this week.
Johnnie Moore, a California evangelical activist and former executive at Jerry Falwell's Liberty University, who recently visited the White House, told Newsweek regarding the Trump administration, "It's a totally different time now. They're not only on our speed dial, we're on their speed dial. In my opinion, it's good for America."
The access, in part, explains why the leaders of evangelical groups, always power hungry within the GOP, are standing by Trump. But it doesn't mean evangelical voters necessarily are or will continue to. They backed Trump overwhelmingly in the election, even after the "Access Hollywood" tape. But in a recent ABC/Washington poll, 48 percent of white evangelicals now view Trump's conduct as "unpresidential," in what seems consistent with an overall steady erosion in parts of Trump's conservative base.
Trump's poll numbers continue to drop, with a Quinnipiac poll this week showing him at just 33 percent approval, down 7 points from a month ago in that poll. In the right-leaning Rasmussen poll, those who "strongly approve" of Trump ― the clearest indication of his most ardent supporters ― hit an all-time low on Thursday, at 23 percent.
That's why evangelical leaders supporting Trump are more stunningly hypocritical than ever before: As Trump loses more support among Americans, and even among their own followers, as he further lies and as more harmful policies are rolled out, they cling to him even tighter.
And it's also why Trump is more dangerous than ever when it comes to LGBTQ rights.
This week we saw the Trump administration desperately throwing red meat at the base, clearly responding to the sagging poll numbers, which may have been impacted by the GOP loss on repealing Obamacare and, maybe more so, Trump's attacks on Attorney General Jeff Sessions, beloved by social conservatives.
Trump, at this point, will never expand his base as most presidents try to do in the first weeks and months of their presidencies. He's only alienated a majority of Americans further. His only choice is to hold on to what he's got. Any erosion is a red alert, since he won the electoral college because of less than 80,000 votes in three states, and he lost the popular vote. So the administration announced a draconian new plan to slash legal immigration by half, appealing to white nativists in the base. And plans by the Justice Department to attack affirmative action, and investigate supposed discrimination against whites, were leaked.
And last week, seemingly under the radar, over 100 evangelical leaders went to the White House for a series of "listening sessions," in what was billed as a Faith Leadership Initiative. It was a much larger group than the 30 leaders ― including Pat Robertson, Ralph Reed and Michele Bachmann ― who met at the White House two weeks before and prayed over the president in the Oval Office.
According to the Christian Post, last week's confab "included quick briefings on various issues from officials in the White House's legislative and judicial affairs departments."
David Badash at The New Gay Rights Movement, pointed out that Jordan Easley, pastor of the Englewood Baptist Church in Tennessee, attended and posted photos to Twitter, including one with Jared Kushner. Also attending, Badash noted, were social conservative radio host Michael Brown and former Southern Baptist Convention president Ronnie Floyd:
Brown is an anti-LGBT activist who in 2011 claimed LGBT people want to put Christians "in jail." And Floyd, the former president of the 16-million member Southern Baptist Convention, in 2015 said, on marriage, "the Supreme Court of the United States is not the final authority."
With Trump desperate to hold his base, and clearly pandering in a major way to the Christian right, we can expect a much more frontal assault than what we've seen. The announced transgender military ban (which military leaders say they won't implement without an official directive beyond a tweet) and Sessions' recent gratuitous Justice Department brief advocating to prevent gay, lesbian and bisexual people from having federal civil rights protections, are just the tip of the iceberg.
The ACLU recently filed a lawsuit demanding all documents pertaining to a draft of a draconian "religious liberty" order that was leaked months ago which, if signed, would amount to a broad-based attack on LGBTQ rights, allowing for far-reaching religious exemptions. The administration pushed back after the leak, saying it was only a draft, and later Trump sign a much more tepid order, which disappointed many religious conservatives. But the ACLU believes there is more coming, and that perhaps we will see a series or orders or actions more quietly promoted, within the government's various departments, rather than one sweeping order. According to ACLU attorney Joshua Block, speaking with NBC:
What's clear in the months since [the broad-based religious liberty order was leaked] is the administration is exploring different means of accomplishing the same results — the guidance Sessions is promising for the Justice Department, new regulations for the Health Department, across the board. The public should be able to know who's driving this.
And that's why evangelical leaders and pastors who've supported Trump, though more hypocritical each day this corrupt and brutal administration continues, are sticking with him. Trump is promising them what they've long-desired ― which includes a full-blown assault on LGBTQ rights ― and, one way or another, he's delivering.