By Rabbi Michael Davis, Dale Loepp,* and Philip Farah
This week, members of the Evangelical Lutheran Church in America (ELCA) gathering in New Orleans for its triennial Churchwide Assembly will discuss a resolution calling for the adoption of an investment screen that will prevent the church's social responsibility funds from profiting from human rights abuses, including Israel's occupation of Palestinian lands.
The religious and spiritual significance of the Holy Land makes the conflict between Israelis and Palestinians of particular concern to Christians, Muslims, and Jews around the world, including here in the U.S. Many of us also have direct personal connections to the region, making the situation all the more urgent.
For nearly 50 years, Israel's oppressive and discriminatory occupation regime has denied millions of Palestinians the most basic of freedoms and rights that we as Americans take for granted, including the right to protest peacefully. The occupation takes Palestinian land for illegal settlements, destroys Palestinian homes and crops, and imposes severe restrictions on the movement of people and goods, preventing Palestinians from living normal lives and systematically stifling their economy. Palestinians of all faiths are routinely denied the right to worship freely at their holy sites in occupied East Jerusalem, Bethlehem, and elsewhere. Palestinians have died after being denied travel to the region's vital emergency health services, such as those provided by the Lutheran World Federation's Augusta Victoria Hospital in East Jerusalem.
The occupation should carry a special poignancy for Lutherans because the restrictions imposed on Palestinians in the occupied territories often impede the health care, education, and vocational training provided in the West Bank by Palestinian Lutheran congregations and by the Lutheran World Federation.
Seven years ago, Christian Palestinians living under occupation, including Lutherans, united to ask Christians around the world for assistance via the Kairos Palestine document, which calls for boycotts and other economic acts of conscience in support of Palestinian human rights. In the ELCA, this appeal generated numerous calls for study and prayer, but in the past some have also argued that the only appropriate role of a peacemaker is to avoid "taking sides." This attitude reveals a faulty understanding of the realities on the ground in Israel and Palestine, and of our responsibilities as conscientious Christians and American citizens.
That's because the U.S. is already complicit in Israel's denial of Palestinian freedom as a result of the massive and unconditional military aid and diplomatic protection that we provide to Israel, without which it would not be able to maintain its occupation.
By screening out companies that profit from Israel's occupation from its social responsibility funds, the ELCA would simply be taking a step towards greater neutrality and working to prevent complicity in injustice in the Holy Land. In doing so, the church will be adding its own voice and approach to the recent actions of other Christian denominations such as the United Methodist Church, Presbyterian Church (USA) and the United Church of Christ, which have taken boycott and/or divestment actions in support of Palestinian human rights.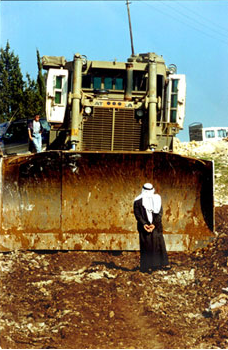 Palestinian farmer trying to block American-made bulldozer operated by the Israeli army as it is destroying his olive trees.
Increasingly, progressive Jewish Americans, in particular younger ones, are also supporting economic acts of conscience, like boycott and divestment campaigns, in support of Palestinian rights. In many cases, Jewish Americans and organizations like Jewish Voice for Peace, the fastest growing Jewish organization in the U.S., are at the forefront of these campaigns. They do so in the belief that the best chance for peace is to safeguard the human rights of both Israelis and the Palestinians.
The Ten Commandments instruct us: "Thou shalt not kill," but Martin Luther understood "not killing" much more broadly. "Not killing" for Lutherans includes being aware of the pain in our world and responding to those in need -- and especially responding to those who have asked for our help. Similarly, the Rabbinic tradition mandates a religious requirement to intervene when human lives are at risk.
Supporting the occupation with tax dollars and investments is inconsistent with Lutheran, Jewish, and American values. In order to align the church's words and beliefs with its actions, the ECLA should ensure it is not profiting from injustice in the Holy Land. Approving a human rights-based investment screen would be a positive step in this direction.
*Dale Loepp is a member of the Evangelical Lutheran Church in America. Rabbi Michael Davis is a member of Jewish Voice for Peace's Rabbinical Council.
REAL LIFE. REAL NEWS. REAL VOICES.
Help us tell more of the stories that matter from voices that too often remain unheard.