Evangelical pastor Carl Lentz is taking white Americans to task for getting "defensive" when it comes to addressing racism.
In a recent conversation with Oprah Winfrey on SuperSoul Sunday, the television star asked Lentz what he sees as the "root of racism."
The pastor responded, simply: "Ignorance."
"Ignorance is a lack of information, which creates insecurity; insecurity creates defensiveness, and defensiveness creates attack," Lentz, the lead pastor of Hillsong Church NYC, told Oprah. "It frustrates me that people want to act like this isn't a conversation. White people can be so defensive about this subject."
Less than 15 percent of white Americans say they "strongly support" the Black Lives Matter movement, according to a Pew Research Center survey conducted earlier this year. That's just under the percentage of those who say they "strongly oppose" it.
Roughly a third of Americans who say they've heard of the movement report that they don't understand its aims very well ― or at all.
The pastor, who counts the likes of Justin Bieber and Selena Gomez among his flock, has tried to combat this "ignorance" in recent months by engaging his community on the topic of racism. And he's pointed out the inherent hypocrisy of conversations surrounding race in the public arena.
When San Francisco 49s quarterback Colin Kaepernick started his protest against racial injustice by kneeling during the national anthem, the backlash was swift. One Christian pastor even reportedly said those who engage in such protest should "line up over there by the fence and let our military personnel take a few shots at you."
Lentz took a different tack by tweeting in September:
Later that month, the pastor announced on Facebook that Hillsong NYC would not be using the phrase "all lives matter," which has been used to divert attention away from systemic racism.
"At THIS church, we are not saying 'all lives matter' right now because this is a logical assumption that most reasonable people agree with. All lives are not at risk right now," Lentz is quoted as saying on Hillsong NYC's Facebook page. "We ARE saying BLACK LIVES MATTER. Because, right now, black lives apparently are worth LESS on our streets. It's 'our fight' not 'their fight.'"
The pastor hasn't addressed any potential conflicts of interest but urged his white followers to listen deeply to the stories and struggle of their black neighbors and not shy away from difficult conversations.
"At the table is where we find common ground," he told Oprah.
Check out a clip from the SuperSoul Sunday conversation above.
Before You Go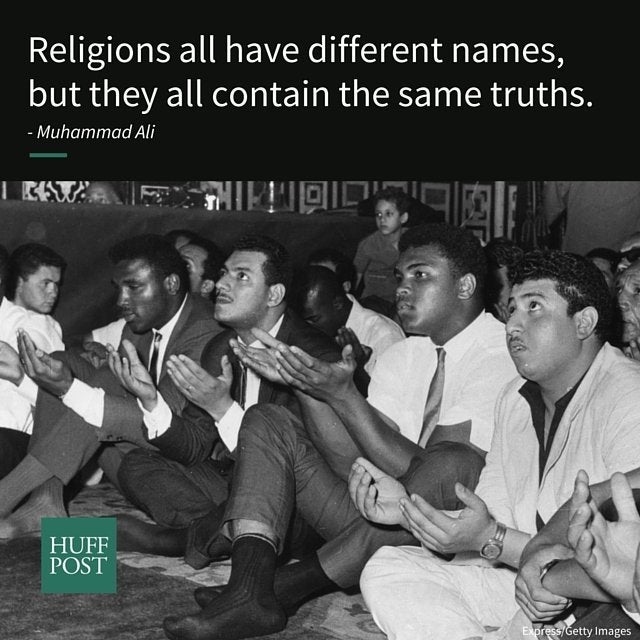 Muhammad Ali's Quotes On Spirituality
Popular in the Community