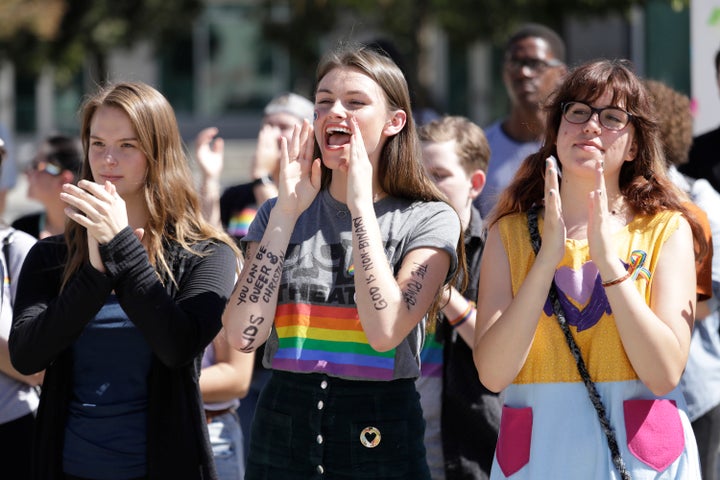 A prominent evangelical university in California has reinstated an outright ban on queer relationships after it briefly gave LGBTQ students hope they could date and fall in love on campus as freely as their straight classmates.
Azusa Pacific University, one of the oldest Christian universities on the West Coast, claims its board of trustees never approved an administrative decision last month to lift a ban on romantic same-sex relationships in the school's standards of conduct agreement.
About 200 LGBTQ students, allies and faculty gathered at the school on Monday to denounce the school's quick reversal, according to the San Gabriel Valley Tribune.
Alexis Diaz, a senior who identifies as queer, told HuffPost that seeing the ban on queer relationships lifted, only to be reinstated, makes her feel even more deeply rejected by her school. The prospect of openly being in same-sex relationships gave LGBTQ people a "taste of freedom, a taste of what it feels like to be affirmed and humanized," she said.
When the school reversed the policy, Diaz said, she was "really, really upset."
"It just shows we're not a priority. It shows that we're just a flimsy thing to just throw around."
Below, Azusa Pacific University students demonstrate for LGBTQ rights.
"We poured our hearts out, were vulnerable and relived our trauma telling our stories, telling stories of previous students who were damaged or hurt in some way by the institution ... for being gay or being in a same-sex relationship," Green told the San Gabriel Valley Tribune.
"They looked us in the eye and said this policy is harmful, it's discriminatory, it's stigmatizing and we're going to get rid of it," she added. "And we trusted them."
For years, LGBTQ students at APU have participated in a private, unofficial support group called Haven. With help from Brave Commons, Haven members started a dialogue with school administrators last year about APU's ban on queer relationships.
The university eventually agreed to change the student standards of conduct agreement in time for the fall 2018 semester, student newspaper ZU News reported in September. The school's updated statement on sexuality still claimed that only heterosexual marriages are approved by God and that sex should only happen in those marriages. But the standards of conduct agreement notably removed language that prohibited LGBTQ students from being in public, romantic same-sex relationships.
"A change in policy does not change practice," the university stated at the time. "We assessed our student code of conduct and made adjustments, much like other Christian schools have."
As news spread about the changes at APU, the university started receiving backlash from conservative sites and pundits. Albert Mohler, president of the Southern Baptist Theological Seminary, called the change a "complete reversal and repudiation" of the Christian understanding of romance. Conservative commentator Rod Dreher claimed the university had "surrendered" its core conservative values.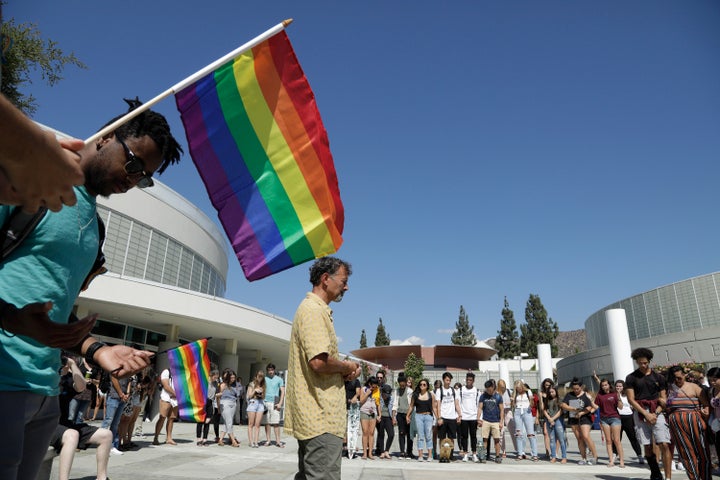 Rev. Kevin Mannoia, APU's graduate and faculty chaplain, told HuffPost last week that media outlets had misconstrued the school's intentions and that APU hadn't departed from its conservative values.
Mannoia said APU has "never punished people or students" for behavior that falls outside its code of conduct. When administrators hear about behavior that doesn't align with the school's moral code, Mannoia said, students are invited to have conversations with counselors who explain the school's position. He admitted that some students may have felt pressure from school administrators during these conversations.
APU's current student standards of conduct policy states that "Students may not engage in a romanticized same-sex relationship." Students who violate the standards of conduct are subjected to a disciplinary process that could, after investigations and appeals, result in sanctions as serious as loss of campus employment, student housing privileges, suspension or expulsion, according to APU's website.
Diaz told HuffPost she doesn't personally know any student who has been called in for counseling over being in a queer relationship. But she says they've heard stories about LGBTQ students being disciplined over the issue ― and as a result, many queer students are fearful about coming out or exploring that part of their identities.
It's a fear that straight students on campus don't have to worry about, she said.
"Students fear being who they are and fear being in a relationship with someone," Diaz said. "And that's not equitable."
"You can't say one thing and go back on your word. You lose the trust of students."
HuffPost spoke to Mannoia before Friday, when the board of trustees reinstated the ban on queer relationships. But even then, he had indicated that administrators wouldn't treat queer relationships equally.
"A guy and a girl walking across campus holding hands, we understand that. It is leading toward the environment we think is appropriate, given our understanding of Christian marriage," Mannoia told HuffPost. "A guy and a guy walking across campus, that may become an issue, and one of our student life folks, if it comes to their attention, would probably invite a conversation."
"Are they going to be kicked out? No, that would be inconsistent with the kind of place we want to be," he said.
APU did not immediately respond to HuffPost about whether it still plans to create a safe space for LGBTQ students on campus.
The way APU handled the issue was "extremely unprofessional," Diaz said.
"If they didn't approve it in the first place, where was the miscommunication in the middle? That's really frustrating," she said. "You can't say one thing and go back on your word. You lose the trust of students."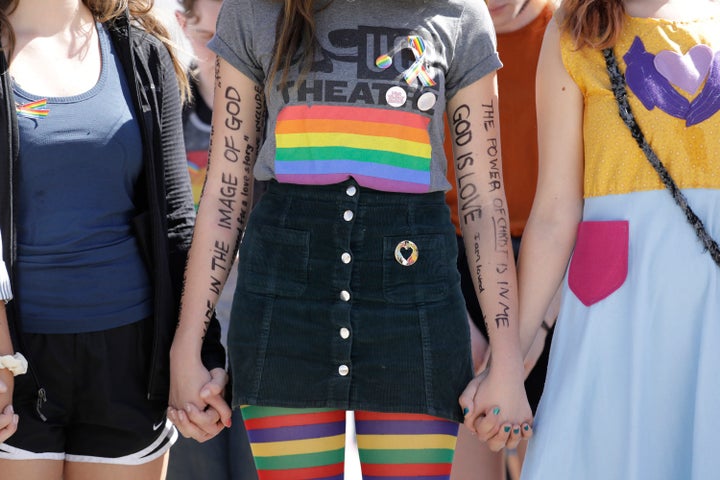 Albert Tate, a member of APU's board of trustees, told the San Gabriel Valley Tribune that the university does not want to force LGBTQ students back underground. He said the university is working to craft a new policy that doesn't make them feel persecuted.
"When we took out the language, everyone else filled that gap with their own language and interpretations, and it was hurtful to LGBTQ students, our faculty, our constituencies outside," Tate said. "We reinstated that language with the intention to strategically partner with our LGBTQ students to find the best language possible to capture our heart and intent."
"For anybody on our campus to feel persecuted in any way, shape, form or fashion obviously is not what we want," Tate added.
But Green said queer students' trust in the school has been deeply damaged.
"They said we could put our trust in them, and we did that," Green said. "And this is how they treat us, an already marginalized community — push us back down into the fringes."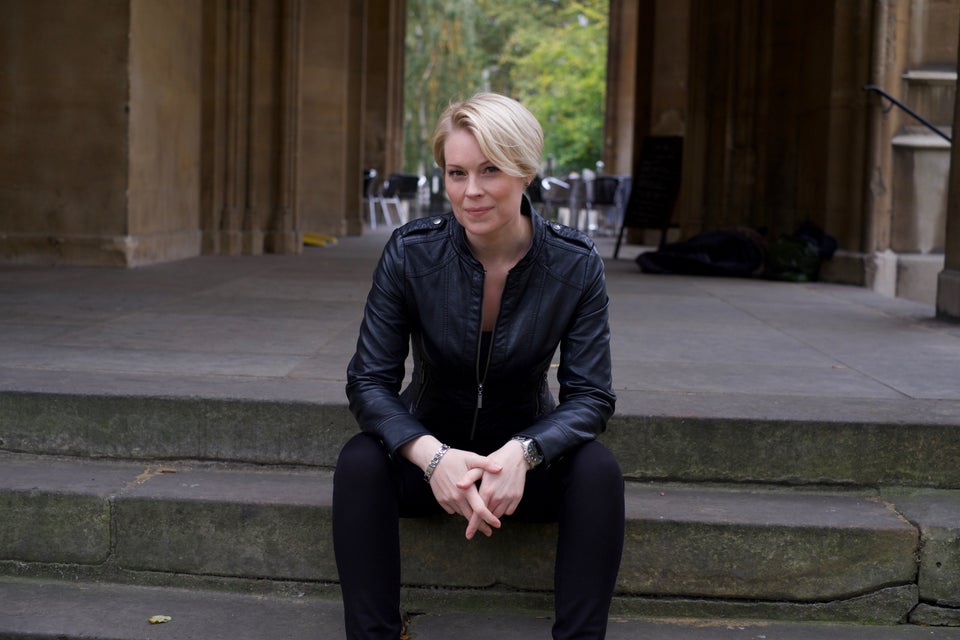 15 Moments In Queer Religious History That Give Us Hope
Popular in the Community