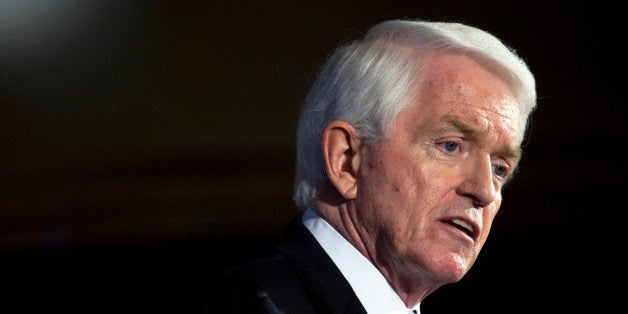 WASHINGTON -- After the 2012 election, Republicans were supposed to have a wakeup call on immigration. The party lost the Latino vote badly, and it seemed clear that its long-term electoral viability depended on softening a hardline, anti-reform stance.
But presidential campaign considerations weren't going to be sufficient in getting a bill passed. Gerrymandered districts had left many House Republicans with mostly white constituencies less supportive of reform. If the GOP-led House was going to act, it would need pressure from elsewhere.
Enter two of the most traditionally powerful, Republican-aligned constituencies: evangelicals and the business community. Each has put pressure on different parts of the GOP, albeit for different reasons. Pastors from around the country have encouraged lawmakers and their congregations to support immigration reform on grounds that it is a humane policy to pursue. Business groups such as the Chamber of Commerce have trumpeted the benefits reform would have in reinvigorating the nation's workforce.
"Putting the pastor and the business owner in the same room and on the same stage is an incredibly powerful message for Republican voters and members of Congress," Ali Noorani, executive director of the National Immigration Forum, said of the potency of the dual lobbying effort. "Because between a pastor and a business owner, you're really changing both hearts and minds on this issue."
And, indeed, the effort paid off in the Senate, where a bill passed by a healthy margin. But nearly 11 months later it's had little impact in the House. For all the conservative clout that evangelicals and the Chamber traditionally have, it appears many House Republicans are not listening to them. The question being asked by other advocates is: Why not?
It might be, ultimately, that the battle isn't winnable -- even evangelicals and the Chamber may not be able to convince Republicans to abandon concerns about President Obama's trustworthiness, questions about election-year strategy or qualms about a comprehensive bill.
"There are really two good arguments against immigration reform that have nothing to do with immigration," said Rep. Mick Mulvaney (R-S.C.). "One is that the president can't be trusted to enforce all sides of a compromise. ... The other one is this tactical question about whether it's a good idea to do before the election, and I don't know if that is a settled issue yet."
Mulvaney (R-S.C.) is an example of a conservative who evangelicals and business groups have been able to sway, at least somewhat, over the past year. He said in February after meeting with constituents, including evangelicals, that he was open to legal status for undocumented immigrants. Last week, he said he still thinks something should be done on immigration and that evangelicals in his district gave him a political opening to consider reform, despite him being a staunch conservative.
"They let me know that it was safe to at least wade into the deep end of the pool," he said.
Sen. Lindsey Graham (R-S.C.) agreed. The senator has gone out on a limb for immigration reform before and put himself at risk again last year by joining with three other Republicans and four Democrats to draft a comprehensive bill. For him, evangelicals were very helpful in keeping reform prospects alive.
"The evangelical community was incredible," he said. "The business community was good, the evangelical community was super. A lot better than last time."
And yet, these lawmakers remain in the minority. This past month, House Speaker John Boehner (R-Ohio) mocked the GOP members who are resistant to reform, but after speaking to his conference, quickly backtracked to put the blame back on Obama. If Boehner keeps to his commitment to vote only on immigration bills that a majority of his conference supports, reform is unlikely this year.
Evangelical groups insist they're chipping away at House Republicans, if slowly. Earlier this month, 250 pastors visited Capitol Hill to talk to members -- mostly Republicans -- about immigration reform, and came out somewhat heartened. Tim Moore, senior pastor of the Walk Worthy Baptist Church in Austin, said one GOP member told them the chance of reform this year was "not zero," putting the odds at 30 percent to 40 percent. Moore, an independent voter who considers himself a conservative, lives in the district represented by Rep. John Carter (R-Texas), who has been supportive of reform. Moore noted that another Texan, Rep. Joe Barton (R-Texas), is reportedly planning to introduce legislation that would allow undocumented immigrants to become legal residents.
But for all their gains, Moore said pro-reform evangelicals recognize that some lawmakers might not be persuadable.
"There is a small segment of the conference that will never do anything on immigration reform and don't want to, so the question becomes how vocal are they and how much power do they have," Moore said. "So I think their power and that extreme right voice is being moderated, and I believe a few of those members that are part of the never-do-anything crowd are being peeled away."
Rep. Mario Diaz-Balart (R-Fla.), a vocal supporter of immigration reform, said he's heard a few times from fellow Republicans about their visits from evangelicals who want reform passed. The Chamber of Commerce has had a smaller footprint.
"I have talked to folks who tell me they've been approached by the evangelical community and I think it's been a positive thing," Diaz-Balart said. "They've done it in a subtle, smart way. ... They're not going to necessarily convince them, but I think it does humanize the issue, which is important."
If the evangelical community has tried to win over lawmakers with sweeping arguments in favor of reform, the Chamber has been a more tactical operator. It was instrumental in coming to a compromise with the AFL-CIO labor federation last year that helped shape the Senate immigration bill. Last week, the Chamber made a $3 million ad buy in support of GOP candidates, with specific mentions of immigration reform in some of the spots.
Blair Latoff Holmes, executive director of media relations at the Chamber, said they are "still very active on immigration," citing events in California, Illinois, North Carolina, Texas and Washington, D.C., over the last congressional recess. "We're continuing to reach out to members on the Hill and push them to pass meaningful immigration reform this year," she said in an email.
Meanwhile, Chamber President Tom Donohue vowed on Monday to continue to push for immigration reform, saying he thinks it's possible in an election year.
"I do believe that we're absolutely crazy if we don't take advantage of having passed an immigration bill out of the Senate. Because going back and doing it again might be harder. Do something rational in the House and put it together and let's get the three or four things we really need there," Donohue said. "We've got a lot of heat on that and we're going to put a lot more."
But at some point, those efforts either produce legislation or they don't. And there isn't any indication that votes are coming soon in the House.
John Feehery, president of Quinn Gillespie Communications and a former spokesman for then-Speaker Dennis Hastert (R-Ill.), supports immigration reform, but questioned whether the Chamber, specifically, was making the right moves to combat more vocal anti-reform groups.
"I think they're having an incremental effect, I'm not sure if they're having an overwhelming effect," he said. "Members have to hear from back home, and the Chamber hasn't been particularly well organized. I'm not sure if they're going through the motions or what they're trying to do, but this really has to be a grassroots effort so members hear from business leaders back home that this is the right thing to do, and I'm not sure they've heard that."
Rep. Raul Labrador (R-Idaho), meanwhile, argued that the Chamber was erring in its push for a comprehensive bill as opposed to piecemeal measures. The Idaho Republican was at one point considered a possible conservative savior of immigration reform. He was part of a bipartisan group trying to draft a comprehensive bill but quit last year and has since said the House should do small bills or nothing at all. Labrador said he talks frequently to both the Chamber and evangelicals, and believes "what they're doing is important." They just aren't going to convince him that a single comprehensive bill is the way to go.
"The Chamber's job is to advocate, but our job is to make a decision for our constituents," Labrador said. "And I think most of us agree that a big comprehensive bill, and most of our constituents agree, is not the right thing to do."
Even if they found the encouragement from the Chamber and the evangelical community to be persuasive, there are other factors that have disincentivized Republicans from acting. None more so than the president, whom many in the GOP have said they don't trust to implement any immigration reforms they pass.
"Anything we do with this president is subject to total demagoguery, and the president simply is not a trustworthy partner," said Rep. Trent Franks (R-Ariz.), who also argued that support for immigration reform among evangelicals is overstated. "Unfortunately, it sounds like I'm being really harsh, but I'm being incredibly sincere. I just don't see how we can do anything with this president without him turning it into a political smash and grab."
Sabrina Siddiqui contributed reporting.
Before You Go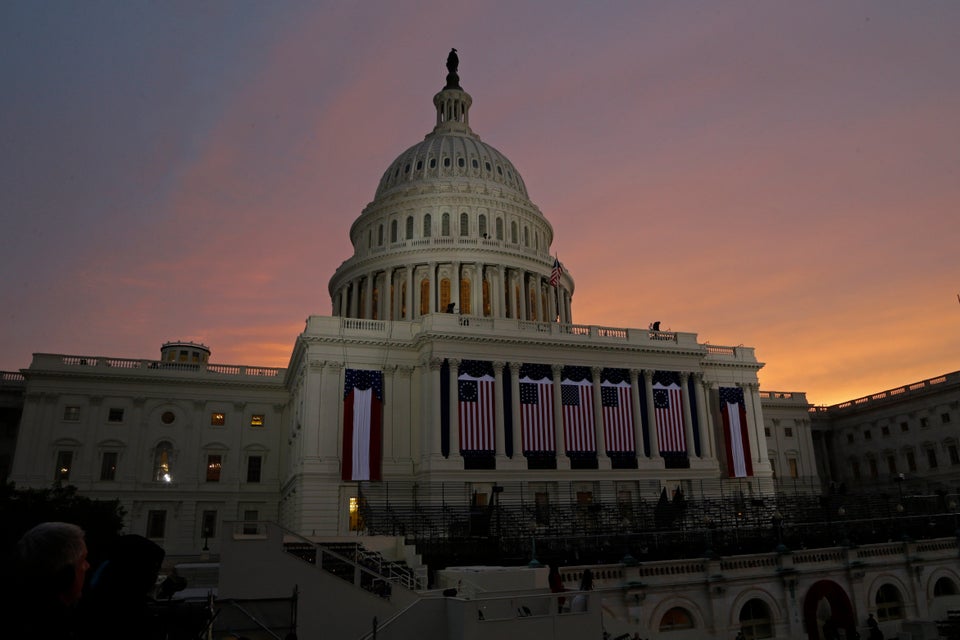 U.S. Capitol Photos
Popular in the Community