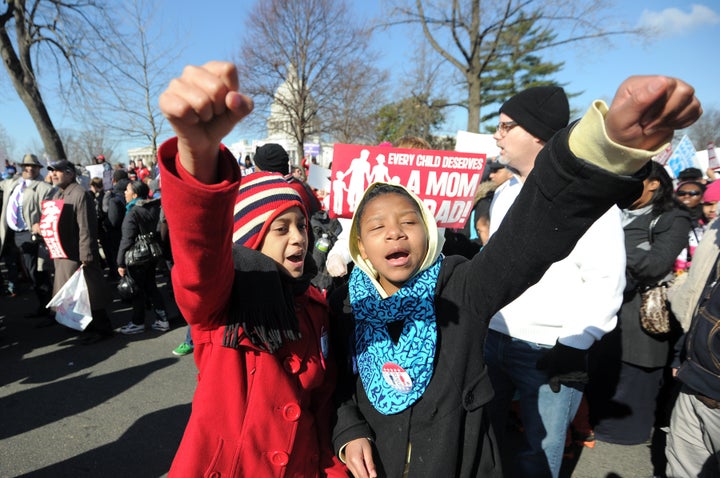 Keller, who is in his early 60s, does not even like the "evangelical" label, preferring to call himself "orthodox," and has largely steered clear of politics.
But the gay marriage debate has been front and center in the days leading up to this week's Supreme Court arguments over two gay marriage cases, so when Keller spoke to a group of journalists at a forum sponsored by the Ethics and Public Policy Center last week, he was asked several times about the issue.
Keller holds the view that marriage is between one man and one woman, but he has avoided focusing on the gay marriage debate, preferring to emphasize Christians' responsibility to love their neighbor. He has said that "heterosexuality does not get you to heaven," which earned him criticism from more conservative evangelicals.
At the EPPC forum, however, Keller made a somewhat surprising prediction, given the speed with which much of public opinion seems to be swinging in support of gay marriage. Large numbers of evangelical Christians, even younger ones, he said, will continue to hold the view that same-sex marriage runs counter to their faith, even as they increasingly decide they either support or do not oppose making it the law of the land.
"There's a tendency to say, where are evangelicals going? I think they're going to look more and more politically, actually, like conservative Roman Catholics, and like African Americans. I think that's where they're going," Keller said. "But the inertia of the Bible keeps them from, I think, getting really very liberal when it comes to theology and social ethics."
Keller clarified that "you can believe homosexuality is a sin and still believe that same-sex marriage should be legal." This is the argument that some religious conservatives are already beginning to make, and looks likely to be the position that most evangelicals end up settling on. Articles on changing attitudes among GOP youth illustrate the move toward separating government-sanctioned marriage and church-sanctioned marriage.
Privately, some conservatives say they are waiting to see what the Supreme Court decides in June before they make a tactical retreat. But regardless of the court's decision, conservatives will likely conclude that they have lost the broader cultural argument (especially among younger Americans) over the legality of gay marriage. The argument ahead, then, will largely be over the question of religious liberty, and whether moral objections to homosexuality within religious faiths deserve to be protected, and to what extent.
Keller devoted most of his energy at the EPPC forum to laying the groundwork for greater tolerance of the evangelical view. He cited author Jonathan Rauch, who has helped pioneer the arguments in favor of gay marriage, and said Rauch himself has acknowledged that "it's really pretty obvious that the Bible has a problem with homosexuality."
Rauch's exact words, in his December 2010 column for The Advocate, were this: "Unlike white supremacism, disapproval of homosexuality is still intrinsic to orthodox doctrines of all three major religions."
Rauch continued: "That will change and is already changing (younger evangelicals are much more accepting of same-sex relations than are their parents), but for now it is a fact we must live with."
Keller did not seem to share Rauch's conclusion that a change in evangelical belief is inevitable. But he emphasized Rauch's point that even if there is a change, it will take a long time. He argued that for the foreseeable future, many adherents of the evangelical faith will not abandon their religious views of homosexuality, even if increasing numbers of evangelicals support legal rights for gay couples.
Keller continued at some length to expand on Rauch's point.
"If you say to everybody, 'Anyone who thinks homosexuality is a sin is a bigot,' he says, 'You're going to have to ask them to completely disassemble the way in which they read the Bible, completely disassemble their whole approach to authority. You're basically going to have to ask them to completely kick their faith out the door,'" Keller said.
"And he says that's not going to happen very fast. Now he hopes it happens eventually. He did say that. But he says to think that in two or three decades the needle -- how many white supremacists are there anymore that are really out there? Not many. And to think that the same thing is going to happen about reservations to homosexuality is just la la land."
Keller, later in the session, came back to Rauch and specified how long he thinks any change would take.
"He says if orthodox faith does morph to the place where people still have that high view of the text, they're still people of the book, and we've completely embraced homosexuality as one way of loving and married, if that does happen it will take a long time, a very long time, not the sort of thing that could happen in 20 years or 50 years. In which case we need to learn to live together," Keller said.
On the question of whether gay marriage "would violate religious beliefs," white evangelicals have basically not budged over the last decade. In 2003, 84 percent said it would violate their beliefs, while 14 percent said it would not, the survey shows. And in 2013, 83 percent said it would, while 16 percent said it would not.
The survey of 1,501 adults that Pew released last week shows that, overall, 48 percent of respondents favor gay marriage and 43 percent oppose it. In 2003, 34 percent supported gay marriage and 56 percent were against it, revealing that, like many other polls have shown, there has been a significant shift in favor of gay marriage among all Americans.
But only 34 percent of all Protestants surveyed support gay marriage and 57 percent oppose it, with 9 percent undecided. That, however, is up from 2003, when 25 percent were in favor and 66 percent were against.
Among white evangelicals, support for gay marriage is even lower. Only 19 percent are for it and 75 percent remain opposed. Although that's up from 2003, when 11 percent were in favor of it and 82 percent were against it, the survey still shows that a significant majority of white evangelicals are opposed to same-sex marriage.
Mainline Protestants, however, have shifted their views. In 2003, 42 percent were in favor of gay marriage and 45 percent were opposed. Now, it's 52 percent in favor and 36 percent against. Black protestants are edging in that direction, but are still opposed in significant numbers, with 35 percent in favor and 52 percent against, up from 25 percent in favor and 65 percent against in 2003.
Keller did acknowledge that young evangelicals are "not incredibly exercised" about gay marriage, but it is still unclear where the majority of young evangelicals stand on the issue.
According to Pew, that group opposes gay marriage by a large margin, with 65 percent against it and 30 percent supporting it. That's quite different from what The Washington Post found in its most recent poll. The Post's numbers were the opposite of Pew's, according to pollster Jon Cohen, who disclosed the number in response to a question on Twitter, since it was not included in the published survey results.
The Public Religion Research Institute released a poll last week that focused on immigration, but also reported that 51 percent of white evangelicals under the age of 35 support gay marriage. The polls make it clear that younger evangelicals support gay marriage in larger numbers than their elders, but the exact number of supporters is still uncertain.
Gay marriage may be on its way to rapidly gaining wider acceptance, but as additional polling is done on evangelicals and their beliefs, it will tell us more about whether Keller is correct in his prediction.
Related
Popular in the Community