Lilly, talking about the skintight suit she rocks for her role as Hope van Dyne, aka The Wasp, said in a clip from the movie's recent press tour that the outfit wasn't as bad as she anticipated.
"I have been hearing Marvel male superheroes complain about their suits for years. And I got into my suit and I was wearing it, working in it, doing my thing, and I was like, 'Just not that bad,'" she said.
But she wasn't done. Lilly continued her suit rant, and called men in the Marvel Cinematic Universe the hell OUT.
"Do I have the most comfortable suit in the MCU? Or have men not had the life experience of being uncomfortable for the sake of looking good?" she asked, lifting her high-heeled foot to the camera.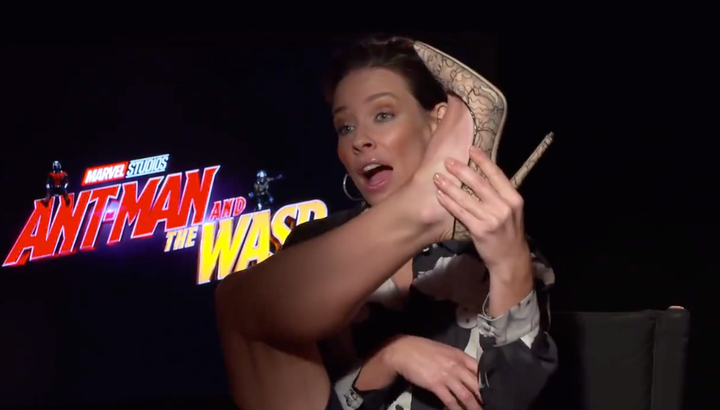 Lilly, the first woman to play a title superhero in a Marvel movie since the launch of the Marvel Cinematic Universe, continued, saying that men must be thinking, "What is this? This sucks. Why are we? Why ― Why do I have to go through this?"
"Where, as a woman's like, 'I don't know. This is like normal. I wear heels to work. I'm uncomfortable all day. I'm used to it. You tune it out,'" she said.
You can watch the full moment in Lilly's interview with BackstageOL's Dave Morales below:
People on social media cheered the superhero: 
Lilly, former "Lost" star, has talked about her Wasp suit before. She told Yahoo Entertainment she was nervous about the suit before she put it on because of its restrictiveness ― and because of the superhero expectation that came with.
"Living up to the comic book images of female superhero characters, who all are even more outstanding-looking than Barbie ― even more impossible to mimic than Barbie," she said. "They have, like, 12-inch waists and 45-inch busts and legs as long as me from head to toe. It was a nerve-racking thing to consider."
She added: "I worked long and hard for months with the team, adjusting and tweaking and adjusting and tweaking until I felt like I would not feel like a sham walking on set. And now I walk on set in that suit and I feel like a superhero, I feel like the Wasp, and I feel damn sexy."
REAL LIFE. REAL NEWS. REAL VOICES.
Help us tell more of the stories that matter from voices that too often remain unheard.
BEFORE YOU GO
PHOTO GALLERY
Marvel Black Panther Merch