NEW YORK -- New York state filed suit on Tuesday against a Buffalo-based bank for allegedly not making home loans in black neighborhoods.
Evans Bank began cutting off services and mortgages to mostly black areas of the city in 2009, according to New York Attorney General Eric Schneiderman. The lawsuit alleges that the bank refused to solicit customers, market mortgages or even build banks in parts of east Buffalo, where more than 75 percent of the city's black population lives.
The lawsuit, first reported by The New York Times, charges that the bank mapped out the city and limited its mortgage products to a so-called "trade area" that excluded more than 85,000 black residents, regardless of creditworthiness.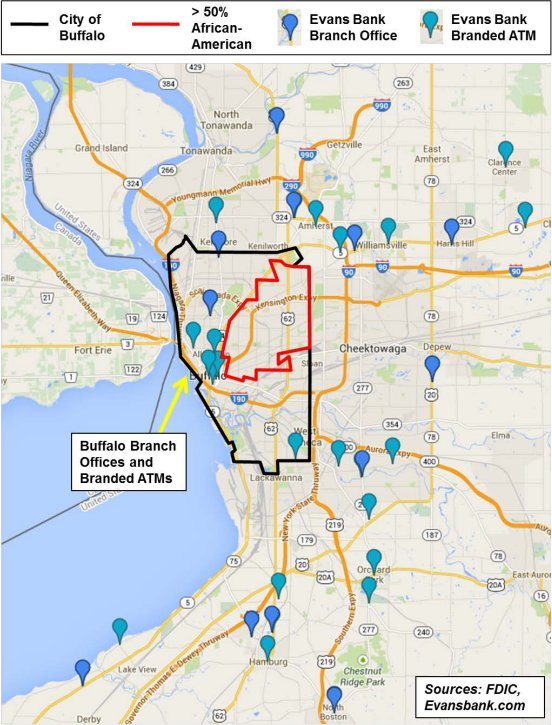 This graphic, created by the attorney general's office and included in the lawsuit, shows Evans Bank branches and ATMs clustered on the border of neighborhoods that are more than 50 percent black.
Banks have been "redlining" black neighborhoods -- highlighting black neighborhoods to avoid -- since at least 1934, when the racist policy was codified into federal law. It is now illegal under the Fair Housing Act.
The Evans case is expected to be the first of several lawsuits against other banks, according to the Times. Evans is also one of several banks recently accused of using the practice in the past few years.
In 2011, Countrywide Financial, which financed 20 percent of all U.S. mortgages in 2006, agreed to pay $335 million to settle allegations that it discriminated against black and Latino borrowers during a four-year period that led up to the financial crisis. A year later, Wells Fargo settled similar accusations by agreeing to pay out at least $175 million. JPMorgan Chase got a lawsuit dismissed last month that accused the country's largest bank by assets of both denying loans based on race and steering minority borrowers toward mortgages they could not afford, a predatory practice known as "reverse redlining."
"Redlining is illegal, discriminatory, and must be made a thing of the past, once and for all," Schneiderman said in a statement on Tuesday. "It is crucial that all New Yorkers, regardless of the color of their skin or the racial composition of their neighborhood, be afforded an equal opportunity to obtain credit."
David J. Nasca, the president and chief executive of Evans bank, said in a statement sent to HuffPost that he was "disappointed" by the lawsuit, which the bank tried to avert with "several months" of negotiations with Schneiderman's office.
"We continue to believe these allegations are without any merit and we intend to vigorously challenge them," Nasca said. "We remain confident that our residential lending practices meet all applicable regulations."
The lawsuit accused the bank of "bisecting the city" along racial lines. Of the bank's 14 branches in New York State, 11 are located in Buffalo's mostly white suburbs. Because of this, just four of the 1,114 mortgage applications in the Buffalo area between 2009 and 2012 were from black residents, according to the lawsuit.
The bank's marketing policies also prevented it from attracting black customers, the suit claims. According to the charges, the bank limited efforts to "market the full range of loan products and services" to its designated trade area. Print advertising dollars, for example, went only to local newspapers that don't circulate in east Buffalo neighborhoods, the lawsuit said.
Redlining has helped to make Buffalo one of the most segregated cities in the United States, Schneiderman's office said.
"Buffalo and Erie County are still suffering from the mortgage crisis," said Joseph Kelemen, the executive director of the Western New York Law Center, a legal nonprofit that provides free services to people facing foreclosures. "Redlining compounds the effects of that crisis by denying individuals access to homes, jobs and economic opportunity, and the result is that entire neighborhoods are prevented from recovering and developing."

Popular in the Community